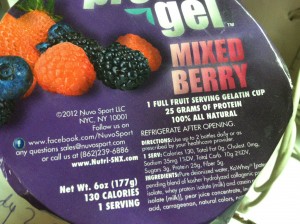 Pro Gel.
What's that?
Protein gelatin, perhaps? =D
I know, I never saw/heard/thought of it before, but low and behold, it exists!
I got a free sample to try from the company, and with the combination of 1. Being hungry 2. Not wanting to eat junk food and 3. on a high protein diet, I saw this as the perfect opportunity to try this snack.
Side note: it came with a super cute small spoon. (win!!!!)
I opened  up my Pro-Gel, which was packed with protein, low in calories, and even had some fiber. Here's how it looked.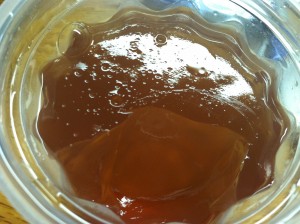 I scooped some out, and noticed it's thickness. Now, I've had my fair share of Jell-O in the past, so I'm familiar with the consistency. This was pretty much the same just…thicker and a bit stickier.
The flavor? It was ok. It reminded me of a strawberry Kiwi flavored gelatin. And a sugar-free one at that. Being a diabetic, I'm used to sugar free products, and I can really tell when a product has been sweetened by sugar or not. This tasted like it was sweetened with sugar, as it was "sweet" but not really sugar sweet.
However, the tartness overpowered any potential sweetness it could have. And while I appreciate it that this doesn't taste like it's fortified with any protein, I don't think I'd be able to eat it again. It wasn't really that good, and too tart. Perhaps if it was a cherry flavor I would have liked it more. But whatever flavor it supposedly tasted like other than "tart", I was not a fan of.
Overall, 2 stars. It wasn't horrible, I just wouldn't buy it in the future. Love the high protein for such a small cup, but I'll stick to my eggs, protein bars, milk and lots and lots of peanut butter for my protein for now!