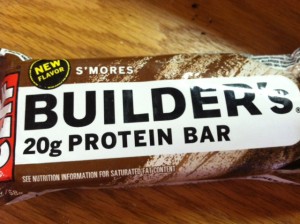 Another Builder's Bar review! This time, the S'mores flavor. Who could really ever resist a S'more? Chocolate? Marshmallow? Graham crackers? All warm and gooey…
Ok I'll stop now, before day dreaming turns into my actually going out to buy ingredients to make S'mores….
Insert Clif Builder's S'mores Protein Bar, made with natural ingredients, organic ingredients, and still some muscle-loving protein. I liked the chocolate chip one I had a few days ago, and bought a whole bunch more.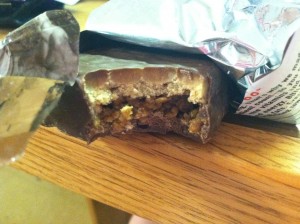 Upon first bite, I REALLY liked it. It was sweeter than the Chocolate Chip flavor, and more flavorful. The top part was soft and chewy and dense, and the bottom part of the bar was "crunchier", and together it was a really complimenting texture.
The flavor I would say was a predominant sweet chocolate, with a good bit of marshmallow flavor. I did get the sense that the bar contained a "toasted" flavor, kind of like a graham cracker would provide. As with the other bar, or any protein bar really, I needed some water to drink with this. (Hey, some milk if you feel like adding even more protein!) It had that salty/sweet combination going on, and water fit the bill quite nicely.
Overall, yum! Love the high protein, and that it's low glycemic according to the wrapper. I also like how it doesn't taste chalky like some protein bars can. It is a bit high in sugar/sodium and low in fiber, so overall, 4 stars
Will buy again! 🙂