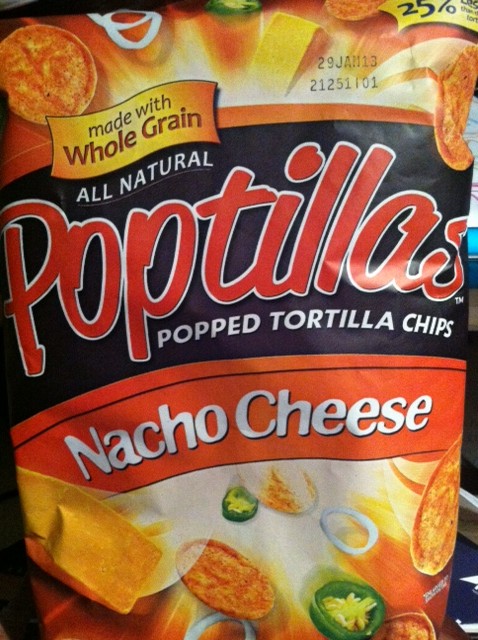 A surprise awaited me the other day when I opened my door- a box of free goodies from Classic Foods! They sent me a few bags of their new Poptillas, which are popped tortilla chips. According to the bag, they are "gluten free, popped not fried, no cholesterol, no high fructose corn syrup, no MSG, [and have] no preservatives". They are also made with "whole grain corn"-Sounds like a solid start for a snack for me!
I flipped over the bag and inspected the nutritional information. 18 chips was 120 calories, with 6 grams of fat, 250 mg of sodium, 2 grams of fiber and 1 gram of sugar. Not bad! The sodium was a tad high, but that's expected with snack food to give it that yummy flavor we all know and love 😉
I took a few out of the bag…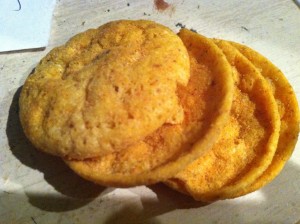 They looked like Popchips/soy chips. The flavor was actually quite good! It had a nice airy crunch, kind of like that with a soy crisp. The cheesy flavor was detected automatically, and there was a little bit of spice/garlic/onion flavor. Just the right amount of salty flavor, that makes me both enjoy it, yet want to have a glass of water nearby. They really reminded me of the flavor of nacho cheese!  In fact, it was like eating both the nacho cheese and the tortilla chip at once, since the flavor of the cheese was there, and the crunch from the nachos. Delicious!
Overall, I really like these! They definitely will fulfill a salty craving and have a satisfying crunch. Worth a try!!! 4.5 stars