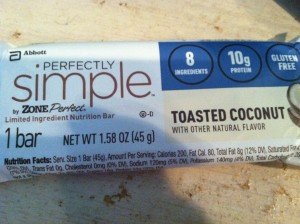 Something new to try! I got a free box in the mail from Zone Perfect that had three new bars of theirs from the "Perfectly Simple" line. Inside was a Toasted Coconut flavor, Peanut Crunch and Cranberry Almond. All of the bars are gluten free, have some protein in them, and have minimal ingredients.
I decided to try the Toasted Coconut bar first. I opened the bar and it didn't look as I expected. It was a rather dull color, with bits of what looked like nuts or coconut shreds and a rather dense bar. I broke off a piece, and realized it was a little dense.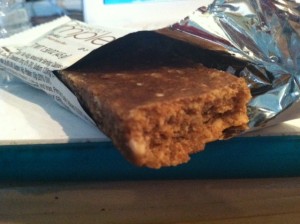 After taking a bite, I actually enjoyed it. A good amount of sweetness, it has a yummy coconut flavor balanced with some almond flavor as well. What I didn't really like was the consistency. Although I appreciate that there's actual coconut in this bar, it had that flaky/shredded coconut consistency when you bit into the bar. With every bite I felt shreds of coconut between my teeth. Some people like that, I happen to not, but that's just me.
However, the flavor made up for it. Loved the flavor, and the chewiness that the bar had to provide. I also like that it only has 8 ingredients, is gluten free, and has 10 grams of protein per bar. The bar's first ingredient is also a form of sugar, which I didn't like. It is also a tad high in calories, this one is 200, and while I feel I can get many other bars with way more protein, I enjoyed this bar minus the consistency.
Overall, 3.5  stars.