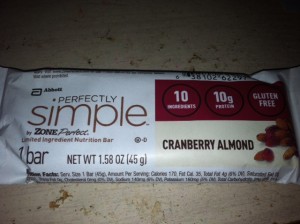 Another new flavor for me to try from Zone Perfect on their Perfectly Simple line. This time, Cranberry Almond, which I also received in the mail to try for free.
I looked at the stats before indulging in the snack. 170 calories, 10 grams of protein, 4 grams of fat, 19 grams os sugar ( a little high for me), gluten free, and made with 10 ingredients (bonus points here! Less ingredients something is made with in my book, the better!)
I opened up the bar and saw a light brown colored bar, with visible chunks of nuts and pieces. I took a bite, and was pleasantly surprised. It had a cranberry-pomegranate flavor, and also had apple flavored undertones. It was sweet without being overly sweet, but more of a fruit-kind-of-sweet.. It had that tang that cranberries and pomegranates have, but wasn't so tangy that it was intolerable. The almonds added a tiny bit of a crunch, which was nice, and provided a mild flavor.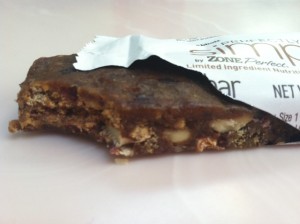 What I noticed about this bar, similar to the last Coconut flavored bar I tried, was it's "piecy" consistency. The last bar I tried was Toasted Coconut, so I chalked up the "piecy-ness" to the flakes of coconut. However, as I chewed this bar, I noticed it was kind of piecy in consistency as well. After looking at the dry ingredients, I assume it's from the sweetened cranberries and pieces of each individual ingredient.
Overall, a good bar! I liked the flavor, although it was a tad on the tangy side, and the bar was dense and had a nice chew to it. Not my favorite, but I would eat it again if the opportunity arose or if I saw it in the stores. 3 stars