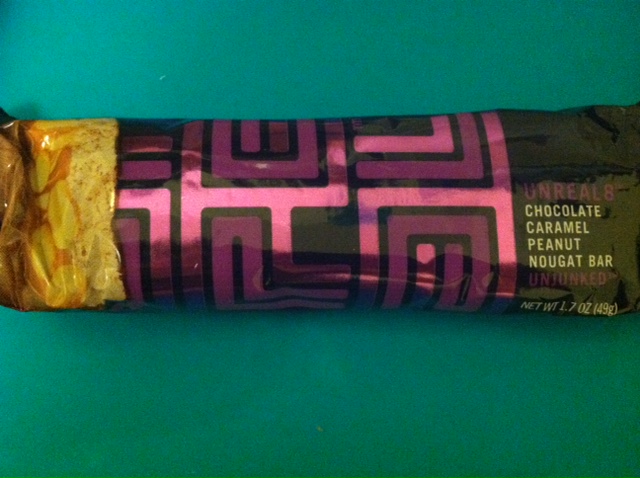 A new line of products for me to try, UNREAL has supposedly "Unjunked" candy, and taken out the "bad" stuff like high fructose corn syrup, additives and hydrogenated oils. I got some free samples from the company asking me to try, and I happily obliged. A "healthier" spin on candy? Sure, why not? 🙂
Today's review is of the UNREAL Chocolate Caramel Peanut Nougat Bar. I'm guessing this is a healthier take on a Snickers bar, for the similar ingredients. First I looked at the nutrition facts. It was by no means a health food, but it was slightly better than the average candy bar. The sugar content was 17 grams for the entire bar, as compared to the 30 grams the website advertises here. However, keep in mind that the UNREAL bar is slightly lighter in weight, thus less calories for it's smaller size. I definitely think this is a good thing, as it keeps the candy bar from being a high calorie indulgence, but more of a sweet treat to be eaten in moderation that won't completely derail a diet.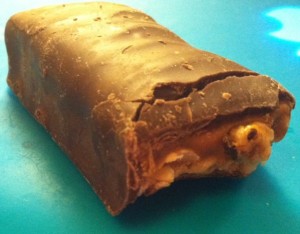 So all that is fun…but how did it taste? It was actually  quite good. Like I stated before, it did taste like a snickers, but I noticed it wasn't as sugary tasting. It was sweet, don't get me wrong, but just didn't have that "I just took a bite of sugar" feel to it, which I liked. It broke apart easily when I took a bite, which was good. It was chewy and had a mild chocolate flavor, and I feel the inner part of the bar had the predominant flavor. The peanuts added a nice crunch and great flavor as well.
Overall, I liked it! I almost wish they came in mini sizes for a treat, because I know I could certainly down that entire bar in one sitting and I do try to abstain from sweets (as a type 1 Diabetic). However, I do like that one bar had 200 calories and 5 grams of protein, and a not too terrible 17 grams of sugar. An everyday kind of thing? No, but certainly a better choice if you need your candy bar fix. 4 stars