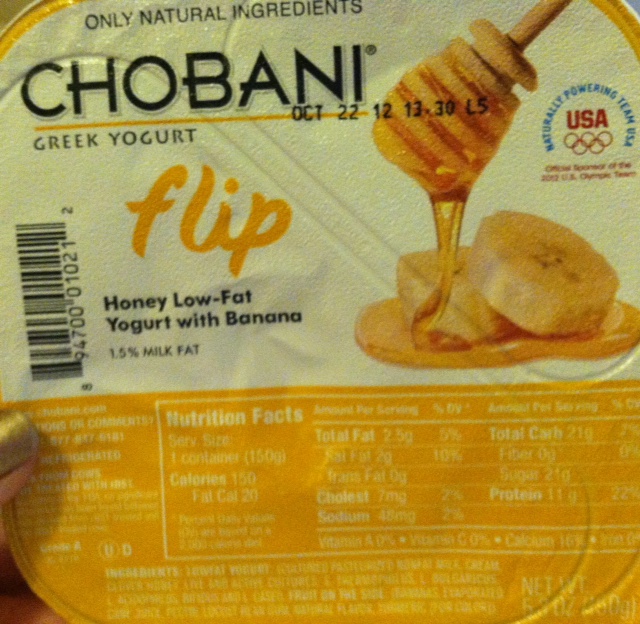 I love when I see new things in the store. It's like a prize for my taste buds (and often a deficit in my wallet…). SO, buying my weekly stash of CHO, I found the Chobani Flip Honey Low-Fat Yogurt with Banana.
SO is this not greek yogurt? GASP! :O
It does say "low-fat" on the container, but there is 11 grams of protein per serving, so that was still good. It was the same price as a regular Chobani, which in my neck of the woods (haha no woods…) was $1.79.
***ADDED- confirmed by Chobani…it is STILL greek yogurt! Yay!***
The yogurt part is definitely VERY creamy and not as thick as Chobani greek yogurt tends to be. By itself, it has a mild sweetness, mild tartness and subtle honey flavor.
The banana part, I was not crazy about. It literally is pureed (and sweetened) bananas, which reminds me of baby food (cause you know, I eat sooooo much baby food!). I like the fact that it's "real", and not a banana syrup of some sort. I checked the ingredients which were sweetener and bananas, so I know it literally is a banana puree, and a thick one at that. So not crazy about it, but it was still pretty good, but had that flavor that when you freeze really ripe bananas and then eat them defrosted. (what you haven't done that before?)
HOWEVER, together the combo is quite good. The banana flavor works well with the honey, as it sweetens and almost eliminates the tartness from the honey yogurt, and I like that the container is big enough to get all the banana fruit part out. One thing to keep in mind, if you don't like fruit chunks, I do not recommend this. I definitely had a few chunks of banana in the fruit compartment, which doesn't bother me but I know can definitely turn some people off. 🙂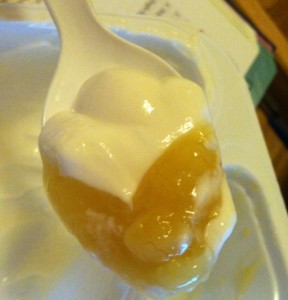 Overall, pretty good. I can't say it will replace my greek yogurt consumption ( I love you Pineapple/Strawberry-Banana Chobani!), but I think it's a nice sweet treat to have alongside your lunch, which is what I did (with some good ol' chicken breast!) The sugar content is a bit high, at 21 grams, as well.  4 stars