MORE new flavors to try thanks to the kind folks over at Quest Bar :] This time around, it's Quest Bar's Lemon Cream Pie, Peanut Butter & Jelly, and Apple Pie. All of those sound absolutely decadent, no? Now how would they taste in bar form? Let's see…. 🙂
FIRST UP on this gluten free, high fiber and no sugar added line of bars is the Lemon Cream Pie.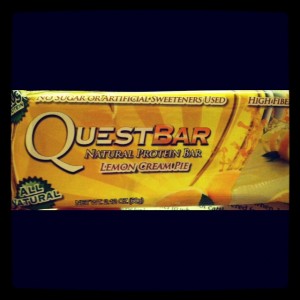 Ok…now this one is GOOD! The flavor almost reminds me of lemon skittles, which sounds kind of weird but it's not at all! It's very moist and chewy, and very fresh tasting. Seriously…I was gushing over this bar while I was eating it ("Oh my GOSH THIS IS GOOD!" haha). What's weird is I am not a lemon kind of gal…I normally pass on lemon flavored things. But this one had the perfect amount of sweetness, and wasn't tart at all. The mouth feel of the bar is also really great. JUST PERFECT!!! 5 stars :]
Next up, Peanut Butter & Jelly.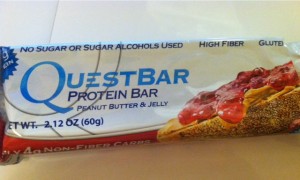 Now you probably predict another 5 star review, huh? Thinking, mannnnn Lisa loves peanut butter she must love this bar. Actually, this was my least favorite! :[ It was considerably denser than the other bars and not as moist. It wasn't really sweet, and had kind of a combination of a "toast" and peanut flavor, with slight and sweet undertones of a berry/ jelly flavor.  I did like the little peanuts in the bar which added a little crunch 🙂 3 1/2 stars
Lastly, Apple Pie.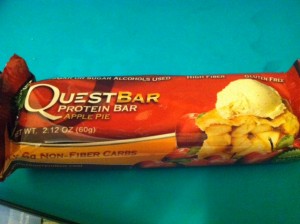 Yummy! This bar was chewy and sweet, and definitely had a great flavor. I could detect a nice cinnamon flavor throughout the bar, but not much of an "apple" flavor unless you bit into an actual piece of dried apple. I DID like the fact that there were scattered dried apple skins in the bar, which added a yummy and sweet apple flavor. However, the skins were sporadic, so there were bites where I had just the bar/cinnamon dominant flavor. However, I still enjoyed this bar and would eat again. 4 stars
Annnnnnd here's the nutritional facts for the Apple Pie Bar.