I got some new, free  bars from Health Warrior. Their Chia Bars! All of the bars are vegan, a good source of omegas, and have 100-110 calories.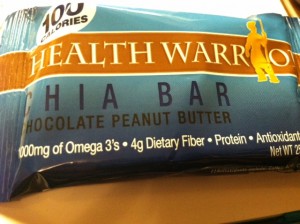 The first bar I tried was the Chocolate Peanut Butter. LOADED with seeds, this one had a crunchy texture. It was a bit bland, with very mild chocolate flavor. I didn't detect too much peanut butter flavor as well. It wasn't really all that sweet, but for some reason, I kind of liked it. It was nutty, and tasted very real and unprocessed. Was it amazing tasting and my favorite thing ever? No. But I liked the wholesome-ness it provided. However, kindof misleading for the fact I hardly tasted any chocolate or peanut butter flavor. (sad for a pb lover like me!) 2 1/2 stars.
Next up, the the Acai Berry.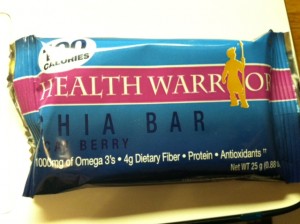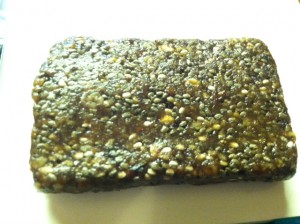 A bit darker in color than the Chocolate Peanut Butter flavor, but still loaded with those seeds 🙂 This bar was a bit softer, and had a sweeter flavor too it.  I liked it much more than the Chocolate Peanut Butter flavor. It had a raspberry/pomegranate/cranberry flavor, and had a subtle tartness. It was sweet, but not too sweet, and seemed to be less crunch than the chocolate peanut butter variety. It also almost had a buttery taste to it, which I really enjoyed. Yum! 4 stars
Lastly, the coconut variety.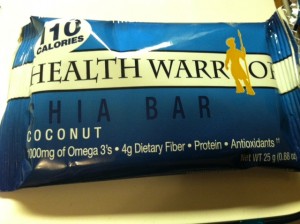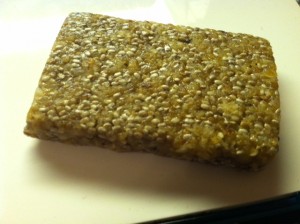 The softest bar of the three, and very good. Yummy coconut flavor, but none of those annoying coconut shreds (sorry…I had those haha). A mild crunch, and good flavor. It was moist and chewy, and definitely tasted coconut, without it feeling artificial or overpowering. It also had a subtle sweetness, which I enjoyed.  I liked this one as well! 3 1/2 stars.
Overall, not bad! I liked the Acai Berry one the best, and I think these are a good snack bar for in-between meals! Thanks Health Warrior for letting me try these new bars!
Here is the nutritional facts for the coconut