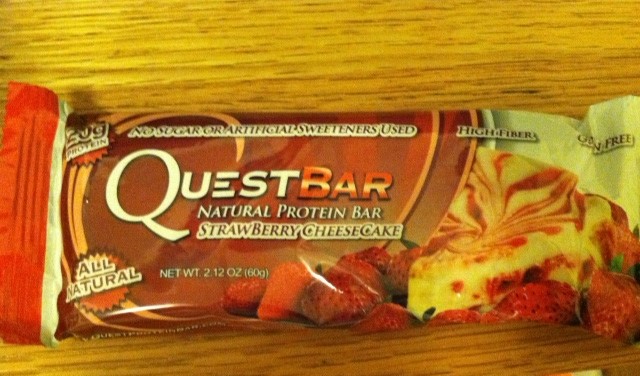 Another round of Quest Bar reviews! I love these things! I am very grateful the people over at Quest Bar sent me a generous sample box for free so I can try all of their flavors. Today's review will be of the Chocolate Peanut Butter, Strawberry Cheesecake and Peanut Butter Supreme Quest Bars. As always, these bars are gluten free, high in fiber and low in sugar! Woo!
Let's do the Chocolate Peanut Butter first. (Because why not??! :p)
This bar was soft and chewy, and significantly more chewy than the other bars I have tried. It had a bit of an odd flavor, and I felt it tasted a bit artificial. I can see how it would be labeled a "chocolate peanut butter" flavored bar, as I detected elements of both. It was certainly a sweet chocolate peanut butter flavor rather than a savory one. I do think the chocolate flavor overpowered the peanut butter, and the peanut butter flavor was rather mild. It was a good bar, but not my favorite. 3 stars
Next up, Strawberry Cheesecake.
This one was YUMMY. Dare I say…it replicated a strawberry cheesecake almost perfectly? Or to the best of the ability that a bar could do? It had a slight tart yet sweet flavor from the strawberries, yet a subtle cream cheese flavor as well. The flavors complimented each other quite beautifully, and I found myself almost happy eating this bar. It was SO good! Very moist, and the perfect mouthfeel. I loved how I could actually detect and taste the strawberries as well. 4.5 stars
Lastly, the Peanut Butter Supreme bar.
This one was also quite tasty. A good amount of peanut butter flavor, which I certainly liked. I found it to be a little more salty than sweet, and quite dense. I enjoyed the bits of nuts dispersed throughout the bar as it added extra texture and crunch to the bar. I think if it was a tad sweeter and a tad less salty, I would have liked it more. However, still a good bar, but a little on the bland side. 3.5 stars
Overall, Quest Bars seem to be a hit. I have liked pretty much every flavor that I have tried! 🙂
Here is the nutrition of the Strawberry Cheesecake Bar