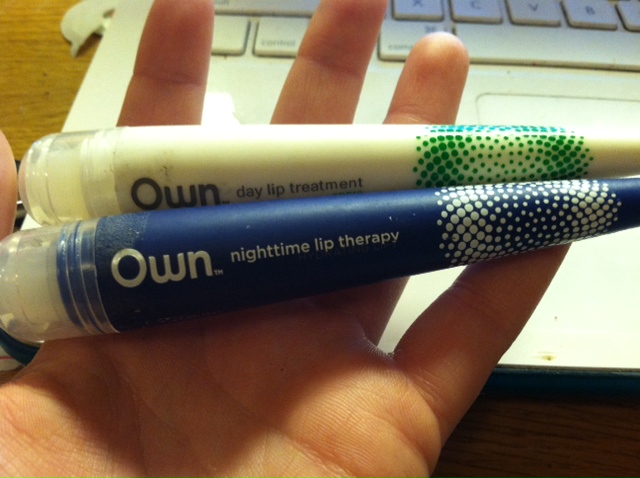 HEY! I am back 🙂 I promise posts will be less sporadic!! Have you missed me? 😉
Back in action with a review about not a food, but a product! Own Nighttime Lip Therapy and Day Lip Treatment. I got a free sample of each from the company and was excited to give them a try! Just in time for winter, where lips are vulnerable to harsh winds, cold temperatures and other crappy factors that lead to not-so-nice looking lips. Unless you live in some hot climate year round I suppose…then I'm just insanely jealous 😉
I have been using the treatments for about 2 weeks or so. What I like about them is that they have a ball on the tip, so you don't need to squeeze anything out of a tube or use your finger to apply (which I am not a fan of due to bacteria!). It felt smooth going on, and not a lot came out at once so you do need to roll it a few times over your lips to get a good application on.
I did notice subtle changes, but I don't think it was 100% amazing. I would be sitting doing work, and noticed myself applying the day treatment a few times because it dried out rather quickly. I don't know if that's to say my lips were "absorbing" the treatment or if it was just wearing off. I do like the feel of it on my lips after I put it on, however, as it's smooth and leaves my lips feeling supple. I don't like how it doesn't last that long, as other products I have used in the past.
Overall, it's cool, unique, I like the small tube and the rolly-ball, but it's not as effective as I would have liked it to be. Still worth a try- 3 stars.