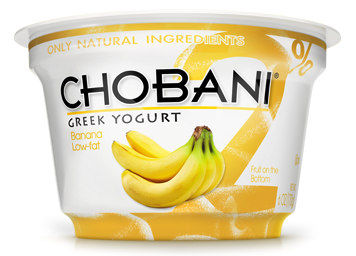 Source
Never fear- I am alive!!!!! SORRY for the mad delay. I promise for more regular posts- have had a very hectic past few weeks but I am officially back 🙂
Today's review…CHOBANI! You all know how much I freaking love Chobani. One a day, minimum, with top flavors (in my opinion at least) being Pineapple, Strawberry Banana, Peach and Black Cherry. Could eat em all day every day. Waiting for a Chobani Peanut Butter flavor (….what?!)
Today's review, the Banana Chobani. I WAITED AND WAITED AND WAITED for this day to come. I was stoked. The second I saw it on the shelf I bought it, fully knowing I had a drawer full (yes, I store my Chobani in the fridgerator drawer where produce is supposed to go 😛 ) and didn't need to buy any more. Who cares!? Bought it.
Opened the Chobani up with pure excitement. Gave it a taste and….
Meh. It was ok. It had the notorious creamy and thick texture CHobani is known for. It had a tang to it- as in it wasn't super sweet and kind of felt dulled down. Almost like banana puree was put on the bottom of a lightly flavored yogurt. Kinda like…. baby food. (Wait…I know what baby food tastes like?)
I just wish it was sweeter. Double edged sword I know, since that would require adding sweetener. But maybe use riper bananas? A different type of bananas? or some stevia? I may try it again, and add a Stevia packet, but I hate having to add sweetness to things that are already sweetened. Mind you I do not eat a lot of sugar (I'm a Diabetic) so don't think I have an accustomed taste for sweet things.
Overall, 3 stars. Not on my top list for CHO, but would buy again. Why not? Gotta have my Chobani 🙂