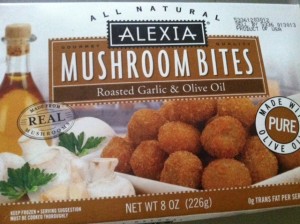 ….Mushroom bites? Really? Mushrooms?
Don't be grossed out! They were actually pretty good. And I'm not really a mushroom fan… I tend to pick them out of my entrees or just leave them on the side. I went through a brief period where I loved mushrooms and then I had just one mushroom that was too squishy and that there ended my mushroom eating career.
But I was willing to give mushroom bites a chance? Alexia sent me these for free to try, and being that I do love a few of Alexia's products, such as their sweet potato tots/fries, I was more than willing to try these. I heated them up in the oven and a friend of mine and I gave them a try.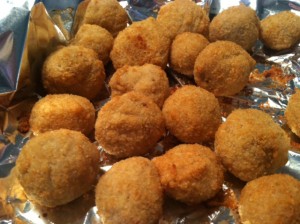 After cooking these guys up, I noticed they were about half of the size of a ping pong or golf ball. They had a mild garlic flavor and were a tad bit peppery as well. The breading falls off pretty easily, but is absolutely delicious. Not dry at all, and full of flavor. The mushroom itself is rather moist, a little squishy (but hey! It's a mushroom!) but small enough so it is not overwhelming. It doesn't really have much flavor by itself.  I got one bite with no mushroom at all (can you spot it above??! haha) which was of no complaint…some good ol' breading 🙂 The bites as a whole were not too salty either, which  I really liked since I feel like frozen food is always LOADED with sodium. These were perfect by themselves…no condiments needed!
I actually really enjoyed these! I only got to eat like two of them since I'm on a lower carb diet for now, but I definitely wanted more! My friend seemed to like them as well. I give them 4 stars