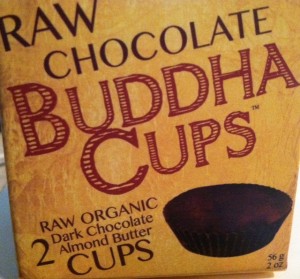 Finally!!! Someone has made an almond butter cup instead of a peanut butter cup! Don't get me wrong… I'm all about the peanut buttah, and just jumped on this whole almond butter bandwagon rather recently. However, it's refreshing to see almond butter be a star in a product other than just a jar. Now…when will they make powdered almond butter…? But that's another story.
The kind folks at Buddha Chocolate asked if I would like to try their Raw Organic Dark Chocolate Almond Butter Cups. Obviously I obliged. I am a Type 1 Diabetic on a rather strict diet, with little wiggle room for sweets. However, an occasional bite of a treat I think is healthy for both my sanity and my sanity. (Did I say that twice?)
I got one single cup, and then a package of two cups, with one to eat and one to share (awww).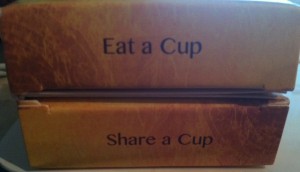 I opened the single one, wrapped generously in a pretty gold foil.  It's a decently sized piece of candy, with the circumference almost being my entire palm. Its vegan, fair trade, dairy free, gluten free, and soy free, 78% cacao, and made in Brooklyn according to the label.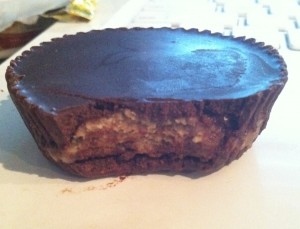 The chocolate part is quite bitter, so hopefully you are a dark chocolate fan if you decide to try these. It has it's sweetness, but the potency of the bitterness of dark chocolate overwhelms the sweetness. The cup however, is very soft and smooth, and almost melted in my hand as I held it. The almond butter on the inside was the perfect compliment. Salty and a teeny bit gritty, it provided a good amount of flavor and really gave it a salty kick.
Overall, I like em! Dark chocolate really isn't my thing (milk> white > dark in my opinion) but it was still enjoyable. I think especially if you like dark chocolate you will enjoy these. A nice take on the traditional peanut buttah cup! 3 1/2 stars
Here's the nutritional facts. The ingredients are Cacao, almonds, coconut, palm crystals, mesquite, vanilla bean, and Himalayan Crystal Salt.