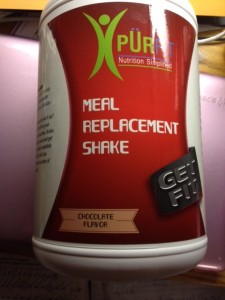 This review is LONG overdue! I got a free bottle of PurFIT Chocolate Meal Replacement Shake powder about a month ago. I had it sent to the wrong address (my "other home"…yea, I have two homes, you Jelly?) had to wait for it to ship to my current address, then when it got to my current address it was waiting in the mailbox and I didn't know about it.
ANYWAY! Sorry to the folks over at PurFIT for the delay. Totally my fault. But now it is in my possession (FINALLY!) And I can test/eat/drink/enjoy/review it. Thanks again 🙂
So- some info on this product. It is intended to be a meal replacement, and you are advised to mix 1 scoop that they provide with 8 oz of water. The protein comes predominantly from pea and bean, and appears to be vegetarian/vegan friendly (I will post ingredients at the bottom). I think the calories are a *bit* low for a meal, even if someone is restricting calories, at 140 calories/ 14 grams protein per scoop, especially if paired with water. However, I could use this as a lean shake for a snack, or I also plan on trying chocolate protein bars since it is NOT made with Whey and I don't have to worry about a rubbery consistency with baking it.
Here's what it looks like dry-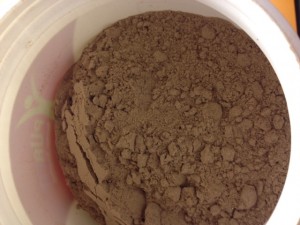 First off, round of applause for PurFIT because this scoop was RIGHT on top. Honestly…what is worse than having to dig through a giant tub of protein powder to get a scoop off the bottom? Literally powder… E.V.E.R.Y.W.H.E.R.E.
Not going to lie…it did not smell that great…it was a very strong and potent smell that I couldn't quite describe. I was a little worried…but hey, protein powder never smells ALL that yummy, and can't judge a book by it's cover 8)
So, I put a scoop in a cup of water, and gave it a mix. It blended really easily, especially since I didn't have my shaker cup with the little metal ball. I SWEAR I keep buying them and someone keeps permanently borrowing them…ahem…but whatever.
It made a relatively thick liquid, even mixed with water, which was a pleasant surprise. wasn't so sure what to expect for sweetness with this product, seeing as it has no sugar. I took a sip…and I actually really like it! It had a deep chocolatey flavor, rich, and really creamy. I was surprised it was so creamy bc I used WATER! Usually I hate shakes unless paired with milk…but it said water, and I was conveniently out of both milk and almond milk.
It has a mild sweetness, like milk chocolate. I think it would taste phenomenal with peanut butter in a shake with ice and water or milk/almond milk. I really like that this protein powder has 7 grams of fiber too, to help tide down hunger, especially if this IS used as a meal replacement.
Overall, I like it! I would drink this again. I may use 2 scoops if it is for a meal, as I am extremely active (heavy lifting 6x a week and some cardio), and I need a bit more calories. It's a tad high in fat for me, 5g per serving, but I see that flaxseed is in the ingredients, which is a good source of fat. I also get why it has a bit of fat in it, since it is INTENDED for a meal…thus fat is needed for satiety. The creaminess is spot on, and I am curious to try this with baking. I will update you guys as necessary! Overall, 4 stars.