QUEST BARS!
I have been a fan of these bars for almost 2 years when I got a box to try from the company. Since then, I have been hooked. They seem to almost have blown up in popularity, and well deserved…these things are delicious and perfect when you are on a strict diet and need something high in fiber, low in sugar, and high in protein.
I'm sure almost everyone has heard of the new flavor of Quest Bars that came out recently- Cookies & Cream!! I got a free box of these bars to try, and I was pretty excited about it.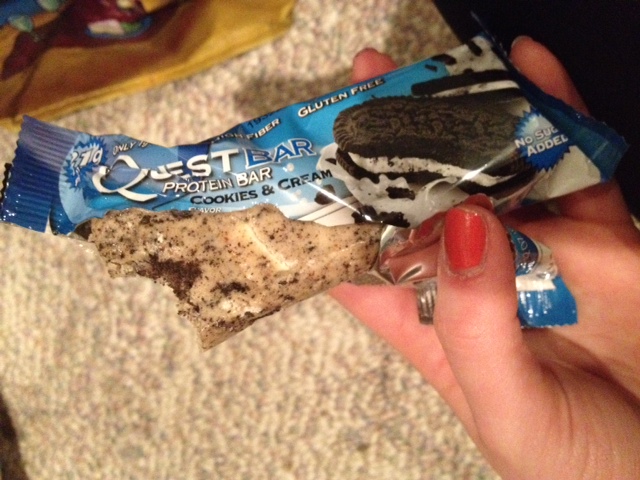 I mean come on…look at this bar. You can see "cookie crumbs" and chunks of white creamy "chocolate"!
First lets talk nutrition. This bar is GLUTEN FREE!, 180 calories, 7 grams fof fat (3 of which are saturated), 310 mg of sodium, 22 grams of carbohydrate (17 of which are fiber), 1 gram of sugar, 2 grams of Erythritol (sugar alcohol), and 21 g of protein.
I use Quest bars as a snack, as I usually eat 3 meals and 2 snacks, or I'll eat half when I have those bad hunger pains that just will NOT relent. The nutrition facts are quite awesome- not TOO high in fat, nice amount of fiber (which is ideal for me since I am a Diabetic for glucose control) and only 1 gram of sugar.
Okay, that's all cool but how does it taste?
The bar is honestly, amazing. It's my new favorite flavor. It's chewy and dense, sweet but not overly sweet. The white chocolate chunks are creamy and have a vanilla flavor to them, reminiscent of the cream in an Oreo cookie. The cookie crumbs scattered in the bar is what won me over. Crunchy and tastes very similar to a cookie!! When you find a part of the bar with a huge piece of cookie crumbs or the white chocolate it is like hitting lotto— cookies & cream lotto 😉
Overall, I love these. I always order directly from the site, because I feel like they are freshest and softest from the website. These get 5 stars from me. I honestly can't complain about a thing.
Q- What is your favorite protein bar? Or what is your favorite Quest Bar flavor? Leave me a comment below 🙂