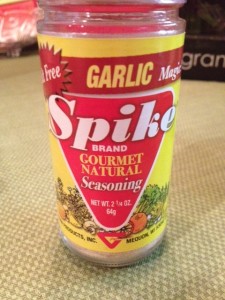 Whether you are dieting, watching your salt intake, or just like to cook, spices and seasonings have the utmost importance when it comes to giving bland foods some flavor (think: chicken breast, egg whites, etc.)
Spike sent me some of their Gourmet Natural Seasonings. Two of my favorites have been the Onion-Magic! and Garlic-Magic! flavors. Both of these are salt free- which is great because I live in a household where high blood pressure is common, and excess table salt is NOT needed. (I actually have LOW blood pressure, and need the salt, but I was interested in trying these out anyway!)
First one up- the Garlic Magic! This one had a very nice garlic flavor. It was not salty, as it is salt free, but what i liked about it was that you could really intensify the garlic flavor in a dish, without adding a load of sodium. So my entire family could eat whatever we seasoned the Garlic-Magic! with, and anyone who wanted additional salt could add it to their own dish. I also liked that it didn't leave a bad aftertaste or unsettled feeling. Garlic (for me at least) sometimes causes indigestion, and this spice left me feeling good afterwards. I sprinkled it on shrimp and broccoli with a little butter for a nice tasty, salt free, low carb dish!
Next, the Onion- Magic! My mother actually took this one from me she liked it so much (thief!!!). We sprinkled it in mashed potatoes, and then used it on home fries. It was good!! It smelled delicious when it was cooking, and had a pleasant onion flavor, without being salty or overpowering.
Lastly, we tried the 5 Herb- Magic! Again, it was salt free! We sprinkled this one on chicken breast (ugh…I am so SICK of chicken breast! Gotta keep it interesting, right??) I thought it was a great compliment to the chicken. It had a strong flavor from the herbs, but was not overpowering in the slightest. This particular spice blend had rosemary, basil, oregano, thyme and marjoram. I am 100% unsure what marjoram is, but it sounds pretty cool, so there you go 😉
Overall, I think these are worth a try, especially if you have to watch your salt intake. As a total, I give them 4 star rating.

[Below is Nutritional Information for the Garlic-Magic! spice]