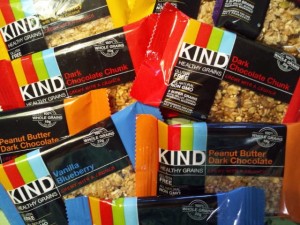 Hey guys!
I got a nice shipment of new Chewy with a Crunch bars, courtesy of KIND, to do a review on! I used to be a KIND addict- they had they're yummy granola bars with the nuts in them at my dining hall. I would use up a LOT of my "dining dollars" on those babies!
So even though my diet has strayed and I do not eat those bars as frequently anymore, I was still pretty excited to try these new bars.
The Chewy with a Crunch bars are gluten free, made with 100% whole grains, are non GMO, and made with minimal ingredients. So let's get started!
Peanut Butter Dark Chocolate- This one was not too sweet, and had a mild peanut butter flavor. It was a little blander than I would have wanted or expected it to be (peanut butter chocolate is a strong combo in my eyes!) but it was still rather yummy. The chocolate chips added a very nice touch and were definitely necessary. I liked how this bar had a nice crunch but was still chewy- living up to it's name! 3 1/2 stars
Dark Chocolate Chunk- this one was my favorite! It tasted nearly identical to a Quaker Chewy Chocolate Chip bar, but a tad less sweeter. It was very good! It had a nice vanilla flavor in the background, and the dark chocolate chunks actually tasted like milk chocolate to me, which was a plus in my eyes since I prefer milk chocolate. 4 1/2 stars
Oats & Honey with Toasted Coconut- this bar was pretty good! I liked that you could taste both the toasted coconut, some mild sweetness from the honey, and that it had a baked from the oven granola kind of taste. It had a nice amount of sweetness, and I found it crunchier than the other bars. 3 1/2 stars
Vanilla Blueberry- this one had moderate flavor, was a little bland, but was certainly saved by the baby blueberries scattered throughout the bar. The vanilla flavor was sort of muted, but once you bit into a blueberry, it lightened up the whole bar, and made it much better. The blueberries themselves were tiny and sweet, and had a good flavor. 3 stars
Maple Pumpkin Seeds with Sea Salt- I found this bar awkwardly salty. It was good, but it had an off flavor. It wasn't too sweet, and it had a nice amount of pumpkin seeds scattered throughout the bar. The maple flavor is off…and maple is one of my favorite flavors. Overall the bar was lackluster, and I was not a fan. 2 stars
Nutritional information varies per bar(but is roughly the same). Here is the Nutritional Information for the Oats & Honey with Toasted Coconut

150 calories, 4 grams of fat (1.5 saturated), 95 mg sodium, 25 carbohydrates, 3 grams of fiber, 7 grams of sugar, 3 grams of protein.