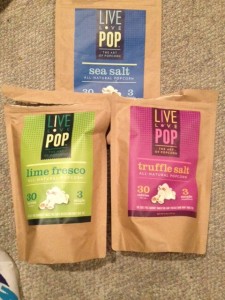 Popcorn is by far my favorite snack (this post is still not biased!!). I was sent 3 flavors of a brand of popcorn I have never heard of, or even seen in stores, for free. Live Love POP sent me Lime Fresco, Sea Salt, and Truffle Salt popcorn, all made with minimal ingredients, and waist line friendly (30 calories per cup!).
The popcorn comes in brown bags that were both easy to open and close to stay fresh. I like that it had a nice sturdy bag, but also a natural feel, and had a zipper built in the bag. My number one pet peeve with snacks is that the cheap plastic breaks and then you have a bag ripped down the middle, thus, either snacks all over the floor from improper opening or stale snacks. BOOO!
I decided to try the Truffle Salt flavor first. And boy was I not disappointed! It was SO good! I never had truffles, or truffle salt, so I wasn't sure what to expect. However, this popcorn had a lot of flavor and almost reminded me of a garlic knot. Garlic knot flavored popcorn for 30 cals a cup? COUNT ME IN! I did not miss the butter or anything on this popcorn, flavor was covered! It also had a good amount of salt, but not too much. My only complaint was that bag was too small! heh! 4 1/2 stars
Next up, the Sea Salt. This one was honestly pretty bland. I know it had no other flavor really except salt, but it was even lacking in the salt department. It was crunchy and fluffy popcorn, which kept me eating the rest of the bag, but I wouldn't buy this one in the future if I had the chance. Not enough salt to have a sea salt flavor. 3 stars
Lastly, Lime Fresco.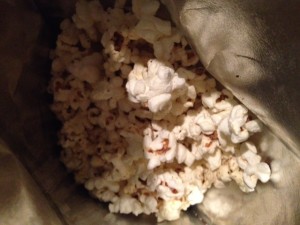 This one I had high hopes for, especially after the Truffle Salt flavor. It sounded semi exotic, and a new flavor I never tried when it came to popcorn! The popcorn was a bit odd. It had a lime flavor, some bites more potent than others, that was a bit sour, mixed with some salt flavor. The flavor reminded me of a lime rub you would put on chicken to grill with. It got better as I ate more of it, and although it wasn't my favorite, it wasn't bad. I feel like a touch of butter would have been perfect, but again, 30 cals a cup a can't really complain! 3  stars
Overall, I like the popcorn! I would LOVE to have more of that truffle flavored popcorn and love to see if Live Love POP has any more flavors to try. I think they would make a really good sweet flavored popcorn, because I like the direction they are going in! These popcorns are vegan, all natural, and GMO free 🙂