Hello!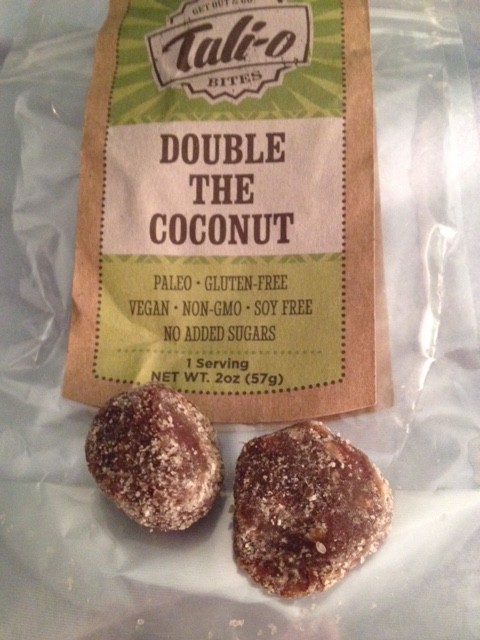 I got some  yummy treats from Uncomplicated Foods to try for free called Tali-O Bites! They are these bite sized treats made from organic dates and other flavors, to make for a healthy snack. They come in 3 flavors, Powerfully Peanut, A Hint of Almond, and Double the Coconut. All 3 flavors are gluten free, vegan, non GMO, soy free, and free of added sugars, according to the package. The Double the Coconut and Hint of Almond flavor are also paleo friendly.
As you can see, they are tiny!
I tried the Double the Coconut flavor first. These were soft and chewy, and had a sweet and fruity taste. You can certainly detect the fate flavor. The coconut flavor was prominent, but I wouldn't say it was "double" in terms of flavor strength. I am assuming the powder on the bite was some type of extra coconut flavor. There were tiny pieces of nuts that gave it a teeny crunch, which was nice and added texture. These were really yummy! I used them pre workout early in the morning (I'm talking 5 am…) for a boost since it was too early for me to eat a full breakfast. 4 stars
Next up, Hint of Almond. This one was not my favorite of the 3, but it was still good.  Almond was not the first thing I thought of when eating these, however. It had a sweet taste to it, but moreso tasted like an almond butter after-taste. It was soft and chewy, and had a rather peculiar flavor that is a bit hard to describe. Almost like if you took almond butter and dates and made it into a chew with teeny nut pieces. Overall, 3  stars.
Lastly,  Powerfully Peanut. This flavor was my favorite! It had a yummy peanut flavor and was mildly sweet. THere was a hint of coconut flavor and almost tasted a little like vanilla. They were soft, dense and chewy. Very good! Definitely want more of these!
Overall, these are good! I do not have or know the nutritional facts, but I do have the ingredients for Double The Coconut listed below.