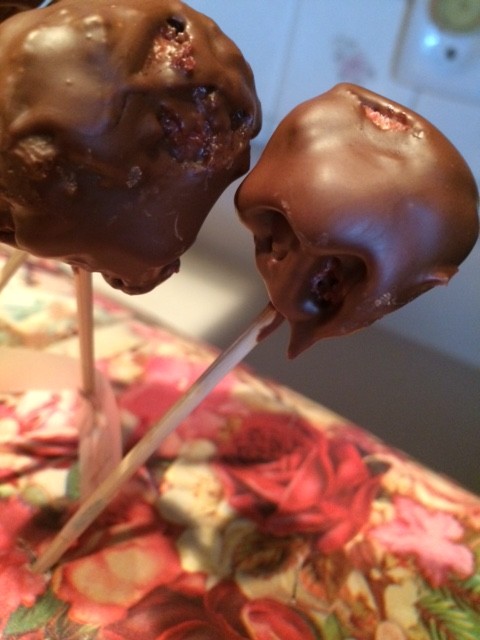 So Quest Nutrition asked if I would try one of their Valentine's Day Recipes and post about it on my blog, and I happily obliged. I decided to do the Red Velvet Cake Pops using their Vanilla Protein Powder and Dark Chocolate Chunk Quest Bars. This will be my outline/review of the recipe (the real recipe is at the bottom), and my thoughts on the product.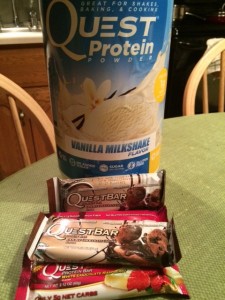 Here we go!
First, I microwaved the  Double Chocolate Chunk Quest bar in the…well, microwave. Then I flattened it out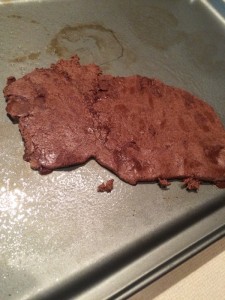 baked it, and grinded it up so it got to be a fine powder. I then combined the Quest bar with a slew of other ingredients, such as almond meal, red food dye, almond milk, and the Quest Vanilla Protein powder in a medium bowl and mixed well.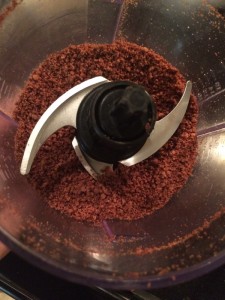 Then…into the oven it went!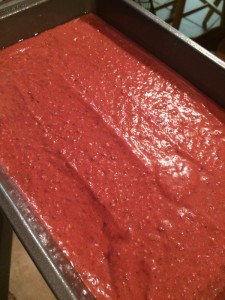 In the meantime, I made the "frosting". I used the Quest protein powder again, alongside cream cheese, sweetener, and sour cream, and mixed well. *tip- soften your cream cheese before you try this recipe… I did not and it was awfully hard to mix! I tasted the frosting though, reminded me of a vanilla buttercream.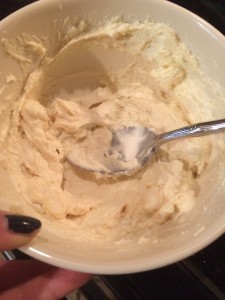 After about 20 minutes I took the quest bar mixture out of the oven.
Then I crumpled up the cake, and added the frosting to it.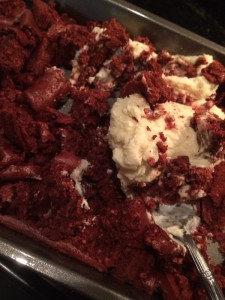 Next up, made the cake into little balls, and off to the freezer! (I did this step backwards…oops)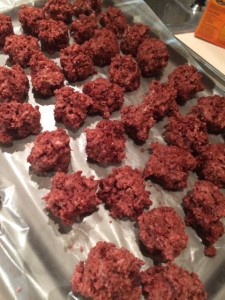 The last step was melting and coating them in chocolate. I decided to use regular chocolate versus sugar free, mostly since it was easier for me to find in stores and cheaper.
Overall…how did it taste?
really damn good!!! The chocolate was a savior, and it went just perfectly with the cake. I loved the fact I was eating something that wasn't going to derail my diet. The cake was moist, had a cream cheesy, vanilla flavor, and tasted like a normal cake pop you would find at Starbucks. These were definitely time intensive…but worth it! 4 1/2 stars.
The recipe was a bit labor intensive, but cake pops (at least from my experience) are not an easy thing to make. So this recipe might be difficult for a beginner, but it was still easy to follow. If I made this again, I would probably do a half sugar/ half 0 cal sweetener, since I can sometimes detect that sugar free taste (I am used to it as a diabetic!), but I think half sugar would provide a little less bitterness and better flavor. However, since this is a "cheat clean", I can see why 0 calorie sweetener was used.
Recipe & nutritional info below!
Here is the recipe they gave me. I do NOT own this recipe, it was provided to me by Quest Nutrition, as well as getting a free tub of their Protein Powder and quest bars to make the recipe. Any  modifications I personally made are provided in parenthesis.
Red Velvet Cake Pops:
Yields: 18 servings
Serving size: 1 cake pop
Prep time: 20 min
Cook time: 24 min
Ingredients:
Cake
1⁄ 2 cup Quest Vanilla Milkshake Protein Powder
1 Double Chocolate Chunk Quest Bar
1⁄ 2 cup almond meal
1 1⁄ 2 tablespoons unsweetened cocoa powder
3 tablespoons zero-calorie sweetener
1⁄ 2 teaspoon baking soda
1⁄ 4 teaspoon salt
1 cup unsweetened vanilla almond milk (I used unsweetened vanilla coconut milk)
2 teaspoons vanilla extract
1⁄ 2 tablespoon red food coloring
Coconut cooking spray
Frosting
1 scoop Quest Vanilla Milkshake Protein Powder
3 1⁄ 2 ounces reduced-fat cream cheese (I used full fat)
1⁄ 4 cup zero-calorie sweetener (I used Splenda)
2 tablespoons reduced-fat sour cream ( I used full fat)
1⁄ 2 teaspoon vanilla extract
Chocolate Coating
6 ounces sugar-free milk or dark chocolate ( I used regular milk chocolate)
Method:
Cake
Preheat oven to 350°F.
In a medium-sized microwave-safe bowl, heat unwrapped Double Chocolate Chunk Quest Bar for 10 seconds.
Using a rolling pin, roll the bar out to 1⁄4-inch thickness.
Bake for 4 minutes, or until bar is lightly crisped. Remove to cool.
Break the crisped bar into pieces, place in a mini blender, and process into a powder.
In a medium-size mixing bowl, add Quest Vanilla Milkshake Protein Powder, the powdered Double Chocolate Chunk Quest Bar, almond meal, cocoa powder, zero-calorie sweetener, baking soda, and salt, and mix well.
Add almond milk, vanilla extract, and red food coloring. Mix cake base until fully incorporated and batter is dark red.
Coat a 9-by-13-inch glass baking dish with nonstick cooking spray. Pour in batter.
Bake 18 to 20 minutes, or until an inserted toothpick comes out clean and cake is completely cooked and springy.
Remove and let cool.
Break the cake into small pieces, and place in a large mixing bowl.
Frosting
In a medium-size bowl, add Quest Vanilla Milkshake Protein Powder, cream cheese, zero-calorie sweetener, sour cream, and vanilla extract.
Mix until smooth.
Assembly
Add frosting to crumbled cake, and mix together until all frosting is incorporated.
Cover bowl with plastic wrap and place in freezer for 20 minutes.
Remove cake from freezer. Take a small amount of cake batter and form eighteen walnut-sized balls.
Break chocolate into even-size small pieces. Melt slowly over a double boiler or in a dry bowl that fits snuggly over a pot. (Water should not touch pot or bowl above it. Before placing pot on top, simmer water in pot on low heat, then turn off heat and place the dry bowl or pot with chocolate in it on top, and stir when chocolate starts to melt, until chocolate is shiny and smooth)
Once chocolate is ready, remove cake balls from fridge and carefully submerge each into melted chocolate. Gently tap the edge to remove excess. If chocolate begins to seize, simply return to double boiler. Place each pop on wax paper and insert lollipop sticks.
Chill for 10 minutes in freezer, or until chocolate hardens and creates a shell.
Nutrition Info:
Calories: 110
Protein: 7
Fat: 7
Net Carbs: 3
Fiber: 4