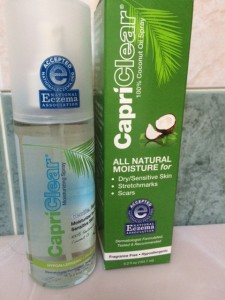 Hello!
So I got a free sample of Capri Clear 100% Coconut Oil Spray to try out. I was interested to try this, especially since it was eczema approved and for dry/sensitive skin. I have VERY sensitive skin. The only creams I use are usually from Burt's Bees, made with natural ingredients, or other  brands that are designed from sensitive skin. I also never used an oil spray for a moisturizer before, so I thought this would be interesting. Here are some facts: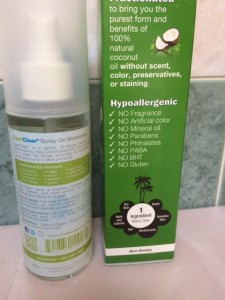 So as you can see, no fragrance, no colors, no mineral oil, no preservatives, etc. It is 100% coconut oil in "the purest form" in a bottle. It comes out as a very light mist, and is easy to pump/no clogging. I first did my legs right after a shower so I could test how well it works.  It was definitely "weird" to me, since I always used creams, to apply an oil. If you don't spray enough, it's hard to spread into your skin, but of course, if you apply too much, you can have an oily texture. Luckily the spray is a very fine mist, so you can adjust that easily.
It wasn't greasy, but it leaves an oily feel at first for 15 minutes or so. Then it sinks into your skin and your skin is left feeling soft. I sprayed extra on my feet to help them soften up. I used it for a couple days and found it worked well for the most part, but some areas of my skin felt a little dry the next day, whereas a cream I felt lasted longer. So this might need more frequent applications.
Although the bottle didn't specify, I tried this in my hair. I sprayed my hair with 3 spritz or so of the coconut oil and let it spread evenly with my fingers. I then put my hair in a braid and let it dry after the shower. My hair was super soft and not frizzy, even on a rainy/humid day. I just knew I had to be careful with how much I applied, since it was pure oil.
Overall, a good product, you just have to apply a tad more frequently than I would a cream. I am happy to report no breakouts, rash, irritation, anything. It got the job done! 4 stars