So whilst purchasing my weekly dosage (yes, dosage) of greek yogurts, I spotted this new gem on the shelf. I used to be absolutely obsessed with regular Stonyfield Farm yogurts for years…it was my go snack. I since then moved onto greek yogurt, but Stonyfield Farm will always have a  place in my heart. So I saw this Stonyfield Organic yogurt on the shelf and decided to give it a try.
It's made with "sweet fresh cheese" which can be off-putting I think as a label to people who don't eat a lot of cheese or yogurt, but, yogurt lovers can appreciate it.
Anywho, this baby has 10 grams of protein per serving, which is sub par for a greek yogurt,  but, this never actually SAYS greek yogurt on it…but it is conveniently placed next to the greek yogurts at the store, probably due to the container. So, I'll blame Stop n Shop for this one, and myself for not actually reading the container. (What do you want from me? Sunday night grocery shopping with my best friend isn't exactly productive…)
Here's what it looks like: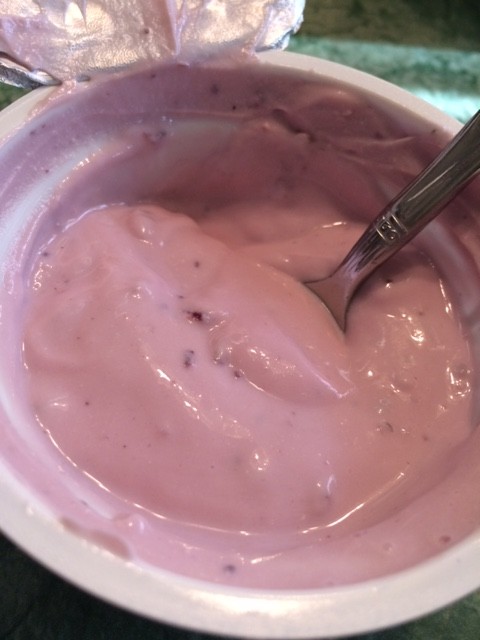 The consistency is halfway between a thick greek yogurt and a more runny regular yogurt, a hybrid if you will. The Belle Blueberry in flavor, however, is quite exquisite. A gentle, "real" blueberry flavor, and mild sweetness, but a beautiful cream flavor pervades the yogurt. Only 2.5 grams of fat too, which is entirely from the cream, but totally worth it. The flavor is delicious with the blueberry, and gives a blueberry and cream-eqsue feel.
Perfect.
Will definitely buy again. I'll shush my sub-conscious screaming "HEY but this doesn't have 13-14g of protein!!!" by telling it I will up the egg whites at lunch later on. Problem solved, protein quota hit.
4 1/2 stars.
Follow me on my new INSTAGRAM for shorter reviews and more! lisa_liftsx