Alright! So as you guys probably know, I am a *huge* nut butter fan. However, coconut butter has never been one of those nut butters I bought or tried. Sweet Spreads offered me 6 of their coconut butters to try for free. They come in White Chocolate, Vanilla Cupcake, Maple Pancake, Dark Chocolate Mint, Cinnamon Roll and Chocolate Brownie flavors. Each of them have 2 grams of sugar per serving, which is a plus.
Now. One thing I know about coconut oil/butter is that it is solid at room temperature. So If you open a jar of this stuff it will be exactly that…a soft solid. There is a white layer on the top (fat most likely) and more colored separation on the bottom. Sweet Spreads wrote "Tip: For a warm smooth sensation- remove the lid and microwave for 10-15 seconds". I would argue that's less of a tip, and more mandatory, at least at first. Once you microwave it the first time, and it cools again, it hardens up more "mixed", and then I essentially used a fork to "chip away" and eat pieces of coconut butter. Sounds hilarious, but it was actually kind of fun.
Here's what it looks like when you open up a jar: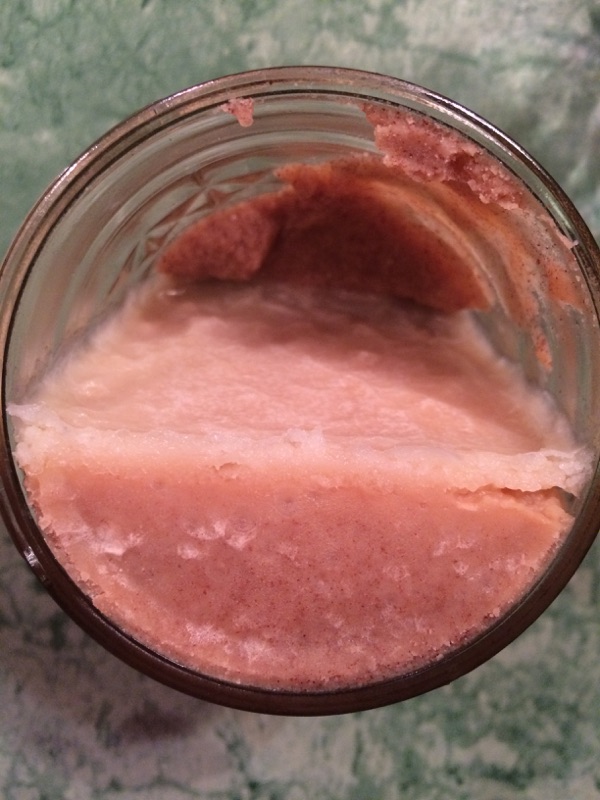 Here's my chipped away coconut butter (post microwave/ re solidified):
And here's my fresh out the microwave coconut butter: Mmm.
So, I'm not sure how these spreads would be on a sandwich, but you can give it a try. I had mine straight from the jar.
Maple Pancake: Nice and smooth post microwave, and the smell was really delicious. It has an almond butter consistency, and coconut flavor. The maple flavor was honestly pretty slight, I wished it was a bit stronger. However, it grew on me. There was something that left a little bit of a bite to it, like cinnamon, once it was done eating. 3 ½ stars
Cinnamon Roll– This one was gritty but smooth, again, like almond butter, A nice cinnamon flavor, and definitely detected a nutmeg flavor as well. The sweetness was sight, but there. It definitely was indicative of a cinnamon roll, but with some certain coconut flavor as well. It had almost an "earthy" taste to it. I liked it. 3 ½ stars
Vanilla Cupcake– This one tasted almost like straight up coconut butter, since the vanilla flavor was so milk. It was a bit pastier than the others, and I felt it needed to be sweeter. I like this one better cold, and it reminded me almost of cake batter. It was very rich however, so I couldn't eat too much at once ( a good thing, since this is caloric!) 3 ½ stars
White Chocolate- this one was pretty good!! It was sweeter, but not too sweet, and the flavor goes well with a coconut taste. It had a mild white chocolate/vanilla flavor. I let this one heat up, cool, and then "scrape" with fork. A tad pasty, but good. 4 stars
Chocolate Brownie- mmmm. This one was good. Like a chocolate covered coconut treat. A little gritty, even post microwave, but still tasty nonetheless. A rich chocolate flavor, this one was sweeter than the rest and really good. It was I would say 50/50 chocolate to coconut flavor ratio….but a good ratio at that. 4 ½ stars
Dark Chocolate Mint– I tried this one last. I was afraid. Minty nut butter?? And while it wasn't my favorite, it wasn't bad. It tasted like a muted York Peppermint Patty. Chocolatey and minty, but not TOO minty. The coconut flavor is almost completely masked in this one. The dark chocolate aspect was nice though, and very rich. 3 ½ stars
Overall, pretty good! The only drawback is that these are mighty caloric. 1 Tbsp has 140 calories! Not good for those nut butter addicts like me! But if you watch portion sizes, you do not need more than 1 tbsp at a time…they are very rich and decadent, and certainly a sweet treat ☺