So, this is by far probably one of my favorite reviews. I am a TOTAL gym rat…think 6 days a week at a minimum…and getting the opportunity to do a "Gym Bag  Beauty Essentials" review is CLUTCH! I received a slew of samples to try. So let's get to it!
KMS California HAIRPLAY Makeover Spray–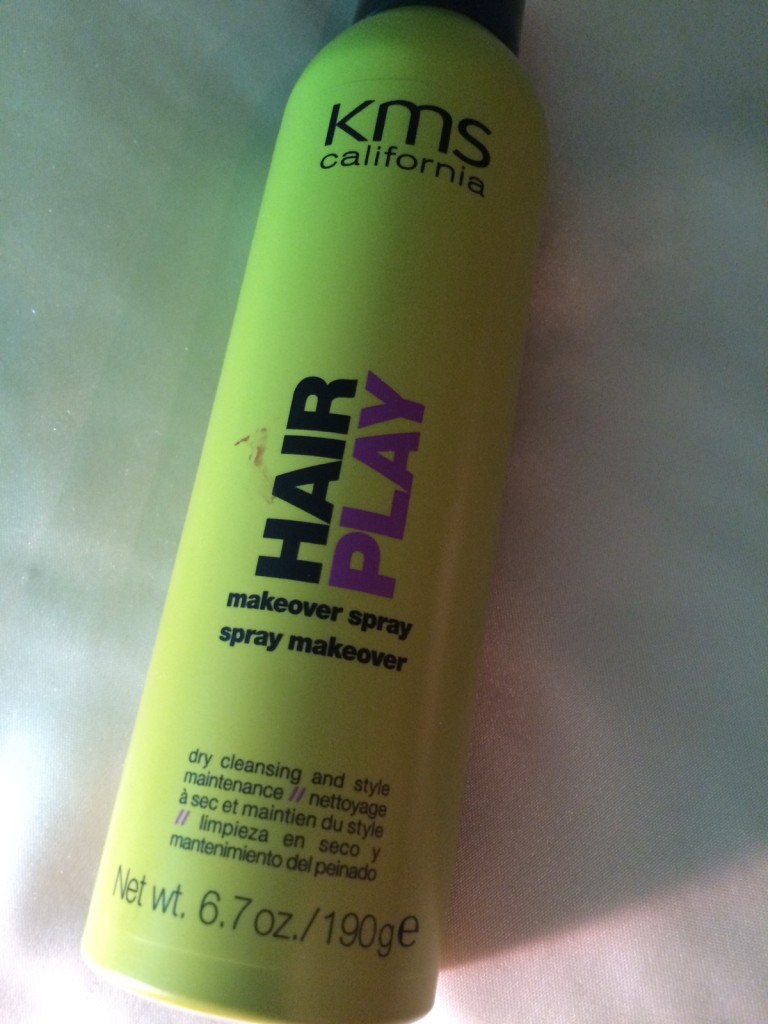 Aka….a dry shampoo! Comes out pretty forcefully, and it's cold! It feels good, especially if using post workout to absorb the greasies. It leaves a white residue while it's drying, and looks kind of flaky, so make sure to brush it out once it's dry to prevent it from looking like dandruff flakes. A friend of mine told me a tip to use dry shampoo and then brush and use a blow dryer. I've done this in the past…it helps!
Overall, this stuff worked well. My hair was on it's second day, and it helped absorb a few of the more oilier spots, for a uniform boost. I will definitely will buy again. Felt freshly washed especially when I shot the spray directly at the roots. Very good product. 4 ½ stars
Scunci Everday & Active Reversible Headband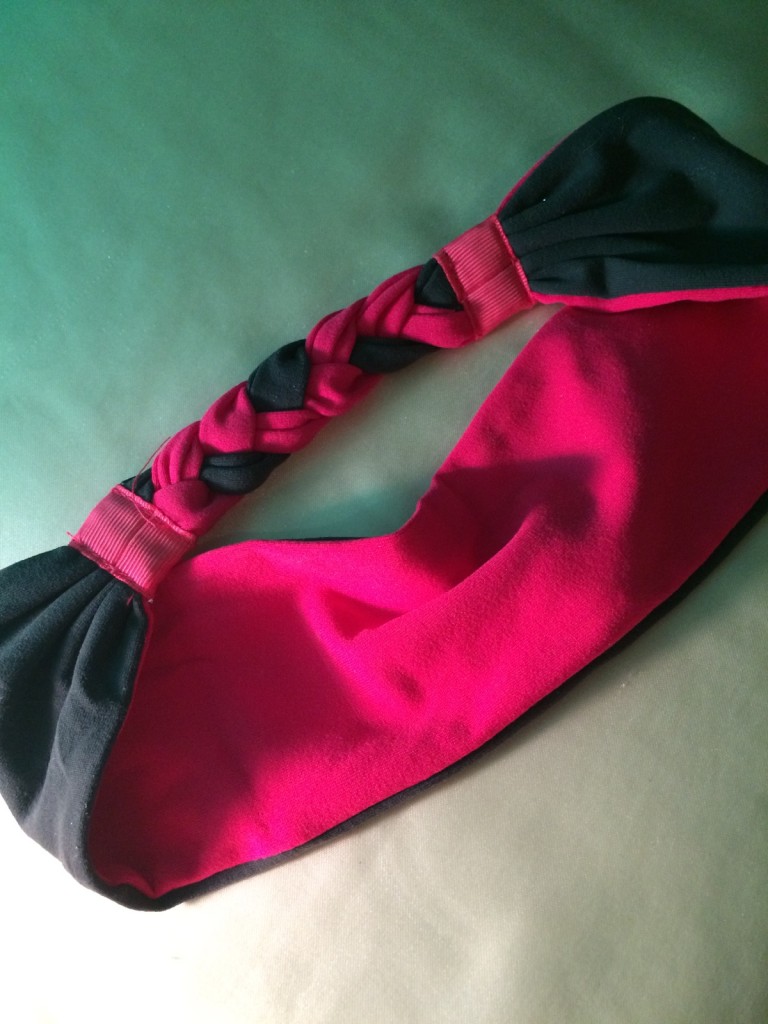 this head band is super nice. I love the fact that It's reversible, and has two great colors of a fuschia and grey, so it can mix with a lot of different outfits. The braid on the underside is also super pretty, and I like it, because when hair is up in a ponytail it adds a cute little feminine touch.
Unfortunately, I was so sad once I tried it on. My head is on the smaller side, and I mean it…I had to get custom sized small helmets for softball when I was younger…and this headband was too big for me :/ Plus, my hair isn't super voluminous, it's straight so it can't make up for the space. It's a shame it's not elastic or adjustable somehow. I'll have to pass this along to a friend who has bigger hair than me (or a bigger head haha). Can't give this one a rating!!
Burt's Bees Brightening Daily Facial Cleanser–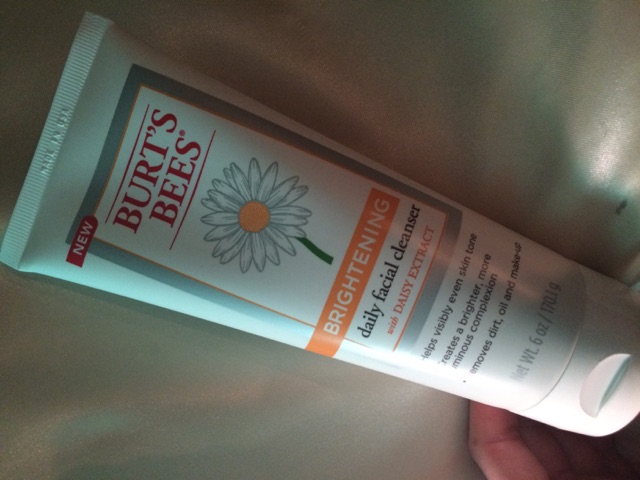 This was a pale yellow  in color and super creamy. It smells really good, fresh, like flowers and even slightly like citrus. It left my face feeling soft and moisturized, but clean. It did have a residue post wash, so if your skin is very oily it might be a problem.
Not sure about the brightening effect, but the product is fair. I am not a true fan of creamy cleansers, since I feel it doesn't get rid of all the oil, but that is personal preference. 3 ½ stars
NYC New York Color Smooth Skin BB Crème Instant Matte:

To be honest (which you know I always am!)…this kind of stunk. Here are photos of pre and post.
BEFORE: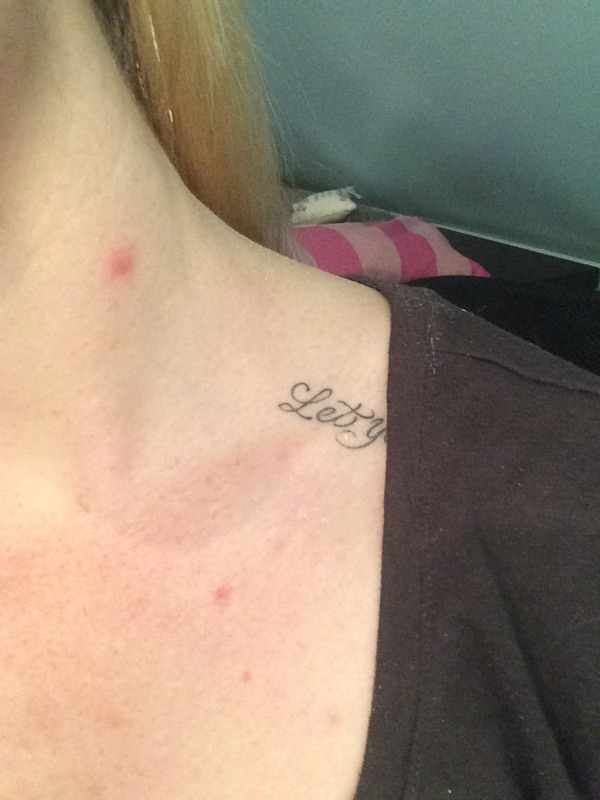 AFTER: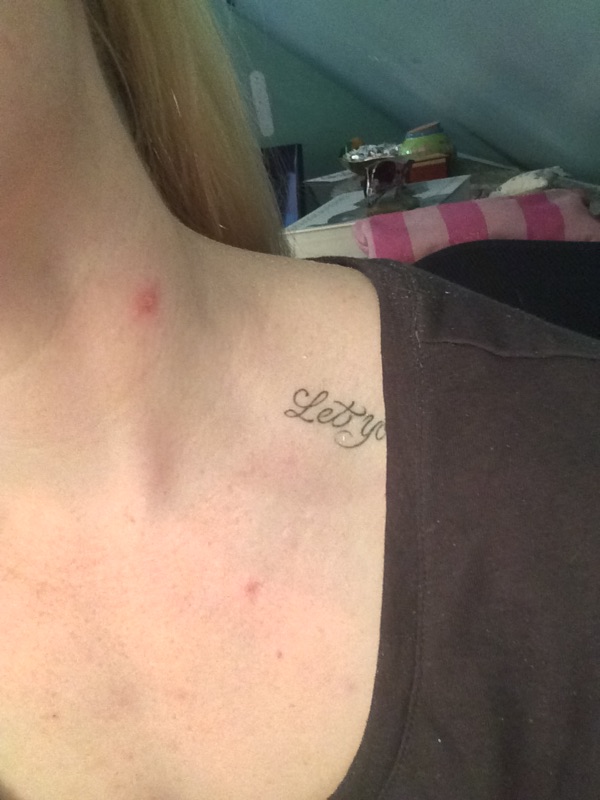 I used it on a mark on my neck that is rather red. And while it did mute some of the redness, it was very thin and didn't seem to do much. I used it as a base under my mineral powder that I put on my face for blemishes. Not a fan. 1 ½ stars
LaVanilla Laboratories The Healthy Deodorant in Pure Vanilla: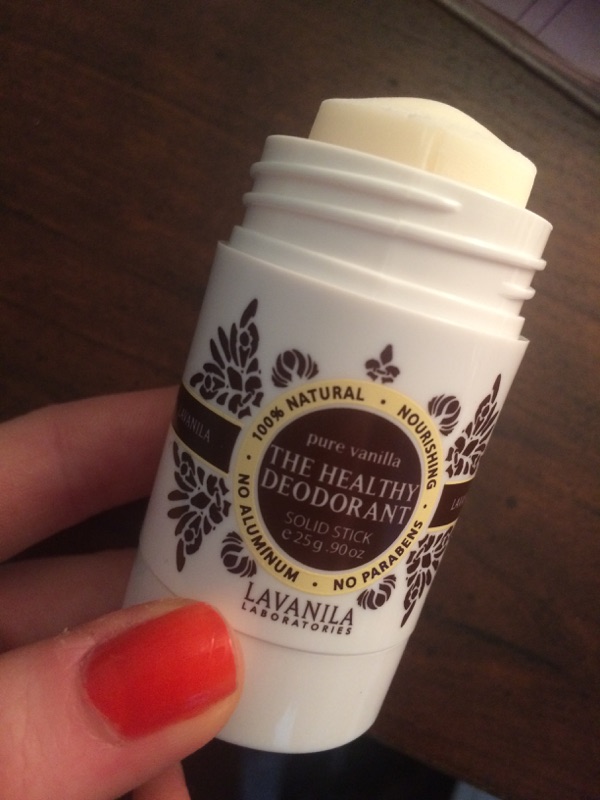 This was super cute and tiny! However it was a tad hard to put on, not creamy or smooth or easy to apply. It smells really good, fresh vanilla and maybe a hint of some lavender? I really liked the scent, and it was rather strong. To apply, you twist it up, but then if you try to twist it down, it doesn't go down too easy (I had pushed it down with my finger).
To test it…I put on right arm pit only to check the effectiveness, and used my standard deodorant on my left. After a workout and all day, I did not reapply to (right side) only. The fresh scent lasted! I was shocked honestly, since I feel natural deodorants get a bad rep for not being effective. It did leave some white residue but not that much, and it is uncomfortable to apply, but at the end deodorant is used for de-smelling…not for smooth armpits right? hah! 3 1/2 stars
Ban Total Refresh Cooling Body Cloths with Smooth Powder Finish: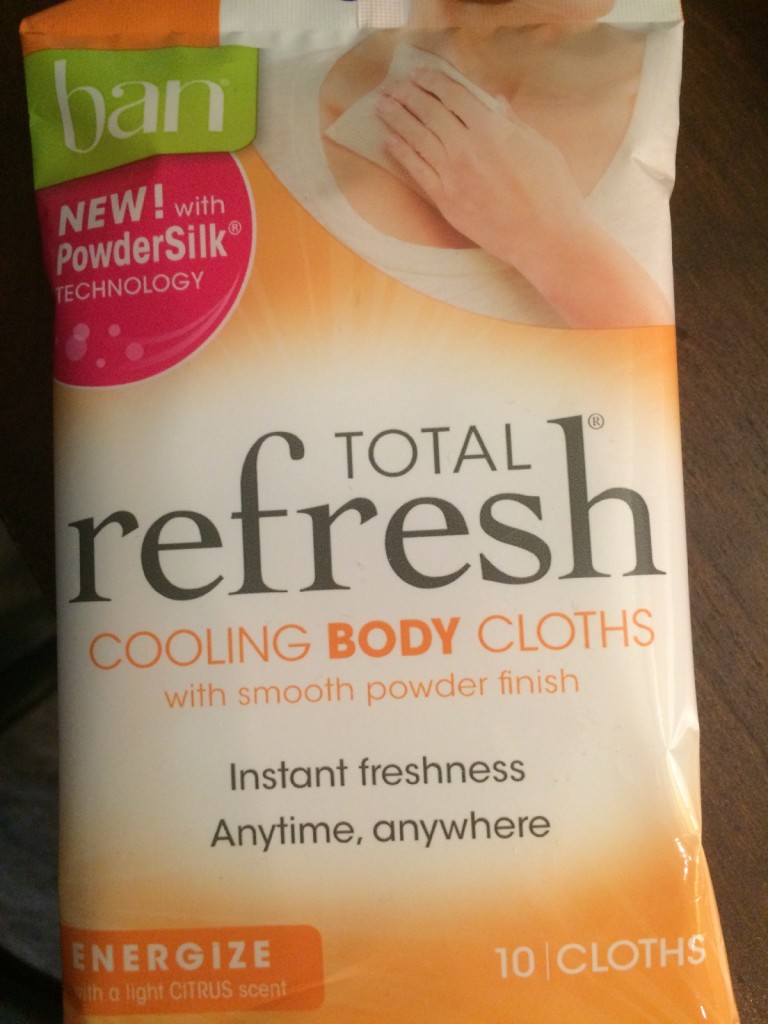 I love wipes. I use them post gym all the time to prevent breakouts. They smell fresh, and kind of citrus-like. They are rectangular in shape with a grid on it, which I think is nice because it helps absorb grease off your face.
The "PowderSilk technology" left my skin feeling soft and clean, not oily. I also think it left a very fine baby-powder like feel and look to it. So the shiny look from oil was gone which I really liked. I would buy these again. They only came with 10, which was sad! 4 stars
Rimmel London Wonder'Lash Mascara with Argan Oil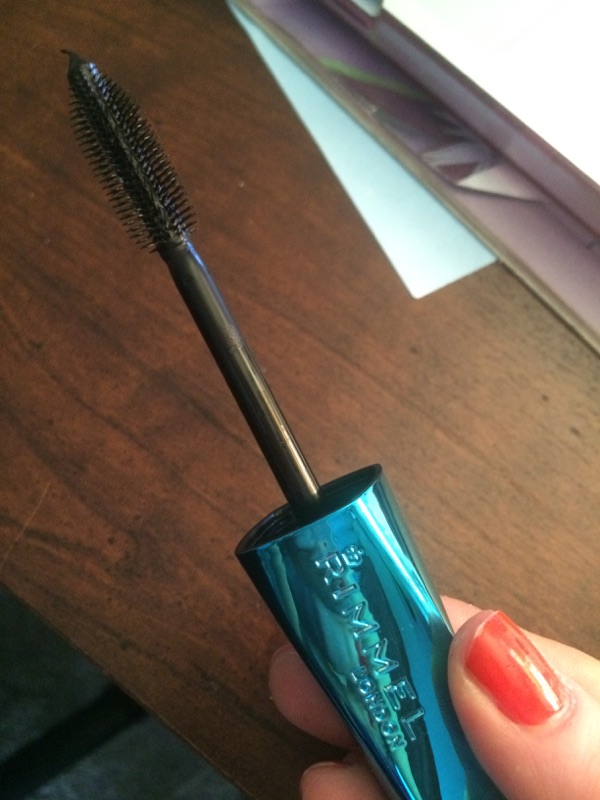 This started off promising. A cool colored applicator, but quite thick and a little bulky. There was a long brush, which I liked, and it was easy to put on. The brush was a harder brush with bristles made of a plastic, not the "feathery" type of mascaras.  It left no clumps which was very nice.
However, the result was OK. It was average in terms of strength for length and volume, I've used a lot better before.  Here is before and after:
BEFORE: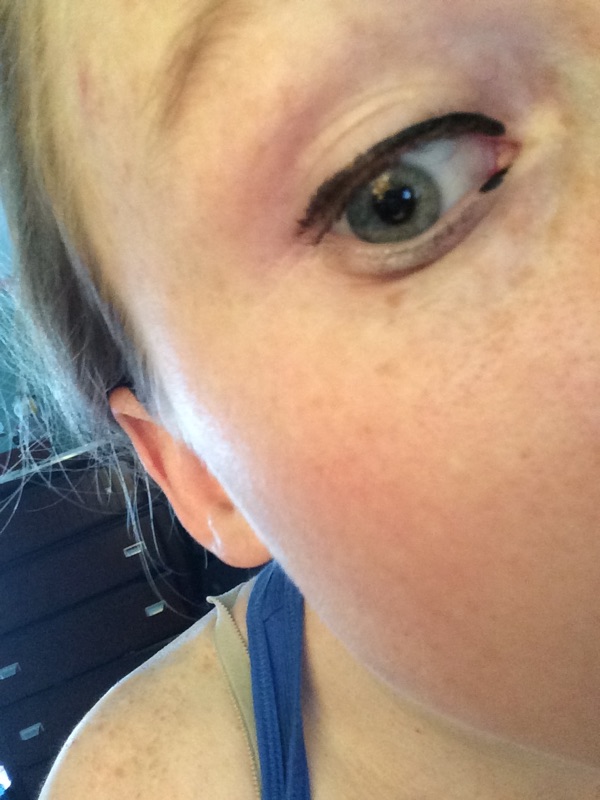 AFTER: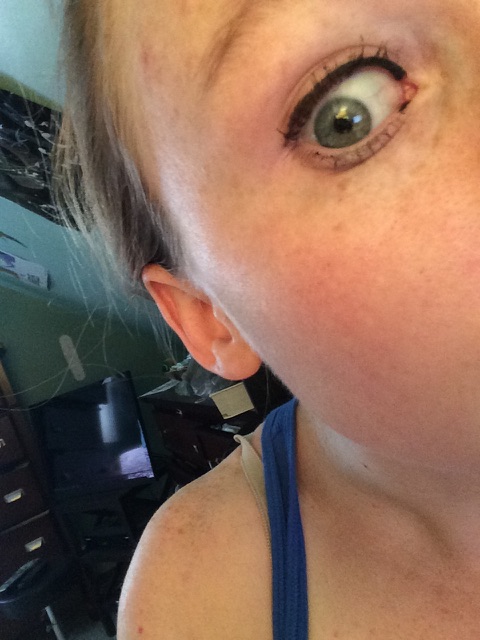 I received these items for free. This is an unbiased review.