Probiotics are super important in anyone's diet. They help keep your immune system working well as well as your colon and bowels happy with a healthy flora of bacteria. They are especially recommended for people on Antibiotics a lot, since those medications wipe out ALL bacteria, both good and bad, in your gut, and the good bacteria is NEEDED in order to function properly!
I got Bio-K PLUS Fermented Dairy Probiotic in the Strawberry variety. The package came with 6 tiny 3.5 ounce bottles, each with 4 servings each (or less depending on your personal dosage). The bottle recommends 1/4-1 bottle per day. The recommendation is in rather small letters so I am glad I read everything throughly before consuming, as I definitely would have just had the whole thing at once, like I am sure most people might do (like my mother for example…never reads!!!).
Each bottle is 60 calories, and according to the box, has 50 live billion bacteria! They are gluten free, corn free, GMO and yeast free. You are instructed to shake vigorously before consumption. This I find weird, bc then they should have come with tops that I can close. How am I supposed to shake it later if I am only having half a bottle per day?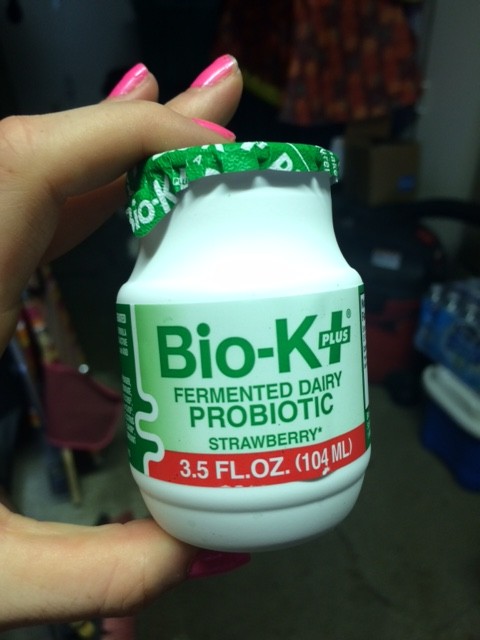 Anywho, how does it taste? It smells like a strawberry yogurt, but not as strong. The flavor is also strong…it is very tart…but not bad. I would advise taking baby sips of this and now a whole mouthful. It tastes like very tart strawberries, unripened, but the "milky-ness" of the dairy makes it so you do not pucker as you would with the tartness of a sour candy. It has some sweetness to it, which is good, but sour is definitely the predominant flavor. NOT like sour milk sour, more like tart-sour candy sour. It's an odd flavor…but I kind of like it.
Overall, I think this is a good way to take a probiotic. You can get roughly 12 servings out of it if you drink half a bottle per day (or 24 if you drink 1/4). I am drinking half per day, and not peeling the green foil back all the way so I can "reseal" so I can shake it later. The flavor is totally doable for kids too- I would tell them it's Sour Strawberry flavor so they know to expect a semi sour patch kid flavor with strawberries. Easy way for them to take probiotics, especially those who do not like to swallow pills.
Overall, a good product. A few kinks, but I like it. 4 stars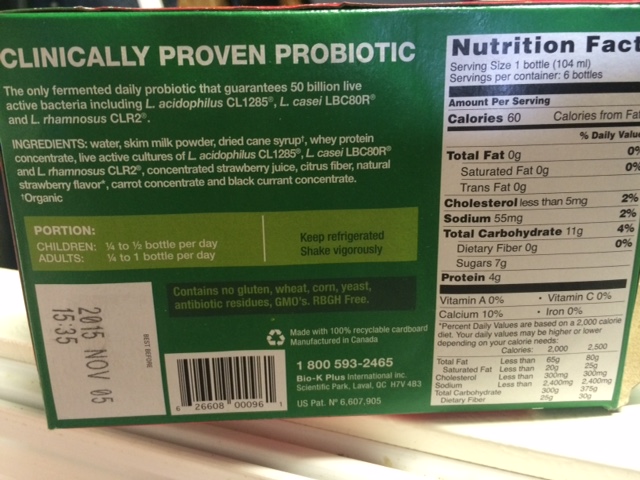 I received this item for free. This is an unbiased review.