The nice folks over at Eukonic  sent me their Organic Cold Pressed Extra Virgin Coconut Oil supplement to give a try. According to the website, this supplement "Supports healthy cholesterol levels and weight loss By delivering the highest percentage of Medium Chain Fatty Acids (MCTs) and Lauric Acid [and] supports heart health".
I am at an average weight, five foot 1 around 110 lbs. My cholesterol levels are a tad high but in healthy ranges. I have days where I have good energy and days where I am definitely tired. I weight train a lot, as well as work and am a student. I am a good candidate for this supplement, so I gave it a try.
One bottle is roughly $14.95, with 120 softgels per bottle. There is 1000mg of Organic Coconut Oil per softball. You are instructed to take 1-2 daily, with a meal. They are easy to swallow and squishy. You can smell the coconut aroma once you open the jar.  I have a sensitive stomach, and I do recommend eating these with food as I got mild upset stomach (I had it before a meal).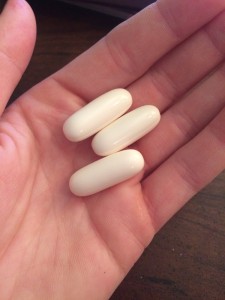 The first week, I had some gas and bloating from this supplement. I couldn't figure out why at first, because I literally eat the same things every day, and the only new thing introduced into my diet was these pills. That subsided within a week, but if I forgot to take it for a day or two, mild bloating would come back.
My energy levels were about the same, but I definitely felt I got better workouts toward the second week of taking them. This may or may not have been from the supplement.
My weight actually did drop, and my appetite was lessened. Again, school just started with work, so TO BE FAIR, I cannot say that this was caused by the supplement, but it could have been possibly correlated. Remember, correlation, not causation without definitive proof.
However, the entire time on the pill my appetite is lower, and I dropped about 2 lbs, which is a decent amount for someone of my size.
I have not had my cholesterol levels checked, but I can report back once blood work is taken.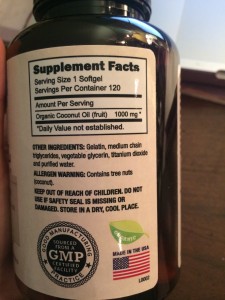 Overall, definitely worth a try. If not, coconut oil I'm sure offers a lot of healthy stuff. People cook it and take it straight up with a spoon all the time for the health benefits. This at least makes it easier and more palatable if you do not like the taste. 3 1/2 stars