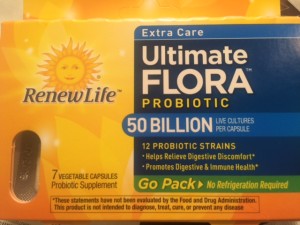 I am a huge fan of probiotics! Not only do I eat yogurt daily for the good bacteria for healthy digestion, I try to take a probiotic daily to help with my stomach issues. I have a very sensitive stomach and get nauseous and bloated easily, and I find I feel best when I take a probiotic.
I had definitely tried some probiotics in the past that were a total waste of money. These products are not cheap, and if it doesn't help, then it's such a let down!
I got to try a 10 day sample of RenewLife Ultimate Flora Probiotic. There are 12 probiotic strains in each pill, with 50 BILLION live cultures in one teeny capsule!! They are Gluten free, GMO free, dairy free, egg free, shellfish free, wheat free and tree nut free. They do not require refrigeration, just to be stored at a cool place.
I took one of these capsules before breakfast each morning. The first day I felt about the same. The second morning I woke up and felt not as bloated, and had an elevated mood. Possible to be coincidence for the mood, but I will not lie I had a hectic morning and still felt pretty good that day.
As the 10 days progressed, I literally fell in love with this probiotic. I felt way less bloated, and I was even on my PMS week where the bloat is freaking awful. I was regulated, my nausea was reduced, I felt lighter and indeed a little more energetic. I had zero problems with this probiotic. As with any new supplement, there can sometimes be bloating or weird side effects if you just start, but I had none. I really enjoyed it!
Overall, this one gets 5 stars from me. I will buy this in the future since sadly, my 10 day samples have run out! 🙁
NOW you can get a chance to try a 10 day sample! Open to US only. Giveaway closes September 15th 2016, 12 pm. 
HOW TO ENTER:
Comment below saying if you are currently on a probiotic or not, and if it has helped you.
Additional entry, follow my fitness and health related instagram at lisa_liftsx
That's it!
You can also enter for a year supply of Probiotics here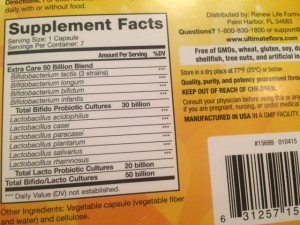 I was given this product to try for free from the company.