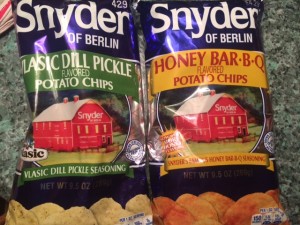 The lovely folks over at Snyder of Berlin sent me a package of some yummy potato chips! I will be honest, I am not a HUGE chip eater…not because I don't find them delicious, but because I would rather eat a snack that will fill me up. However, BBQ flavored chips happen to be my favorite, so I certainly could not pass these up!
Naturally...I tried the Honey Bar-B-Q first 🙂
These were a sweet BBQ flavor! The honey here definitely was a star. They were crunchy, yet crispy, sweet yet middle salty, and overall just delicious. These are almost a perfect BBQ chip for me. If you prefer sweeter over spicier or saltier BBQ chips, you will definitely enjoy these. I had to give the rest of the bag to my dad…couldn't stop taking handfuls from the bag!! (and this is why I don't buy chips often! 😉 ) These babies are also gluten free. 4 1/2 stars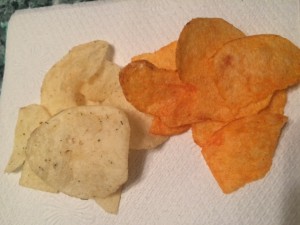 Next up, the Vlasic Dill Pickle flavored chips!
To be fair, I do not really like pickles. I pick them off my cheeseburgers, and I refuse them at diners. I think you are either a pickle person, or you are not, and I would consider myself not a pickle person.
However…despite my apprehension, I can appreciate the flavor of these chips. My whole family was a bit weirded out too. My dad first refused to try any, my brother thought they would be too weird,  but my mom decided to be the guinea pig and try them first. She loved them! Dad went up next…he loved them! My brother tried some…walked away…and came back for more. I guess you could say they were a hit!
I was not super fond of them, but again, they were a favorite with 3 other pickle people 🙂
The vinegar flavor I found a bit strong, as it had a bit of a sour feel. They tasted almost identical to a Vlasic pickle. They were salty, crispy and crunchy. I will admit they grew on me, and I had more than I had expected (curse you, chips!!! Evil deliciousness!!!). Both of my parents decided it would be awesome on a sandwich instead of a pickle…like a deli type of sandwich. Combining my personal feelings with my family, I will give these 4 stars for a pickle person, 3 for a non pickle person.
The nutritional information is listed below. Overall, I think these are worth a try!