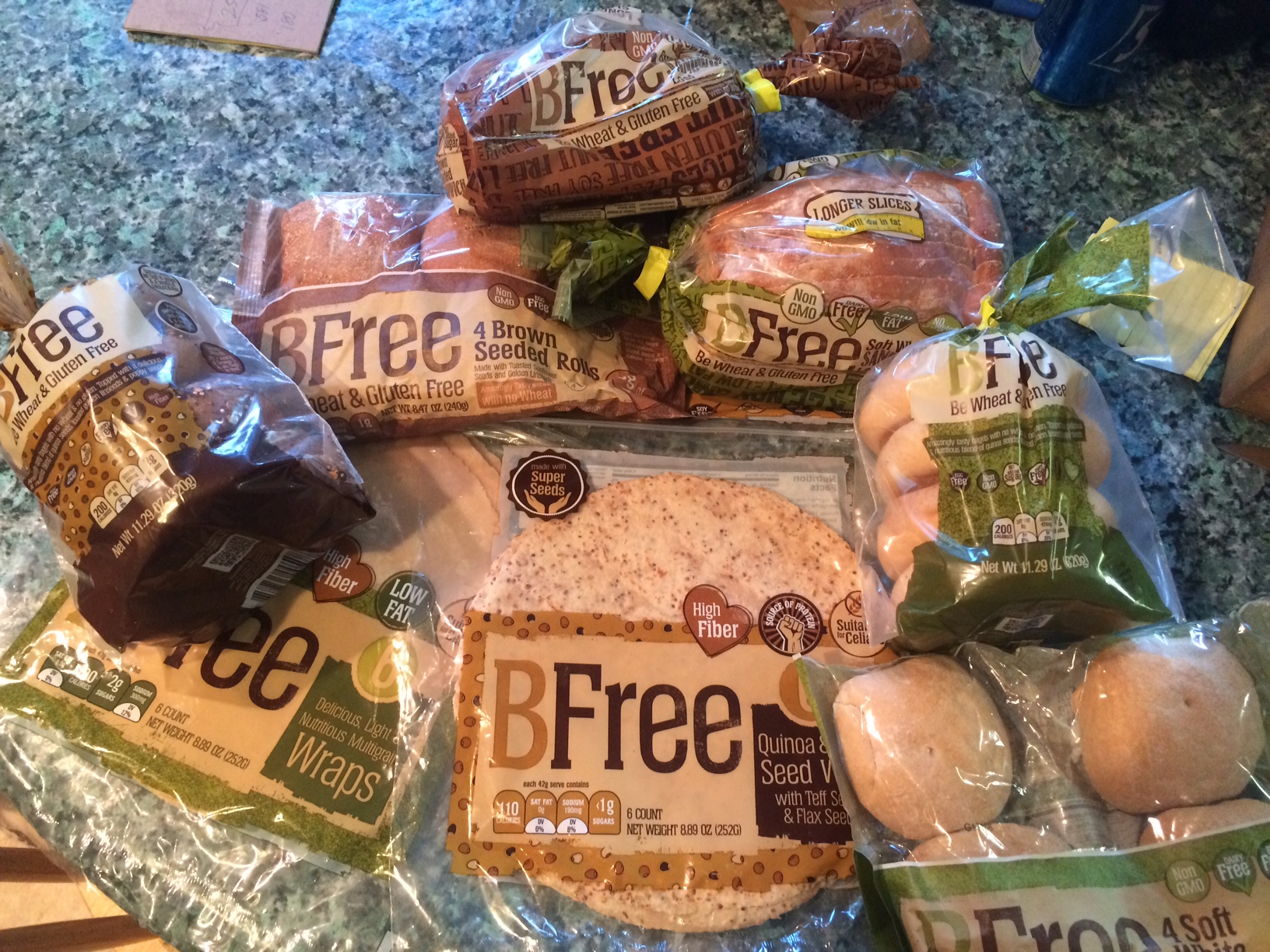 A company that just expanded to the East Coast, I got some yummy bread samples from from BFree! They create products that are gluten free, wheat free, nut free, dairy free, soy free, no sugar added, Non GMO, and more. They can appeal to anyone with special dietary needs, especially those with severe allergies.
With Celiac's Disease and gluten intolerance on the rise, it's important to have companies that care to replace bread or pasta products in people's diets that are allergy friendly, and also I think it's great these products are also nut and dairy free, because more often than not, you find people have Celiac's AND another allergy/intolerance to dairy or nuts. The GI tract is connected, so it makes sense!
Anyway, moving onward. I received a plethora of samples from BFree, including wraps, dinner rolls, bread, and bagels. Let's get to it!
First up, Soft White Sandwich Loaf.
Here's what it looked like toasted: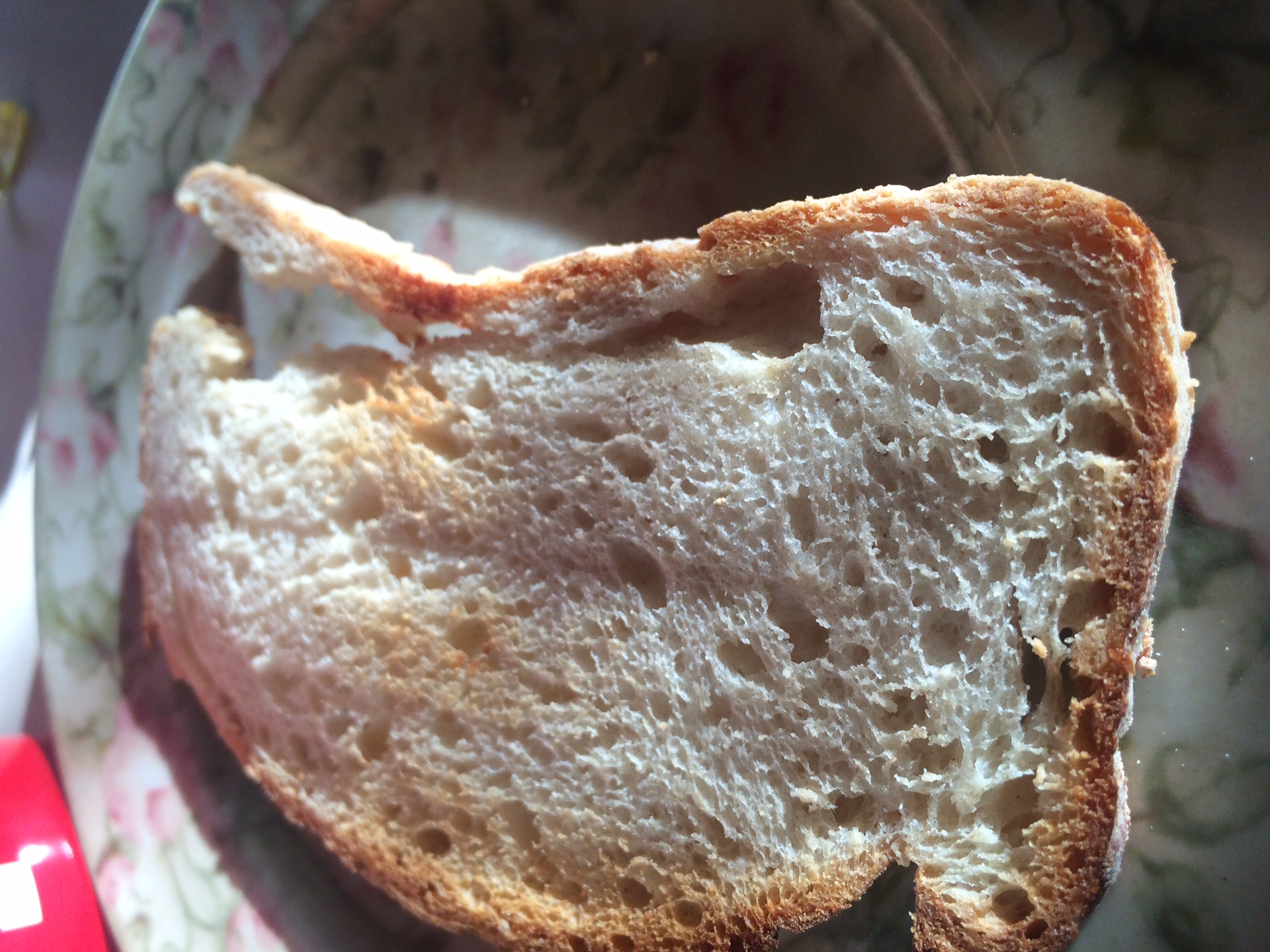 And with some PB&J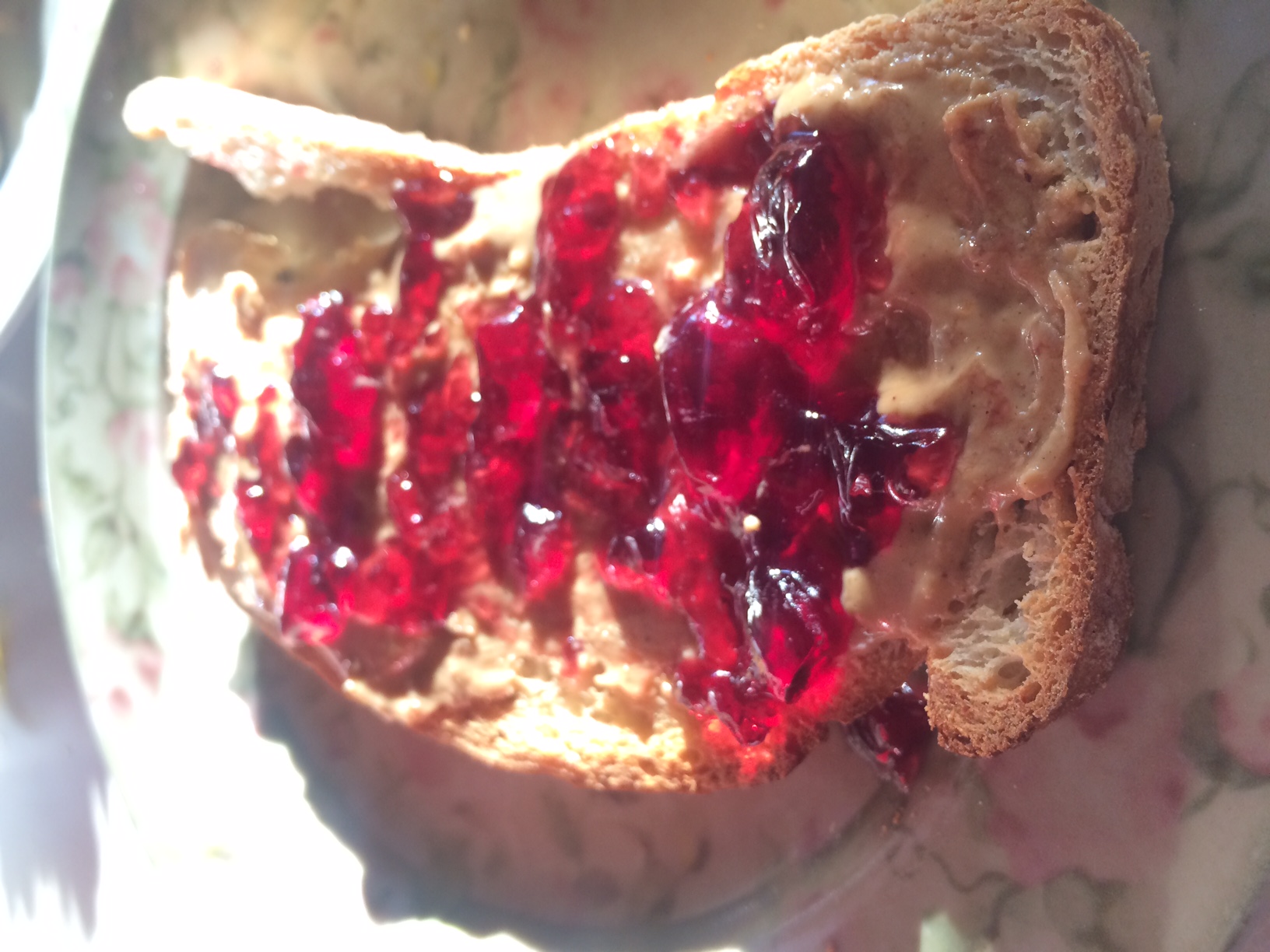 The sandwich loaf bread crisped up nice in the toaster oven. It had a nice crunch but was relatively bland on it's own. The texture and consistency are good, chewy and soft underneath a crusty exterior. It doesn't have much flavor, so it's perfect for eating with toppings, just not alone. It doesn't mask flavors either, so it went well with the PB&J. I think toasting is necessary. 3 stars

Next up, the Brown Seeded Sandwich Loaf. 
Here it is, toasted.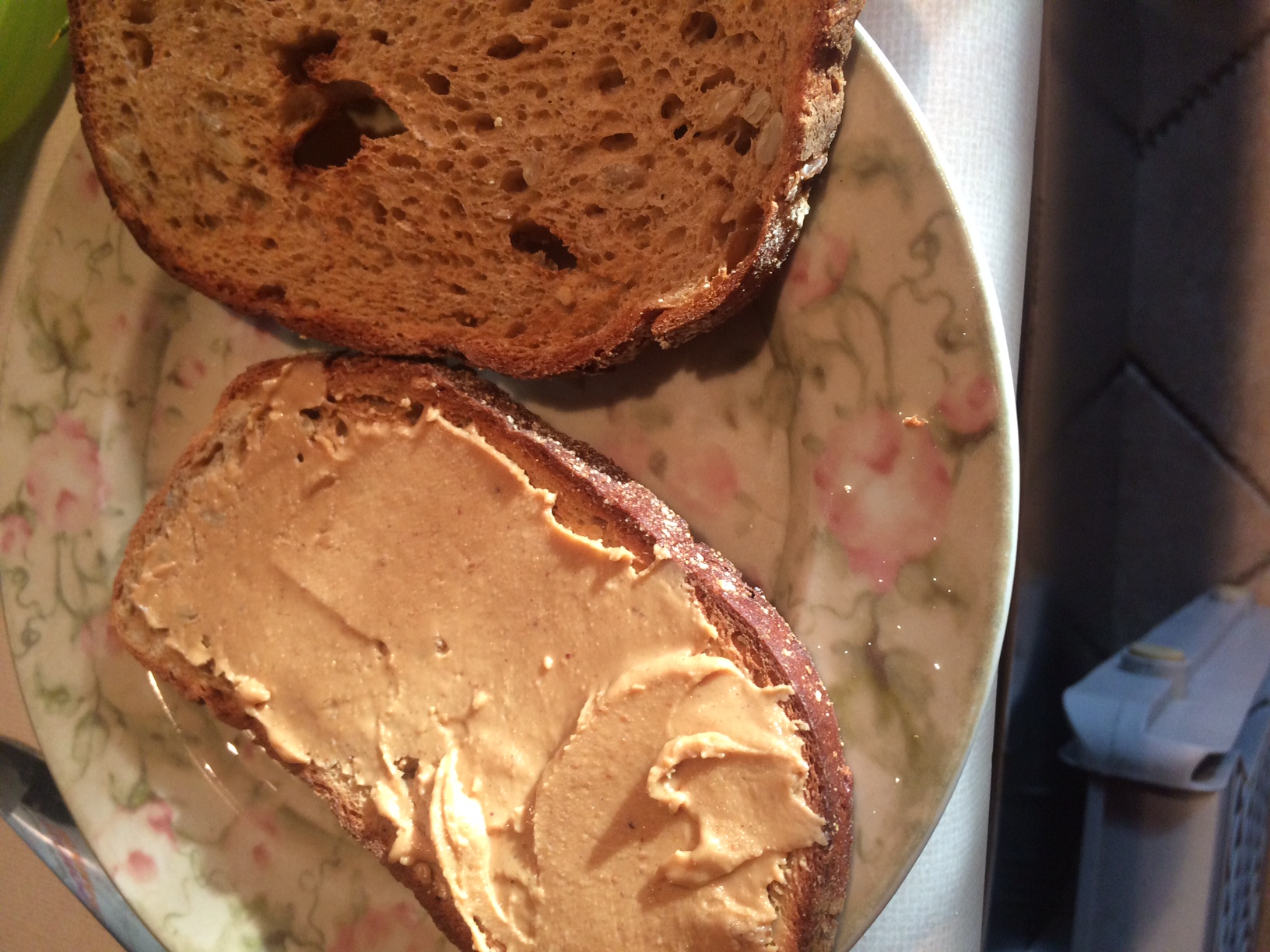 This one, as you can see I also had with some peanut butter and one with butter, since plain and toasted is relatively flavorless. I noticed this one (and the white) take a while to toast in comparison to the bread I usually have. I didn't really like the one with the butter…becuase the flavor of the bread isn't masked. Alone, the bread has an odd seedy kind of rye bread flavor. With the peanut butter, the flavor is masked, and it is a crunchy piece of bread with a soft interior, that doesn't affect the flavor of the peanut butter. So again, this bread is good if you have a spread you like on top. 2 1/2 
Next up, the bagels!
First, the multi-seed bagel. 
Here it is toasted with some butter. Right off the bat, I am kind of annoyed because these aren't pre sliced..HAH. I guess I am spoiled and used to pre-cut bagels.
This one toasted wasn't bad. The texture isn't 100% like a gluten filled bagel, since the dense chewiness comes from wheat gluten. But, this is pretty darn good for a gluten free bagel. It is chewy in a different way, and fluffy. It had the consistency of the chewiness of the bread but thicker since it it a bagel. The flavor again is really not there, very bland, and the seeds didn't provide much flavor. I think all of these previous breads need a touch of salt or something to help bring out flavor. However, I think it would be good with butter and jam, or butter and a fried egg 🙂  3 1/2 stars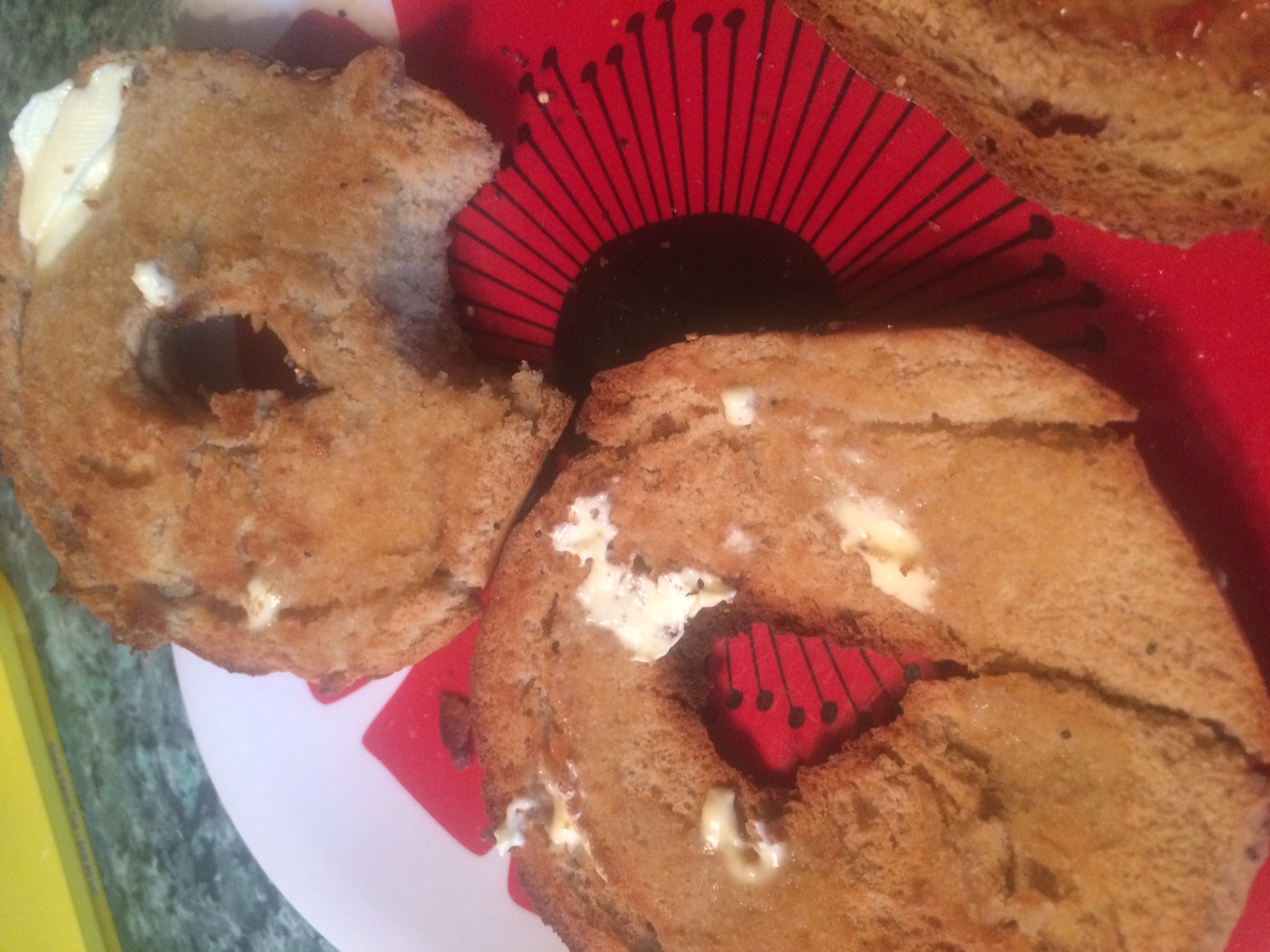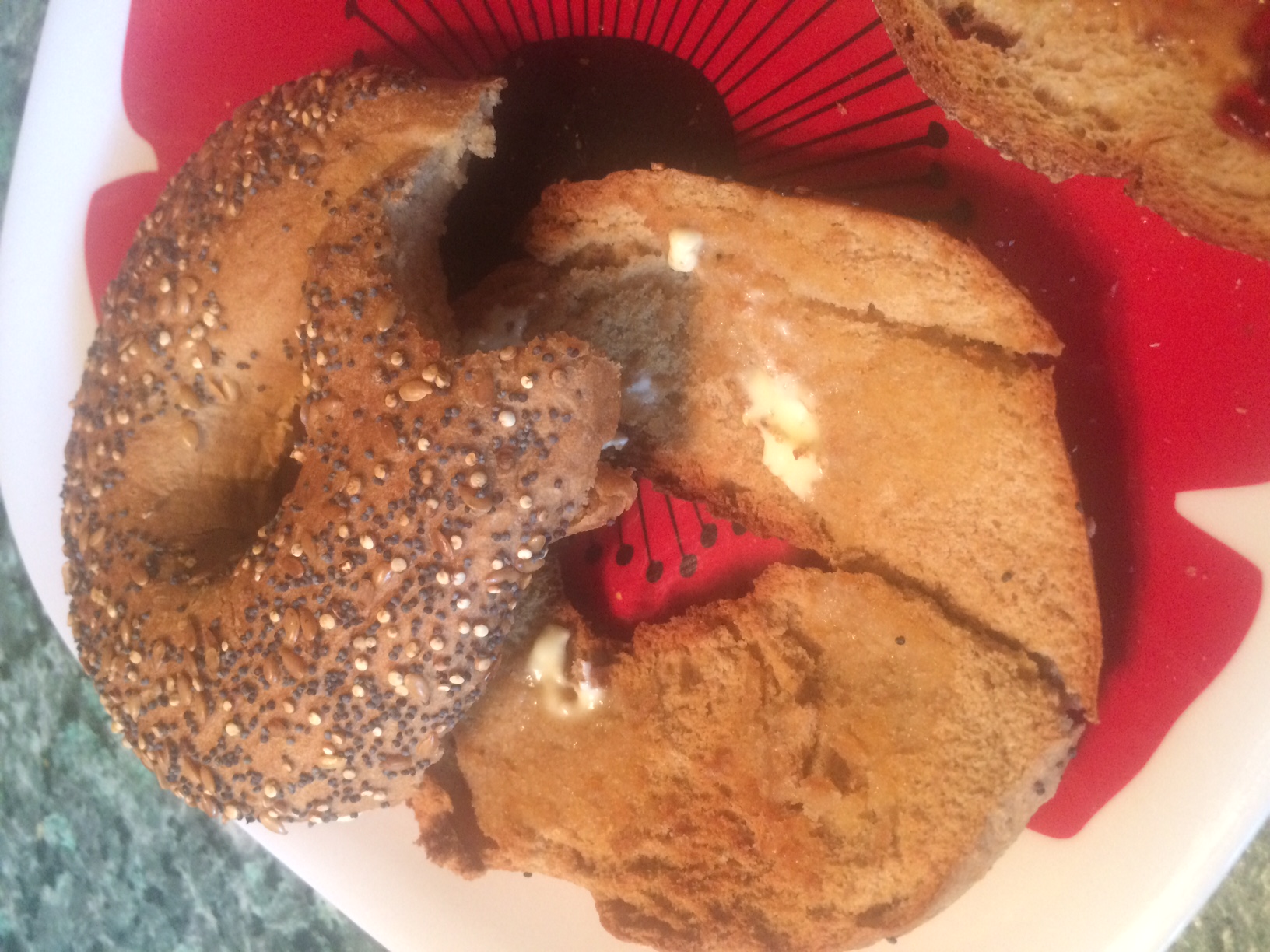 Next up, the
white/ Plain Bagel.
This one we toasted and put cream cheese on!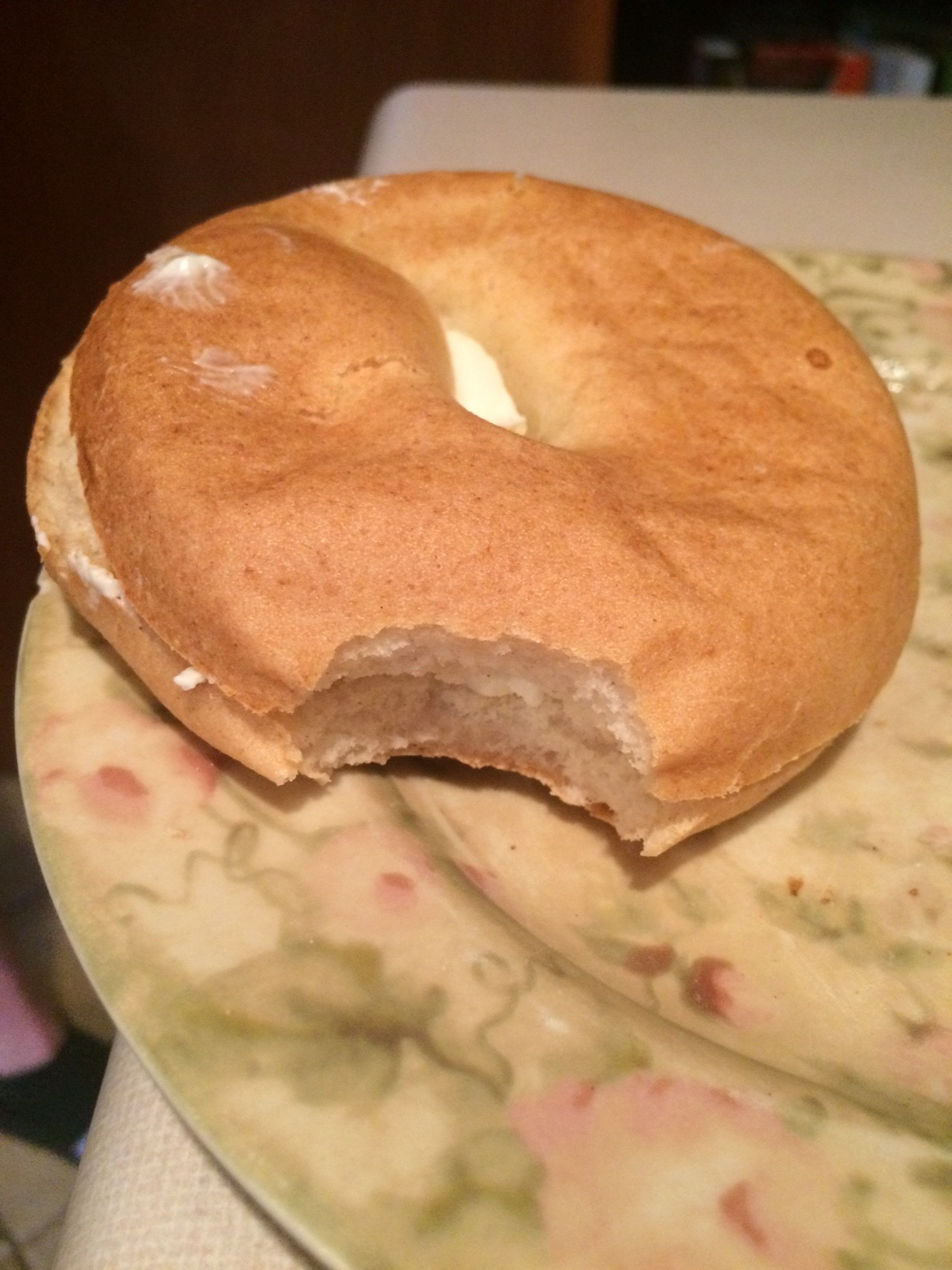 This one was not really a hit. I also let my brother try this one (it was his cream cheese after all…) and he was not a fan. It was very bland, airy, and didn't have that chew like the seeded bagel did. Even after toasted the inside of the bagel didn't change color much, so I couldn't really tell when it was done. Just not a fan, it almost took away the flavor from the cream cheese, and the consistency not as good as the seeded bagel. 2 stars
Next up, the
Quinoa and Chia Seed Wrap.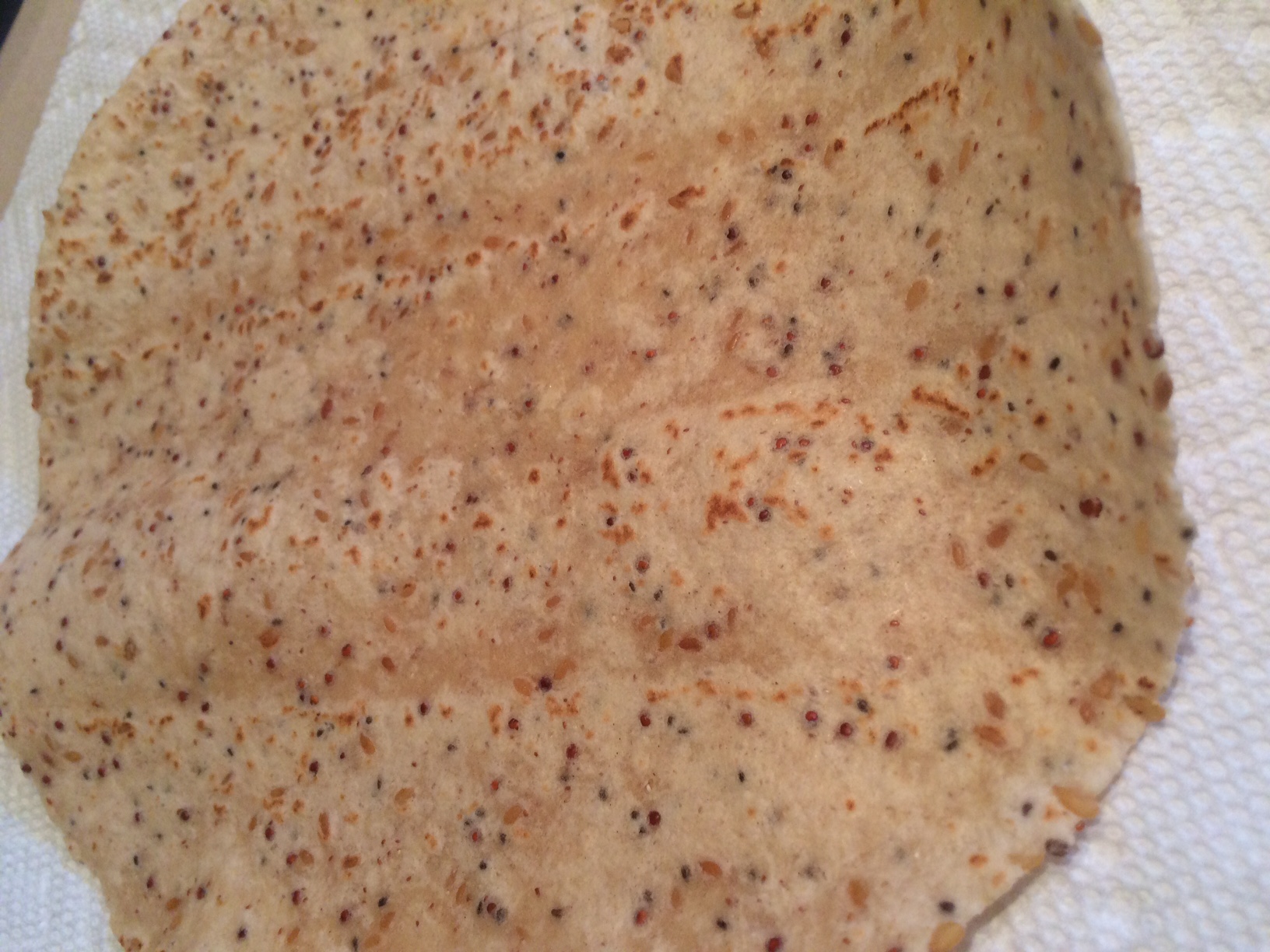 Made a turkey and cheese wrap with lettuce on this one.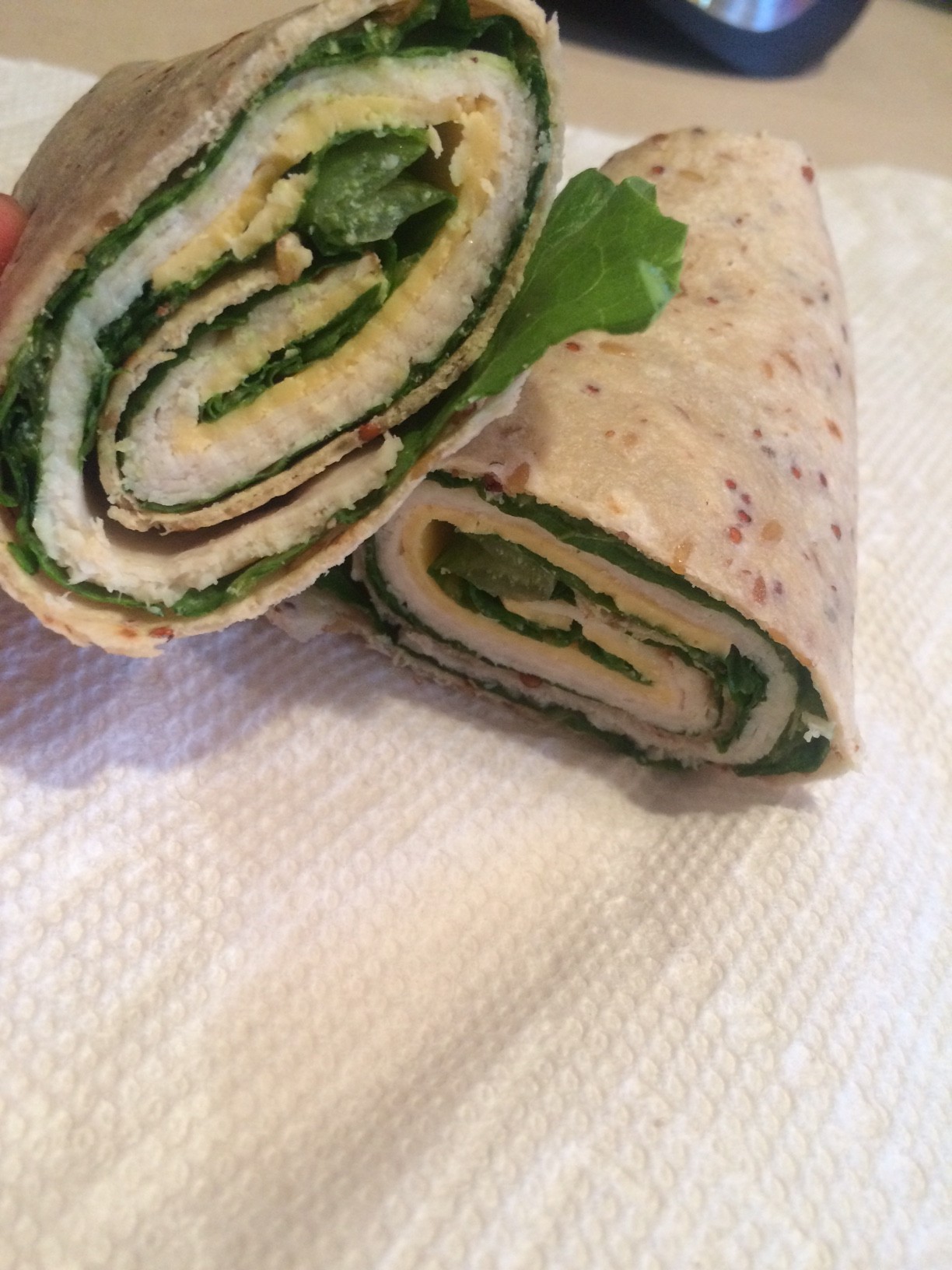 This one I am iffy about… I liked it at first, then as I made more wraps with it and continued to eat it, I grew to dislike it. One problem with the wrap for starters is that after you defrost it, it is WET. You need to really get the moisture out with a paper towel unless you will have a soggy wrap. I am used to having frozen then fresh wraps, and usually you just wipe off the little bit of condensation, but this one you need to really blot or toast to get some of the water out. I assume that is because it is made with rice, which holds onto water.
Anyway, this wrap doesn't offer much flavor other than the seeds, so if you like a seedy flavor, you may like it. However, the consistency got semi- mealy after I continued to eat it. Not really a fan. It ripped really easy and isn't chewy like a wrap normally is for me, and is a bit stiff. 2 stars
Lastly, the dinner rolls!
Brown Seeded and Soft White.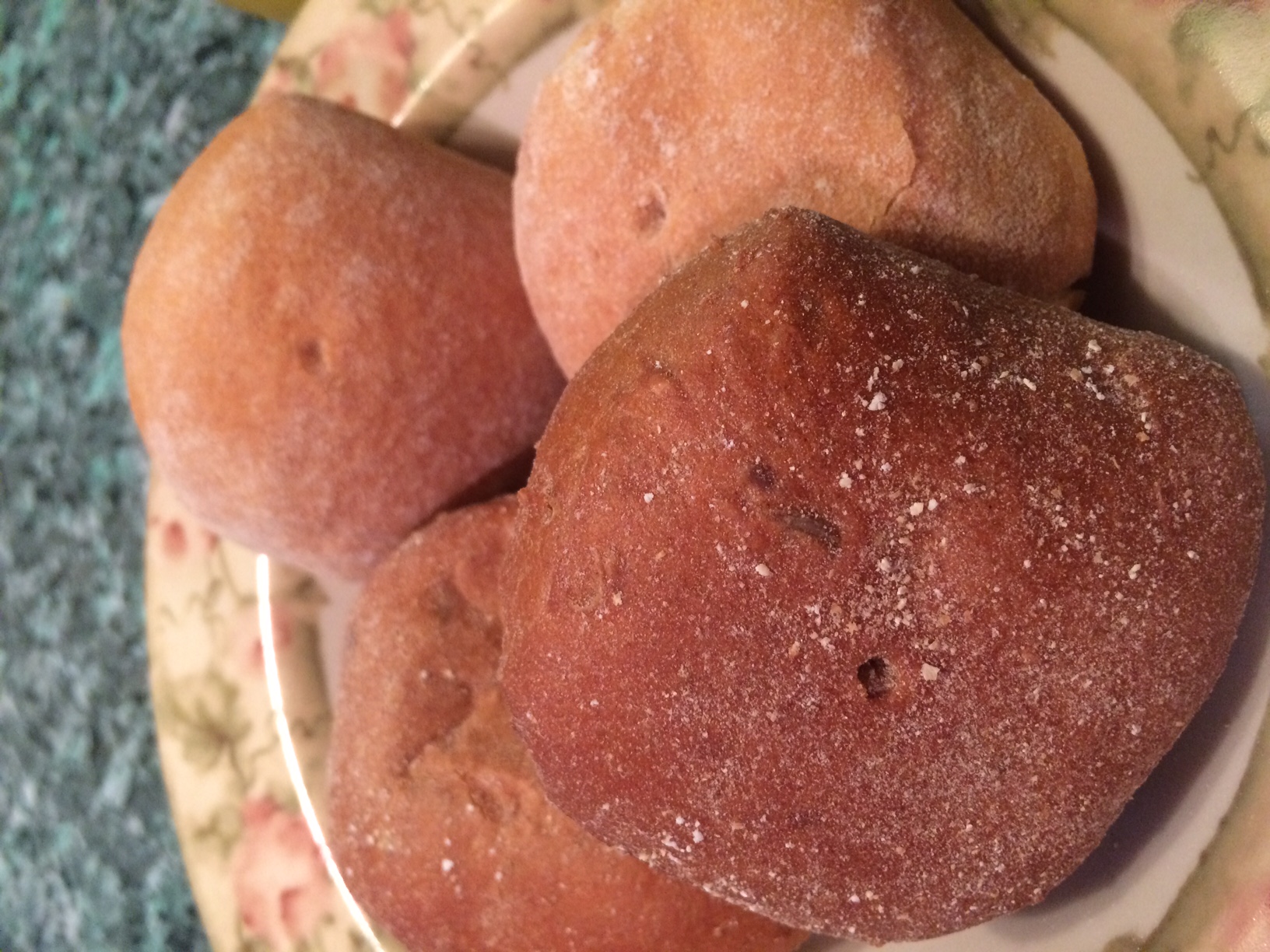 These we heat up slightly in the oven and then cut open and put pats of butter on them.  The Brown roll was earthy and nutty tasting… it reminded me of a granola bar almost with some pumpkin seed flavor. It was pretty bland otherwise and needed some salt. The texture was chewy and a little dense which I actually kind of liked. 2 1/2 stars
The white roll was pretty good.
Again, a little bland, needed some salt, but tasted pretty close to a gluten filled white bread roll. Chewy and the thickness of the roll went well with the warm butter and dinner. I would eat this one again. 3 1/2 stars
Overall, BFree Foods has some hits and some misses in my book. HOWEVER, these are definitely some of the better gluten free products I have tried. Due to the nature of rice, a lot of GF products end up being piecey in consistency, or fall apart in your mouth, and just plain awful. These products, while a tad bland, were versatile and textures were honestly pretty good. The wrap was my least favorite, and I think the more "bread-y" products did better. I think these are definitely worth a try, especially if you have allergies.
I received these products free from the company. This is an unbiased review.