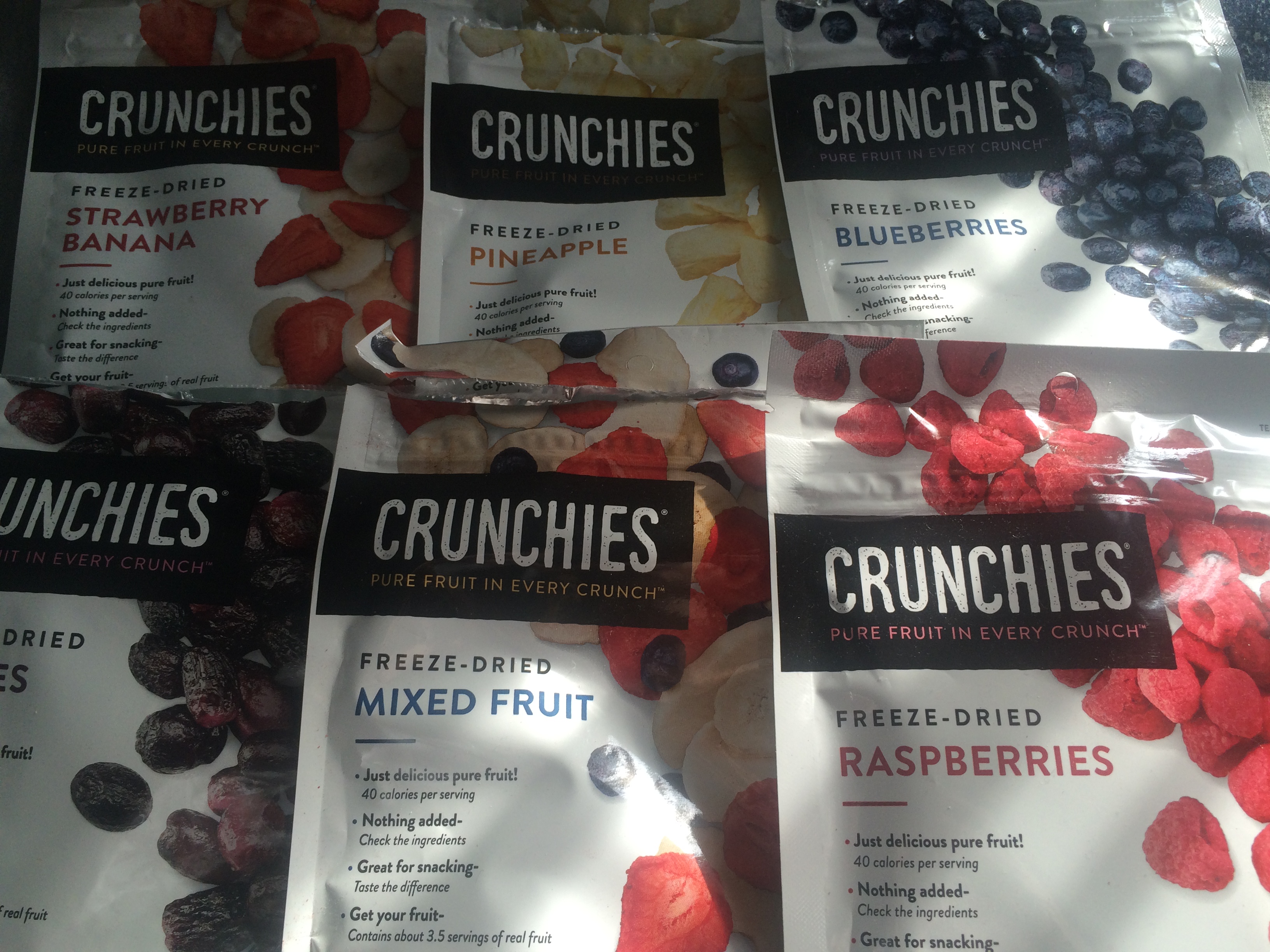 I LOVE freeze dried fruit! Especially when there is no sugar or flavorings added, and you get to enjoy the goodness of fruit, with just a crunchy twist!
I was sent a few bags of freeze dried fruit from Crunchies.  These snacks are gluten free, NON-GMO certified, and have NOTHING added, just the fruit! Each bag comes with a zipper to keep fresh, and each bag contains about 3 servings of fruit. They come in Strawberry, Grape, Raspberry, Mixed Fruit, Blueberry, Pineapple, Strawberry Banana, and Cinnamon Apple.
The bags are delicious. I inhaled a bag per day when sampling these, all too easy. Since some of these are repeats (example: the mixed fruit contains banana, apple, strawberry, and blueberry), I am going to write how each fruit tasted.
Starting with my favorite, the Grapes. These were beyond delicious. SO sweet, but in a good way, and crunchy. They almost tasted candied! They were the purple grapes, and since freeze dried, also gave off a little bit of a raisin feel.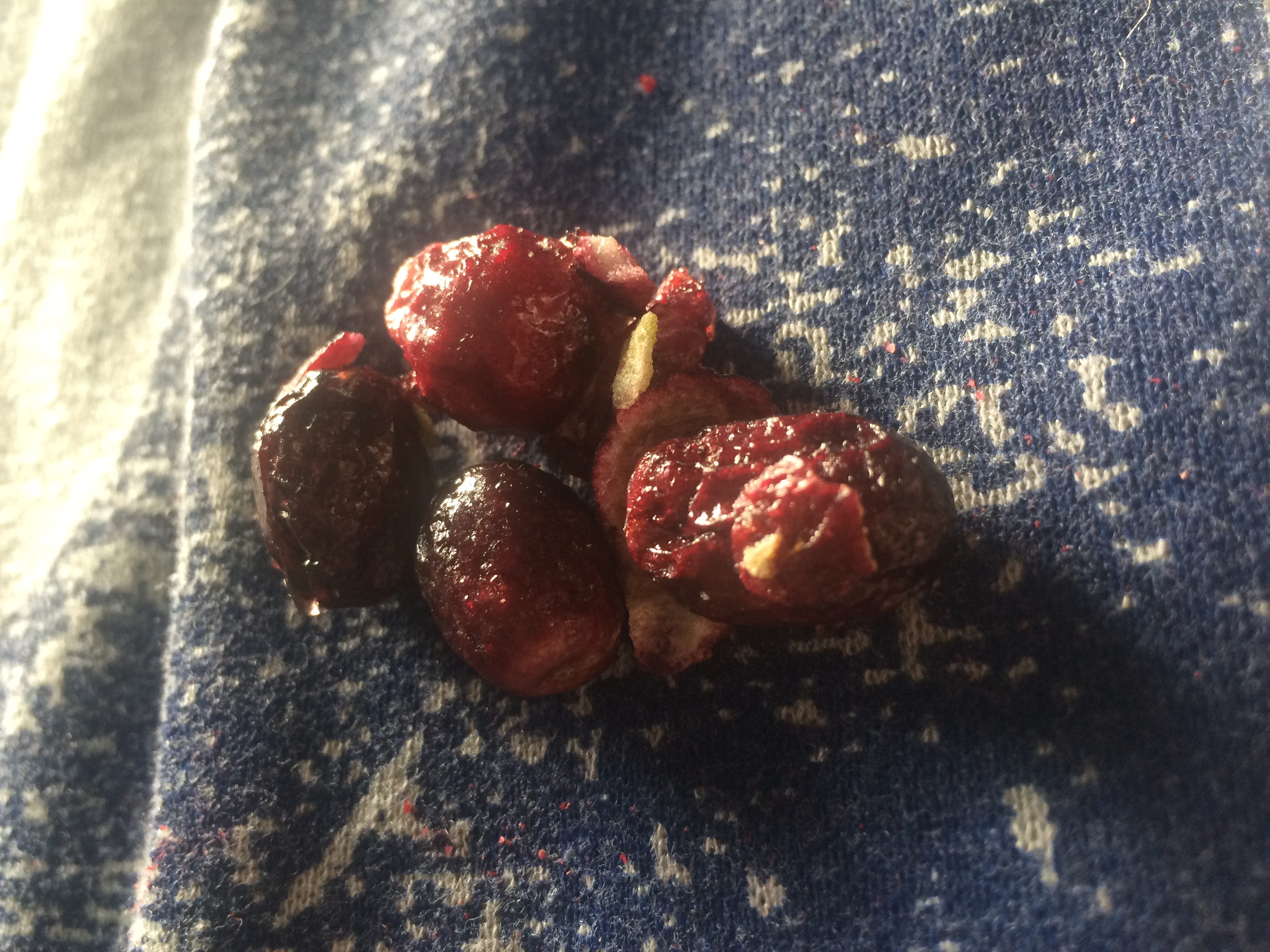 Next up, my second favorite, the Pineapple. Again, super crunchy, and large chunks of triangular shaped pineapple. Bursting with sweetness, and slight tartness, these were just so good right out of the bag. Imagine fresh, sweet pineapple…without the juice!
Next up, my third favorite, the Cinnamon Apples. Ohhh so so good! Light and airy, not as "crispy" as the other fruits, but sweet nonetheless. The cinnamon was a perfect accompaniment, and helped bring out the sweetness. I love apples, but every now and then you get a sour one. Not with these! They were super sweet, just like I like them, almost like a Gala apple.
Next up, the Blueberries. These I wasn't crazy about, but was still pretty good. Blueberries can be hit or miss to me, sometimes sour, sometimes sweet, sometimes flavorless. These were mild in flavor, and a bit tart. I think they would be good in a plain yogurt or a cereal.
Next up, the Strawberries. These were too tart for me to eat by themselves. They came alone in a bag, and then also with Banana. The banana was sweet and mild in flavor, with a slight crunch, and it balanced out the tartness of the strawberries. Eaten together, I liked the mixture. Eaten apart, I loved the bananas, but didn't care for the strawberries as they were too tart. I think they would be better in some cold cereal with milk.
Lastly, the raspberries. I am not a huge raspberry fan to begin with, and these are essentially identical to fresh raspberries, but without the juiciness. They were too tart for me, and didn't provide much natural sweetness. I like rasperry flavored things more than I enjoy actual raspberries.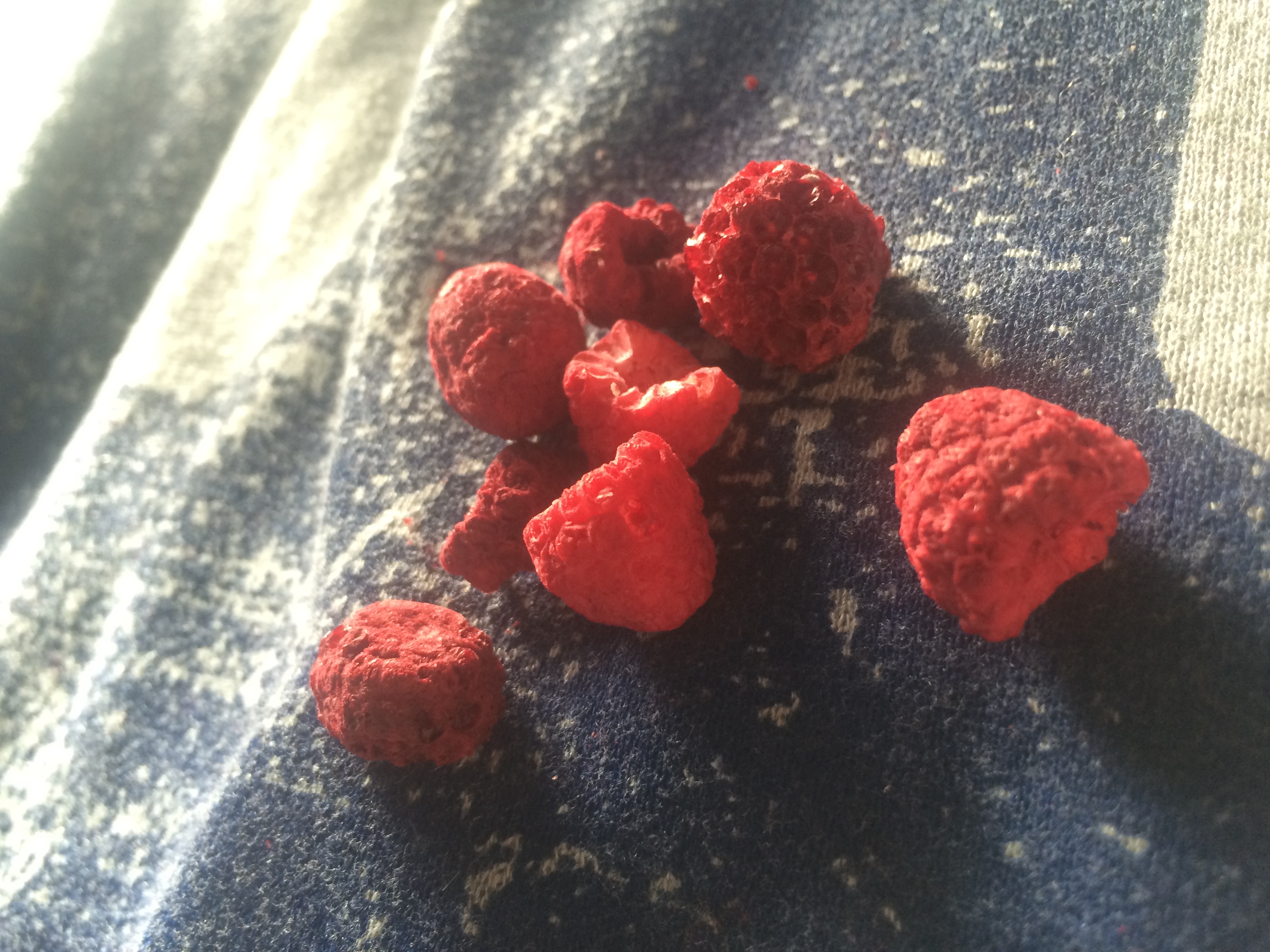 My only complaint was that for the mixed fruit and the strawberry banana bags, the strawberries were rather dominant over the other fruit.
Each bag had about 40 calories per serving with 1/4-1/2 cup serving each.
One caveat is that even though there is a zipper seal, they will go soft on you within a week or so. So eat em quick! Although I don't see that as being a problem. Another drawback is that these are on the expensive side… 6 -1.2 oz bags (3 servings) costs about $30. I can easily inhale these so that is out of my price range :'(
Overall, pretty tasty! I would love to get more, especially of the pineapple, the apples, and the grapes!!
I received this product for free. This is an unbiased review.