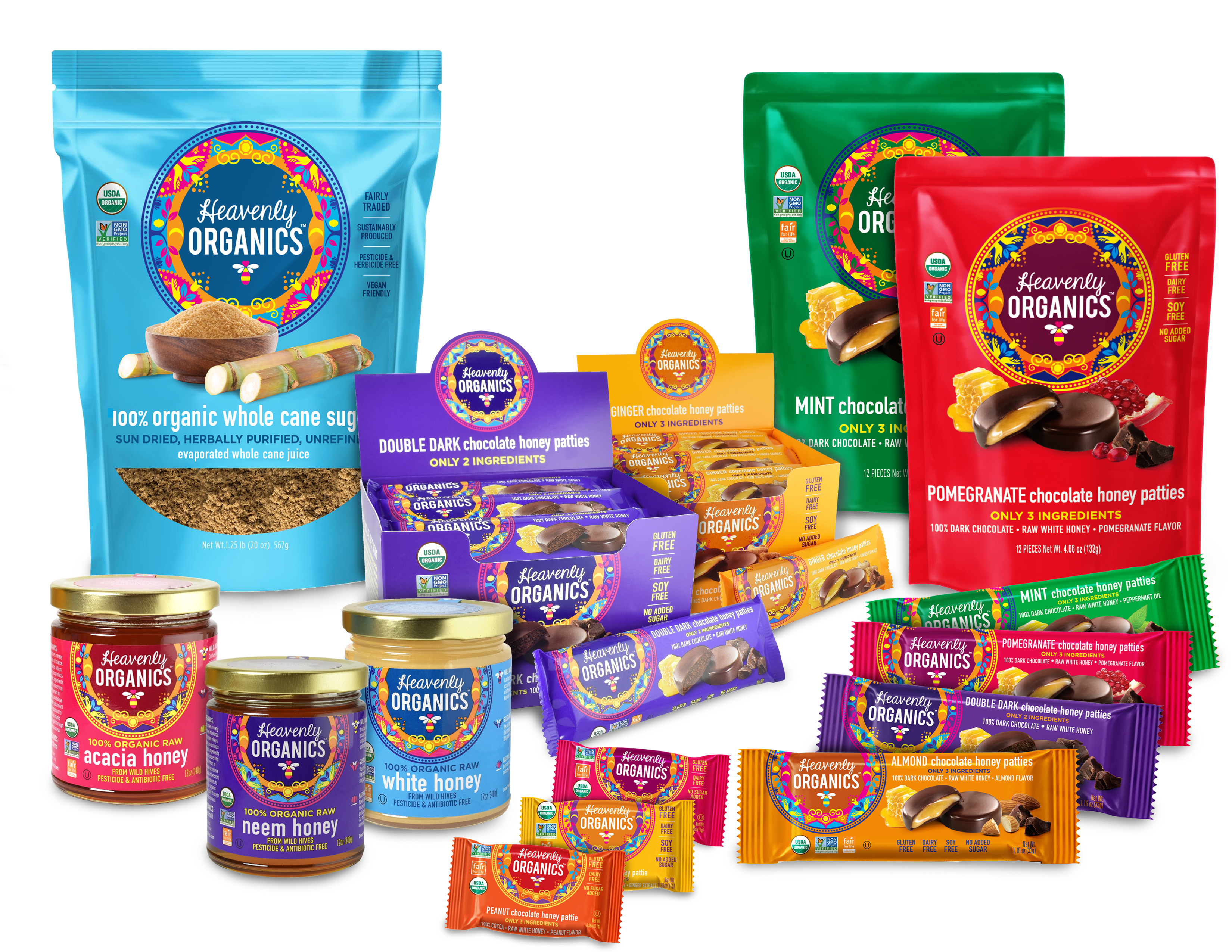 Hi!
I got some awesome goodies from Heavenly Organics. They created these chocolate honey patties in a few varieties, with minimal and sustainable ingredients.  The chocolate shell is made from 100% cocoa and raw Himalayan honey. They are gluten, dairy, and soy free, with no additional sugar added (aside from using the honey).  The honey is 100% organic, obtained from free roaming beehives.  The bees are in areas that are not near pesticides or pollutants, which is awesome, because then that stuff won't get into YOUR body!
They come in a bunch of flavors. I got the Ginger Chocolate Honey Pattie, Mint Chocolate Honey Pattie, Almond Chocolate Honey Pattie, DOUBLE Dark Chocolate Honey Pattie, Pomegranate Chocolate Honey Pattie, and the Peanut Chocolate Honey Pattie!  Here's what they looked like up close.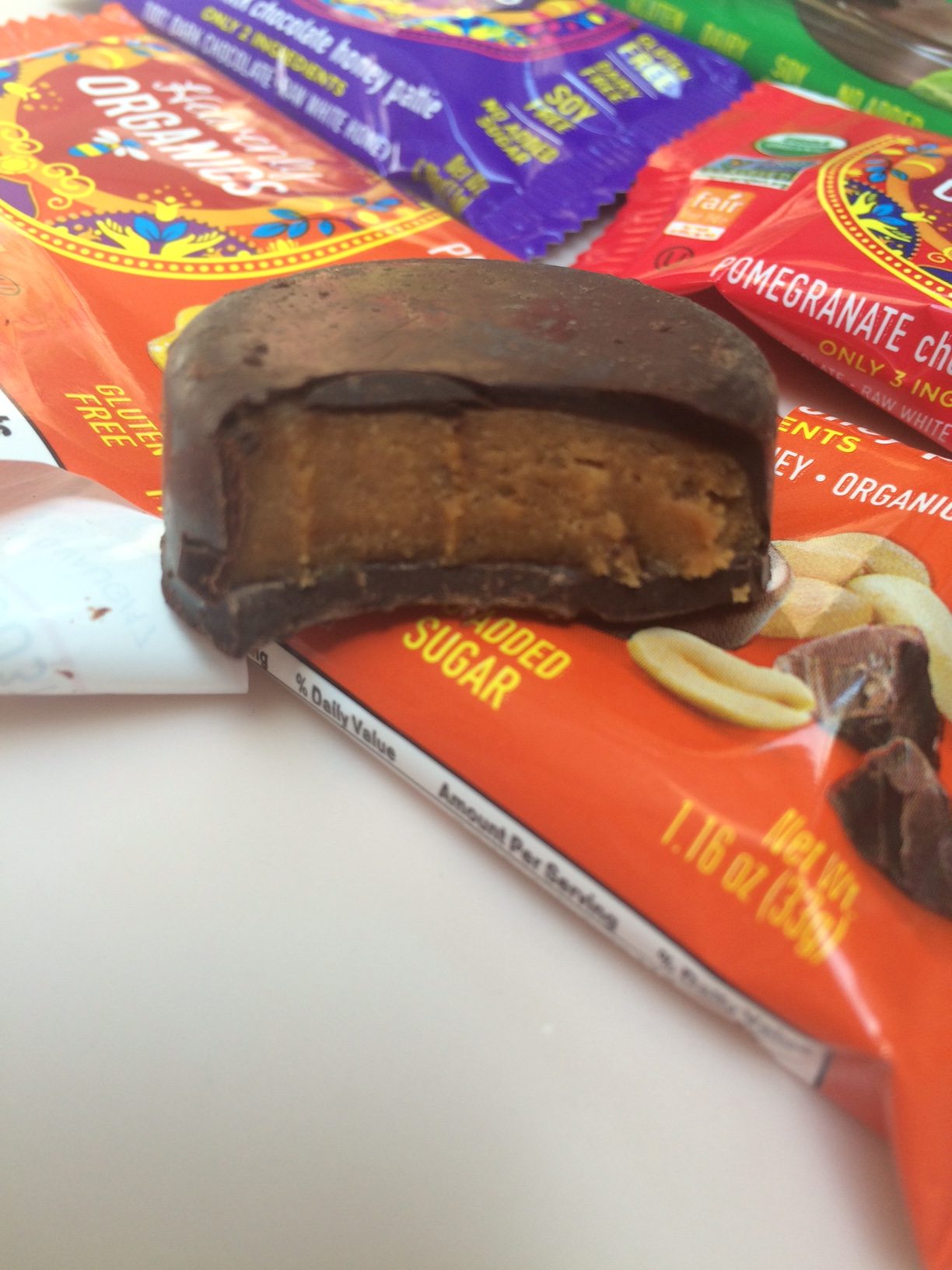 bitten into, of course!
The chocolate shells all taste the same. The chocolate is relatively bitter, not that smooth, but the honey flavor definitely shines through. I am not a huge fan of the chocolate, as it breaks like a shell would on ice cream (that hard chocolate shell you put on and it freezes), but I also prefer a smooth milk chocolate over a dark chocolate. The shell reminds me more of a bitter dark chocolate.
Each pattie has an inside filling. The Pomegranate is super sweet and supple, tasted like pure, silky honey with the sweetness of pomegranate juice. The Double Chocolate is exactly what it sounds like, more of a dark chocolate flavor, with honey. It is creamy and sweet, but again, the outside shell ruined it a bit for me. The Peanut Chocolate pattie inside is very good. Reminds me of a traditional peanut butter cup, but with a nice honey twist. I loved the inside, wanted to eat it by itself. The Mint Chocolate honey pattie is the dark chocolate shell, with honey completely oozing out the middle. There is a hint of mint as well. I didn't really care for this one, as the chocolate is very bitter and the mint made it more bitter. However, the honey is excellent, and incredibly smooth and creamy. The Almond Chocolate Honey Pattie is pretty good, it has that almond joy type of almond flavor, like almond extract or a toasted almond, alongside the chocolate and honey. It goes well with the honey flavor in my opinion. Lastly, the Ginger Chocolate Honey Pattie. I actually really liked this one, but you have to enjoy ginger. I used to eat ginger chews as a kid, so I love candied, dry ginger. It mellows out the bitterness of the chocolate, and goes wonderfully with the honey.
My favorites were the Ginger, Pomegranate, and Peanut patties. But as a whole, these are pretty good, but you have to be a fan of bitter/dark chocolate. I wish they had a milk chocolate version 8)
Each patties is roughly 50 calories, which isn't too shabby! Especially when you need a luxurious sweet treat.
Overall, 3 1/2 stars.