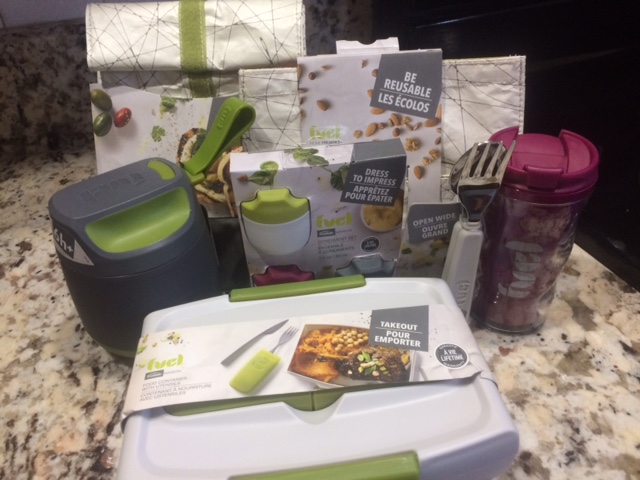 Hi there!
Sorry it has been a while… I am in a graduate program and absolutely *swamped* with work. However, conveniently, I have been provided with various on-the-go storage for my food by Trudeau! They supplied me with all the above products, which is perfect for a girl on the go like myself.
Let's get to it!
The Fuel Food To Go container (bottom of picture) was awesome. It comes with silverware (reusable) that you can attach to the container! It snaps shut with two levers on the side (kept my food IN the container, and did not "explode" in my bag which is always a plus!) and is both microwave and dishwasher safe. Those are huge perks to me, because… let's be honest, I need something I can just rinse an put in the dishwasher at the end of the day. No time for hand washing 🙂
The Stainless Steel Vacuum seal container was my favorite. It is the "round" container with a cute little handle pictured on the top left. I used it early in the morning for my oatmeal. I cooked up the oats, threw them in the container, and not only did it keep my oatmeal nice and hot, but NO spilling. That is huge! I will try this for soup in the future.
NOTE: NOT MICROWAVE SAFE!!!!
Don't worry, I did not learn that the hard way (lol), but there is STEEL/ metal in it so that is a no-no for microwave! You can also use this with cold!
Next up, The Fuel Condiment Set.  These are so cute honestly.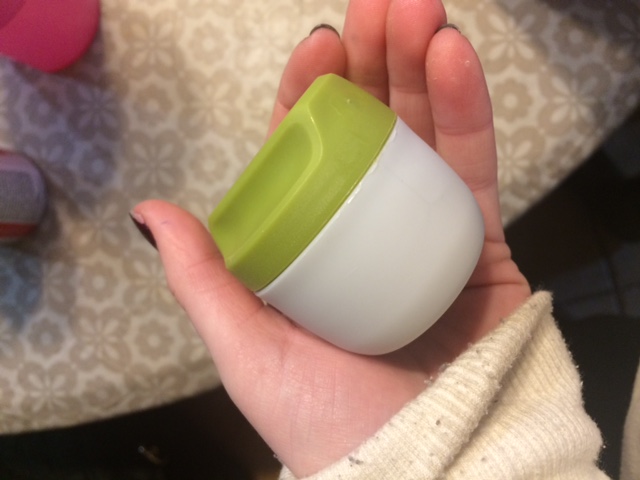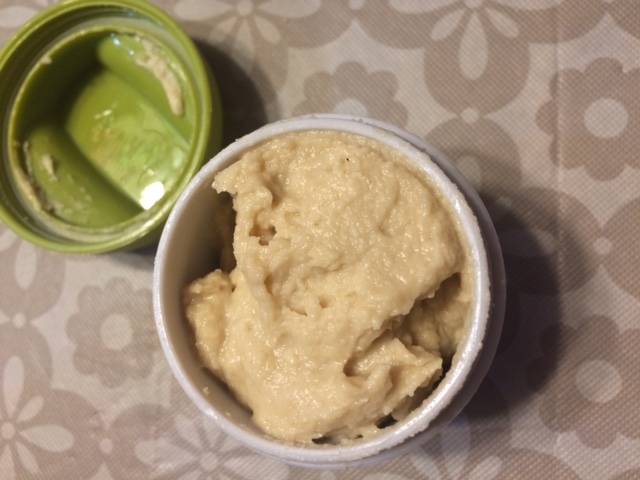 As you can see, I stuffed mine with hummus. I also used it for salad dressing, etc. It is the perfect size for roughly 2 Tbsp. so it also helps with portion size 🙂
Again, small and compact, no leaking, and easy to twist on and off. I threw them in the dishwasher to clean as well, and did so without a problem.
Next up, the Snack Pocket and Lunch Bag. The lunch bag itself I wasn't a huge fan of just because there is no handle! I do like that you can "roll it down" so no air escapes and it keeps the food insulated. However, no handle = no bueno for me. I usually do not have room in my backpack for my lunch bag (Yeah…. I carry a lot of stuff…) and to have to hold a lunch box on top of everything else is not okay with me.
The snack pocket was a cute little bag which I actually liked to hold some crackers or a yogurt as pictured below. I closed it up with a spoon and napkin and then threw it in my backpack, and it was safe all day (until eaten, of course 🙂 )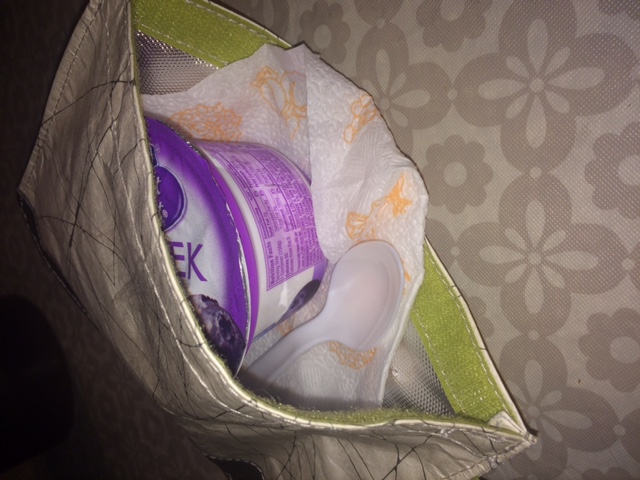 Lastly, I got a little "sipper tumbler" pictured up top, on the right, in a magenta color. Some pros and cons with this one. It is a little too small for me. I used my Keurig to brew a normal size cup of coffee and it was filled all the way to the top with no room for milk. On the bright side, it kept my coffee nice and warm, and I liked the way the spout was organized, so that coffee did not come rushing down my throat and burn my tongue, but rather poured out slowly. It would be perfect if it was just a tad bigger!
Overall, I really like these products! They are all BPA free which is a great perk. You do NOT want to be using plastic containers with BPA in them, especially if using in the microwave! These products worked great, kept my food/drink fresh and warm, and most importantly, no leaks!
Again, I think the lunchbox needs a handle, and the sipper is a tad too small ( but hence the name "sipper", so perhaps appropriately sized), but overall great products a worth a try.
Thank you, Trudeau for FUELing my commute!
I have received all of these products for free. This is an unbiased review.