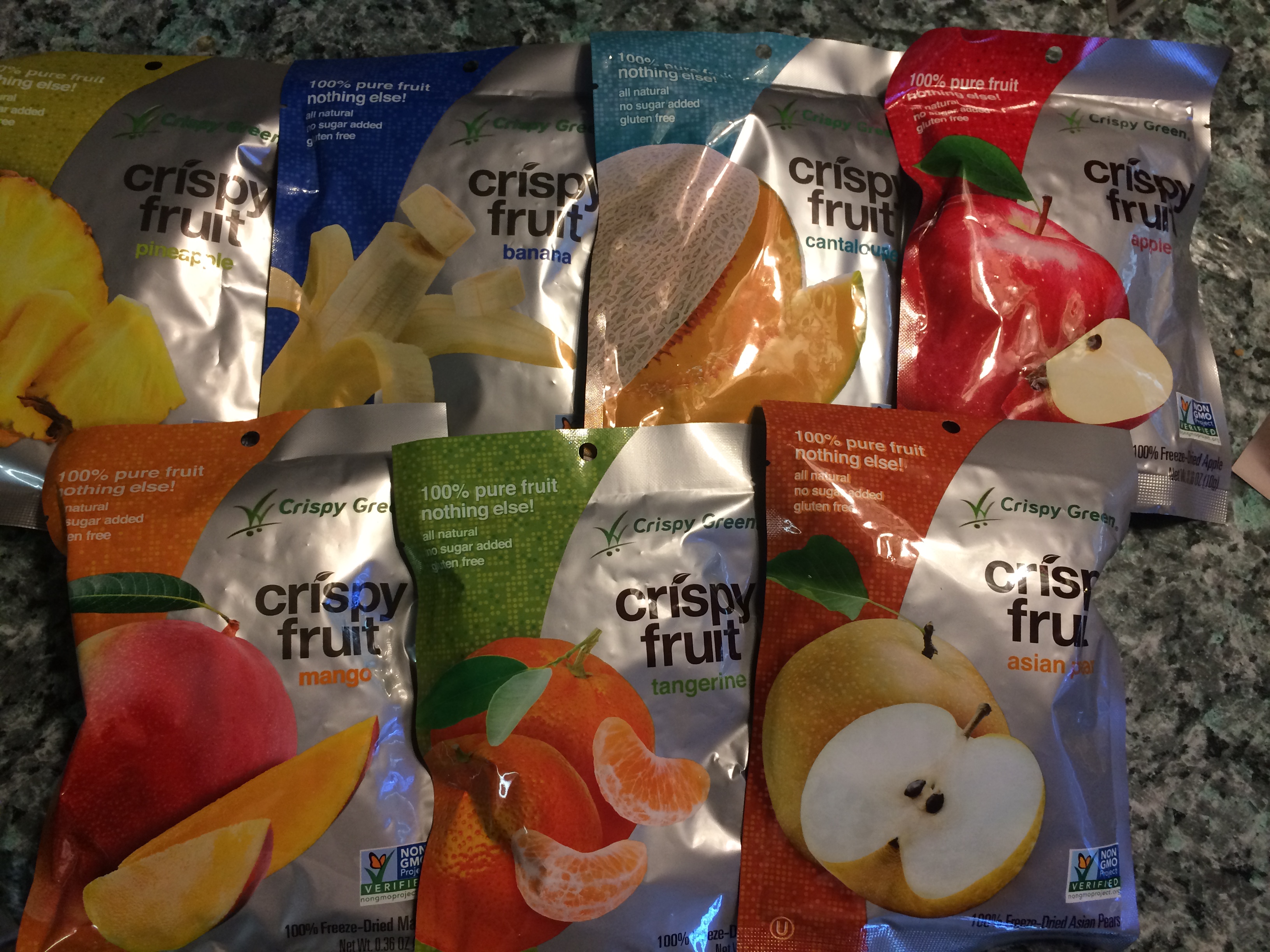 Do you like the sweetness of fruit, but hate that you sometimes get a non-ripe (read: not sweet) piece? Or you take it to work and it gets all bruised in your bag? Well Crispy Fruit is the perfect solution to that. Freeze dried fruit, with nothing added, and comes in a ton of flavors.
I happen to be a fan of freeze dried fruit- it's JUST fruit, but not as caloric as dried fruit. It's puffy and soft but often sweet and flavorful. The portions are small, so this is good when you are craving something sweet that at 30-70 calories a bag or so, will not break your diet!
So let's get started:
Banana 
Crunchy and sweet…but NOT to be confused with banana chip. It had the exact sweetness of a ripe banana, but as a caveat, will get stuck in your teeth. However it is super yummy, and a decent portion in a bag. 4 stars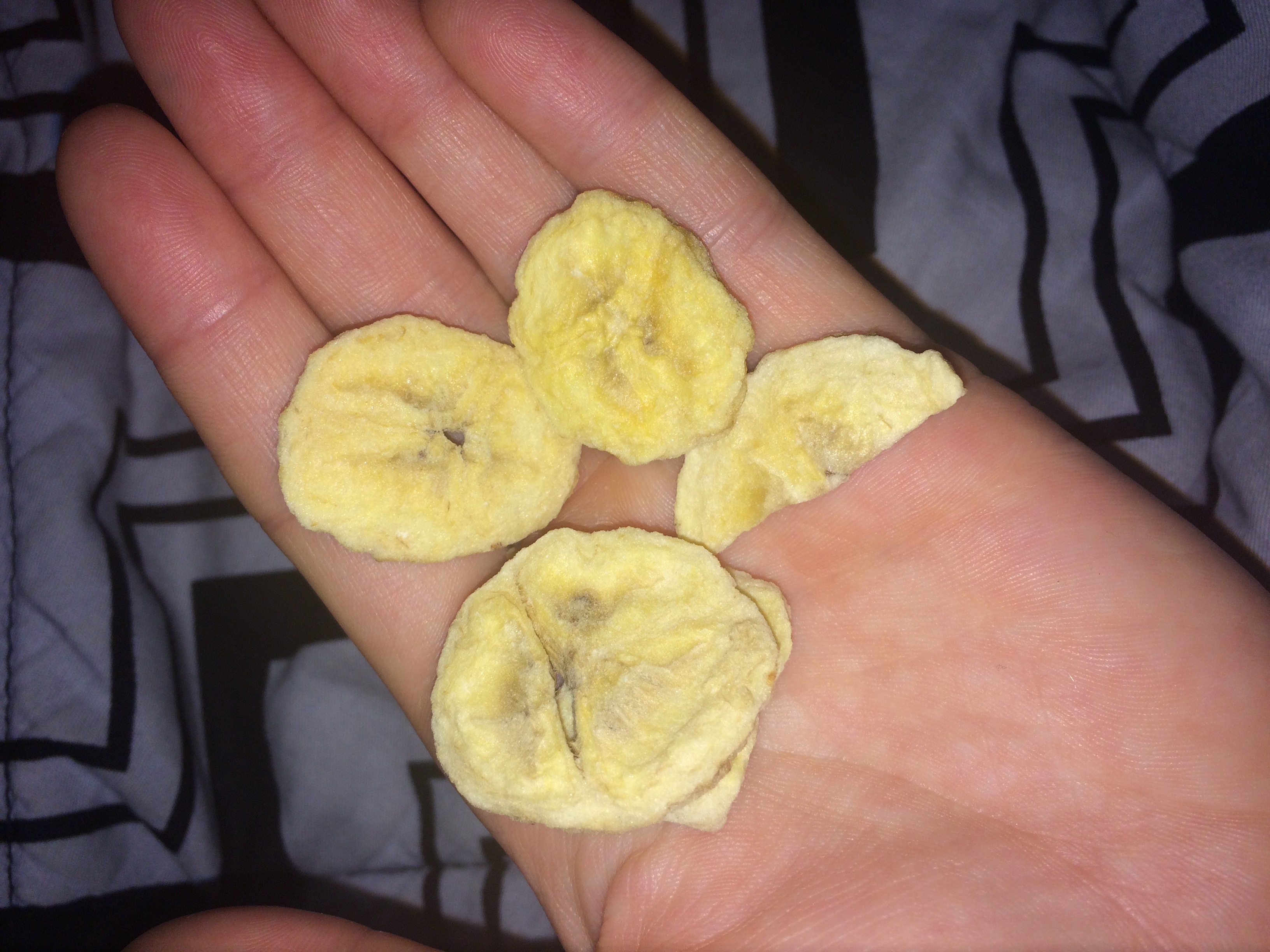 Cantaloupe
Some fruit should just not be freeze dried and this might be one of the. It was sweet but almost had a salty taste to it…which was rather offputting to me. It had a very light crunch, and dissolved in my mouth. However, it was VERY ripe in taste (which I do not like even in fresh Cantaloupe) so, NOT my favorite. 
2 star
Asian pear
This one was Mild in flavor, easily melted in my mouth, and was lightly sweet. Again, tastes like very ripe pear due to sweetness level, and was overall enjoyable. 
3.5 star
***
Pineapple
Easily my favorite, big chunks, that are super sweet and crunch. They were not tart at all, and Honestly I wish there was more. Tastes like perfectly ripe pineapple 
4.5 stars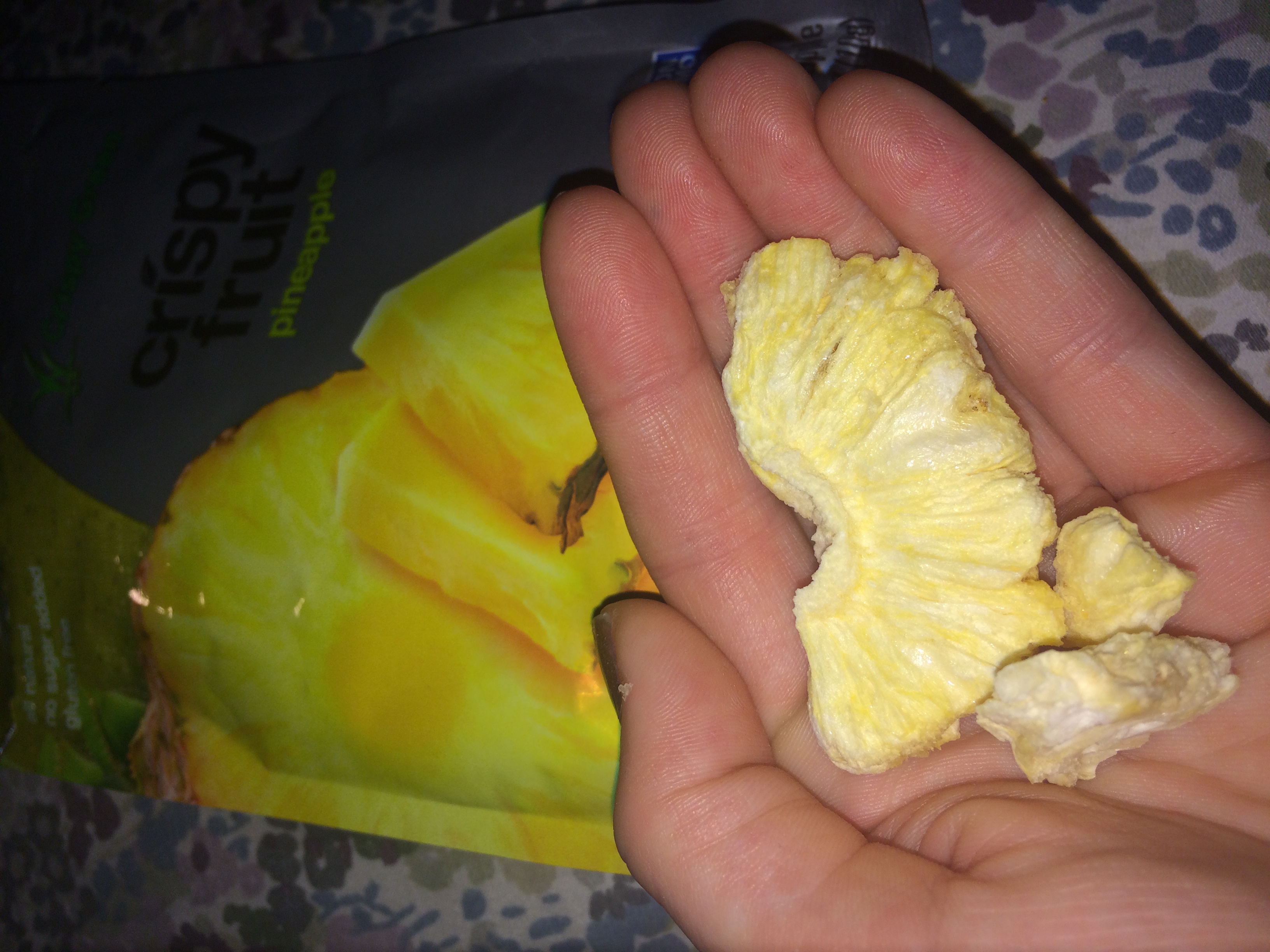 Apple
Apple chunks were super "light" and "crunchy" but "soft" if that makes sense. They had the sweetness of dried apple, but a bit more mild. Not my favorite, and apples generally are my favorite fruit, but just didn't have any strong flavor to them that I was craving.
3 stars
Mango
This one was great! Big chunks of mango, sweet and crispy with a nice little crunch. Sometimes when you buy mango, you get a really unripe or sour one, and that just ruins the whole experience. This freeze dried version provides all of the sweetness without the mess or sour aspect mango can sometimes have. Really liked this one.
4 stars
Tangerine
I'll be honest, Tangerine was the last one I tried because I thought I would hate it, but it was actually amazing. It came in wedges, just like you would eat with a tangerine, and was really light and crispy. One of the reasons I don't like Tangerines is because of the pulp issue, but obviously not a concern here. These were amazingly sweet with just a hint of tang. Definitely liked these.
4 stars
So that just about sums it up. Clearly, I enjoyed (almost) all of these. The portions were great for a snack, and sweet enough to fix a sweet tooth craving without any added sugar. They are all natural, gluten free and NON-GMO verified.
DISCLAIMER: I received this product for free. This is an unbiased review.