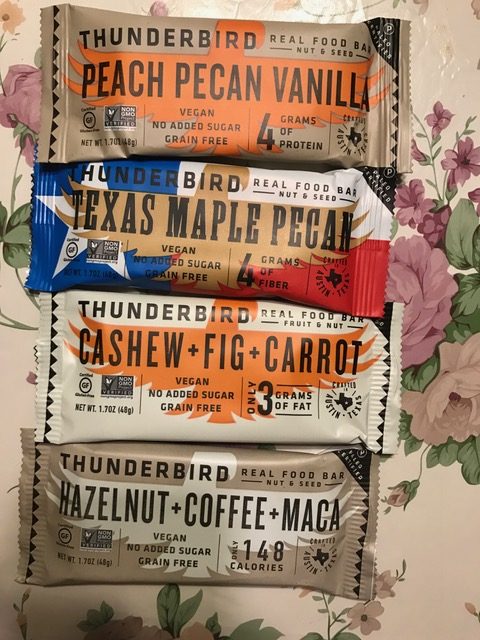 WELL sorry it's been a while guys…life got a little hectic the past month but I'm back, never fear 8)
Coming at you with some Real Food Bars by Thunderbird. They sent me 4 varieties to try, all vegan, no added sugar, and grain/gluten free. They are nut, seed and date based. As an added benefit, they are also paleo certified. (NOTE: This applies to the bars I got from the company, if you check the website they have several flavors to pick from and details may vary!)
So let's get started:
As I said above, all of them more or less have the same texture, nutty/seedy with a fruity, date base. The date flavor was there in all 4 bars.
Hazelnut + Coffee + Maca
Coming from a coffee lover, this was not my favorite. It was…gritty. Like I would take a bite of the bar and then grit.  WHAT IS THAT?!?! I checked the ingredients, and it seems it could have been the coffee beans or chia seeds, not entirely sure, but not entirely a fan. The coffee flavor was definitely strong, but overpowered the hazelnut component because I did not taste that too much. The date was sweet and strong as well…If I had to rename this bar it would be like "A Date with Coffee"…because it really just tasted like dates and coffee.
2 stars.
Cashew + Fig + Carrot
Alrighty, moving on. This one was okay. As a whole, it was entirely too sweet without much of another component to balance it out– needed more crunch, or something even slightly salty, etc. The Fig + Carrot together gave it a sweet potato vibe. & like I said, this one was lacking on the crunch factor, a cashew is a pretty soft nut to begin with so it was kind of lost in this bar. Overall, too sweet, too fruity, needs something else. Maybe almond would have been a better choice.
2.5 stars
Peach Pecan Vanilla 
In this bar, the peach and date flavor really shine through. The vanilla flavor is somewhat lost. It's a sweet bar, but not overly sweet, and almost gives off an apricot type of flavor. Chewy, dense and nutty, and the pecans add a nice crunch. I almost taste a bit of cashew in this one. Overall, this one was pretty good, I'm a fan.
3.5 stars
Texas Maple Pecan
Well, well, well, moving on to the star. This one was kind of like pecan pie 🙂 Chewy and dense, sweet but not overly so, huge chunks of pecan and a nice cinnamon flavor. It goes well with the date because it reminds me of the condensed milk, etc. they use to make pecan pie. The maple flavor is subtle,  but delicious. There is some type of "zing" to the bar, and I can't quite figure out what it is–perhaps the cinnamon– but I like it. Basically if you're like me and will eat the topping of a pecan pie, you'll like this bar.
4 stars.
OVERALL, I like the idea of these bars. Gluten free, paleo, minimal ingredients, no added sugar. I think some need a tad bit of tweaking, BUT you have to also consider the minimal ingredient component. I would definitely try the Pecan based flavors, and I would be interested in trying the other flavors (like ummm they have this cool Pecan Goji Pistachio flavor!!) Thunderbird has to offer.
Check them out!
DISCLAIMER: I received these bars for free from the company. This is an unbiased review.