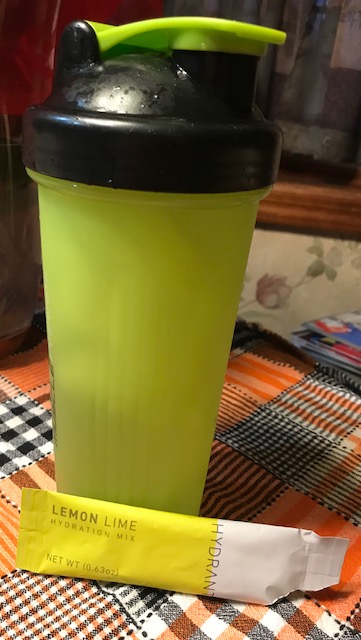 Proper hydration seems to be an issue these days. I get it. We're busy. We like coffee over plain water. Or maybe we just hate running to the bathroom every DAMN 5 minutes…but it's key to stay hydrated. Being dehydrated is dangerous for your body, and can lead to headaches, loss of focus, fatigue, and even long term dehydration may lead to kidney problems.
So what do you choose?  If you absolutely hate water, you have to find a way to stay hydrated! I usually sip on Crystal light peach or lemon iced tea mix (sugar free), but even then, the dyes and artificial sweeteners aren't great for your teeth.
Insert Hydrant Lemon Lime Hydration Mix. These are vegan, made with natural ingredients, no artificial colors, and run you about 50 calories a stick and claim to have balanced electrolytes.
The ingredients are: Sugar (11grams), Sodium Citrate, Citric Acid, Potassium Citrate, Salt, Magnesium Citrate, Zinc Gluconate. Lemon Juice Powder, Lime Juice Powder, Natural Lemon Flavor.
The company claims sugar is important because it helps speed up hydration process with electrolytes. You can read about that here if you are into the science side of things.  But basically it says you need a 2:1 ratio of sodium:glucose in order for those molecules to be pumped into your blood stream –> this creates osmotic pressure which essentially "pulls" water into your blood stream –> you are hydrated.
So while there IS sugar in this product, it is 1/3 of the amount you may find in other sports drinks. Because it is important to know that TOO MUCH sugar can also have a diuresis effect — too osmotic, pulls too much water –> you may have excess excretion, if you catch my drift 🙂
So that's fun and all, but  how does this taste?
Basically if you like the lemon lime variety of Gatorade, you'll like this. It's just not as sweet. I drank it intraworkout and felt pretty good. It was leg day and you utilize a lot of energy during legs, so I always like to drink something for a boost. It was a tad more sour than it was sweet, but not overpowering. I also noticed that I wasn't as tired after my workout as I usually am after a grueling leg day– got to skip the nap that day 🙂
Overall, I like it. Especially if you're an athlete, gym rat, cardio bunny. Or if you're someone who just lives on coffee and hates the thought of water, maybe throw this in once a day and see if it helps. While I wouldn't go drinking multiple servings per day (calories add up!), I do think it's a good option, at least once a day, unless you're a serious athlete and burn up carbs like crazy. But overall, a 4 1/2 star from me.
I received this product for free. This is an unbiased review.