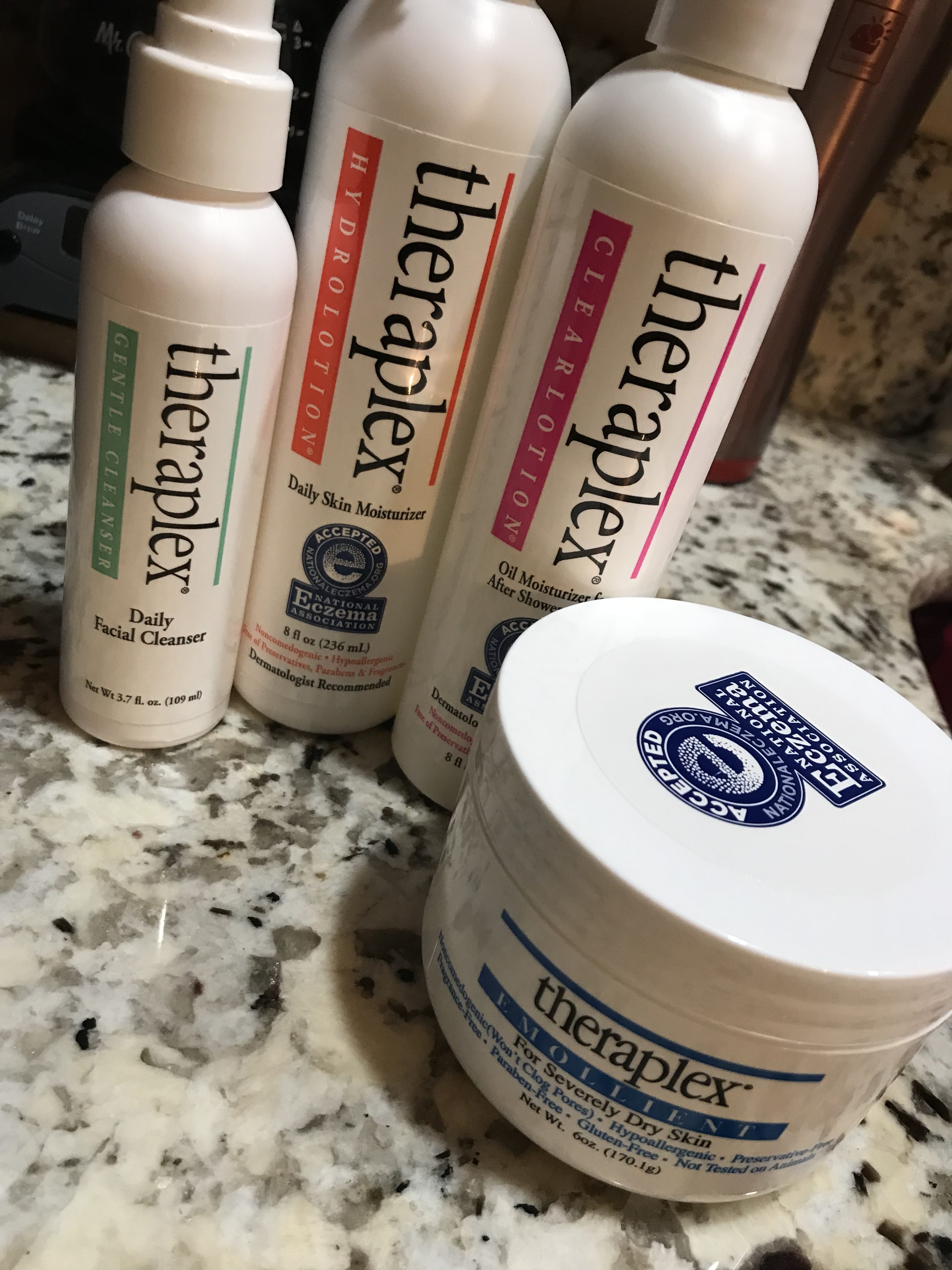 Theraplex sent me some skin products to try– normally I am hesitant to try new skin products. I have terribly sensitive skin, everything makes my skin blotchy or break out, but I was told these products are dermatologist recommended and accepted by the National Eczema Association, so I was definitely more on board to give them a try.
Let's begin:
Hydrolotion Daily Skin Moisturizer– this one is hypoallergenic, preservative, paragon, lanolin, gluten and fragrance free. The retail price is $16.50 for one bottle. It is intended to be gentle and ideal for normal-dry, sensitive skin, or skin that may be prone to eczema.
I liked this product for it's versatility, I used it on my face right after the shower, but then also on my arms, abdomen, legs. It isn't super thick, but rather light weight and non-greasy. My legs tend to be dry, so I think it was lacking a tiny bit in the moisture department, as I felt I needed to apply more than I would normally with my other lotion. However, no skin reactions, breakouts, nothing. I think it's great for face and arms, but for my hands/feet/legs I would need something a little stronger.
ClearLotion Moisturizer- and that's where this product comes in! Again, hypoallergenic, non-comedogenic, preservative/paraben/lanolin/gluten/steroid/fragrance free. This is an emollient oil moisturizer that comes in a spray bottle. It is best applied to damp skin after the shower to lock in moisture. The retail value is $18.50 for one 8 oz spray pump bottle.
When used alone, I thought it was decent, but feels a little odd to be applying oil to my skin after the shower. It may feel "oily" (obviously) for 10-15 minutes, but then that feeling resolves and skin is left soft. What I did was spray my legs/arms with it immediately post shower, let it dry for a few minutes, then add a few pumps of the daily skin moisturizer, and was soft and moisturized all day.
Emollient Moisturizer- now for the severely dry skin, in comes a super rich moisturizer. This one can be used for psoriasis, eczema, ichthyosis and xerosis, as well as those super dry areas like elbows and heels. Retail value is $21.00. Again, hypoallergenic, non-comedogenic, preservative/paraben/lanolin/gluten/steroid/fragrance free. My advice is to use LESS than you think you need. It is SUPER rich, and you only need a tiny dab of it for both of your hands. You just need to really work it in and let it dry, using too much will leave a greasy/sticky feel. However, it was great for those cracked knuckles or rough heels.
lastly, the Gentle Cleanser. I really liked this! It is recommended for sensitive skin, and it is an everyday cleanser that leaves skin feeling fresh without being dry. It is paraben/lanolin/steroid and gluten free, and costs about $12.00 a bottle. It left my skin feeling clean and did not dry it out. My face is very acne prone, and I noticed NO new breakouts, and actually got a compliment that my skin was looking better just yesterday 🙂
Overall, I am a fan of these products.  I will not lie, I went and purchased 2 bottles of the cleanser and hydrolotion online because I am running out of product and like the way it was gentle yet effective on my skin. I definitely recommend these if you have sensitive skin, are acne prone, eczema prone, or just looking for a new cleanser/skin products that aren't filled with a ton of chemicals. A solid 4.5 stars across the board from me.
DISCLAIMER: I received these products to try for free. This is an unbiased review.