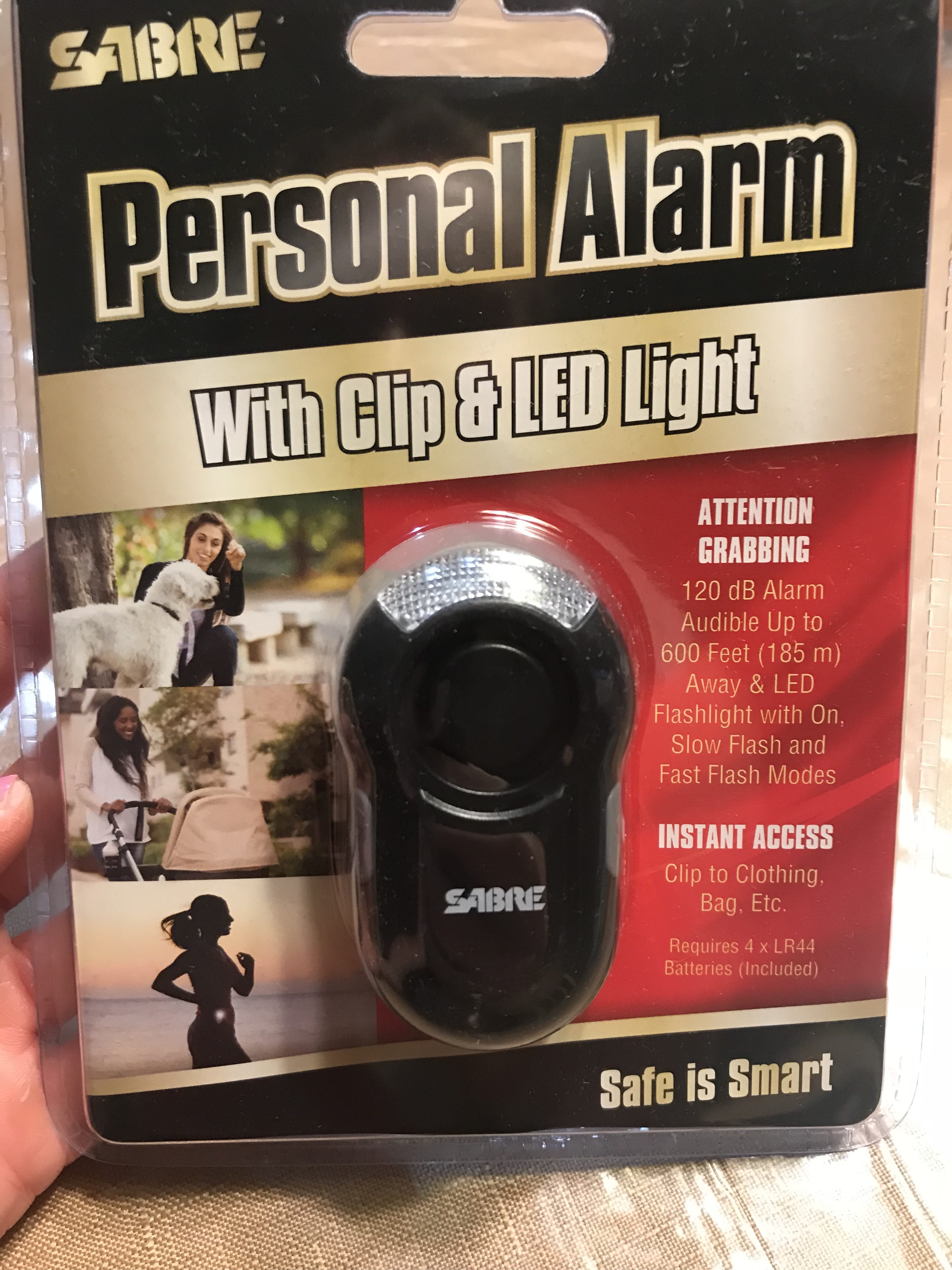 A non-food review today, but important all the same because safety is KEY! Sabre has a line of products aimed at your safety in mind.  From pepper spray to home security, Sabre has you covered.
They sent me 2 of their products to review, the Personal Alarm, and the door alarm.
Let's review the Personal Alarm first. I think this is great for those who commute to work, travel alone, go jogging, or even just to keep on your bag or purse. Unfortunately, you never know when a predator may attack, and if you have some sort of alarm to alert for help, it may help keep you safe.
The personal alarm is tiny, fits in my palm, and has a durable, sturdy clip to attach to your bag or purse strap. It is intended to be weather proof as well. I travel a lot for work, alone, and I thought it would be a great thing to have on me, especially because I travel in some not-so-safe areas.
It has a light feature to ensure that if you do need to use the alarm, people can see you! It has 3 modes, a fast flash, slow flash and a mode that allows the light to be always on, that you can control with a push of a button.
Now, for the alarm feature. Don't mess around with this, it is LOUD!!!! My Dad and I were experimenting with it, to see how it worked, and he hit the alarm button and we were floored how loud it is! It is 120 dB, which is extremely loud, and definitely louder than I imagined for such a tiny device! I think this is great, because even in a time of emergency, a quick push of the button activates a loud alarm with flashing of light, to hopefully attract someone toward you for safety.
Here's a pic of the personal alarm below, next to the door stop alarm.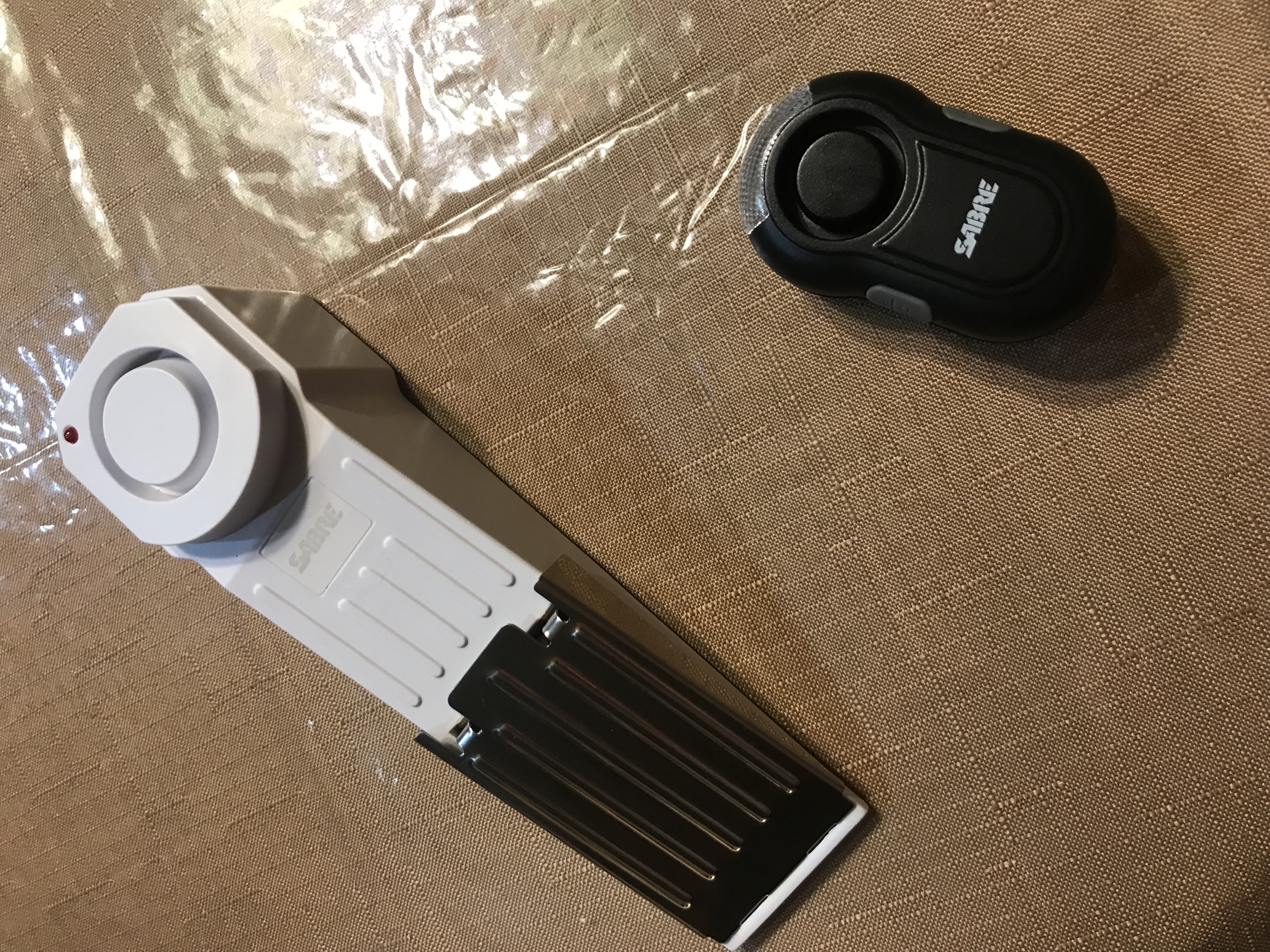 Which…speaking of, let's review the Door Stop Alarm.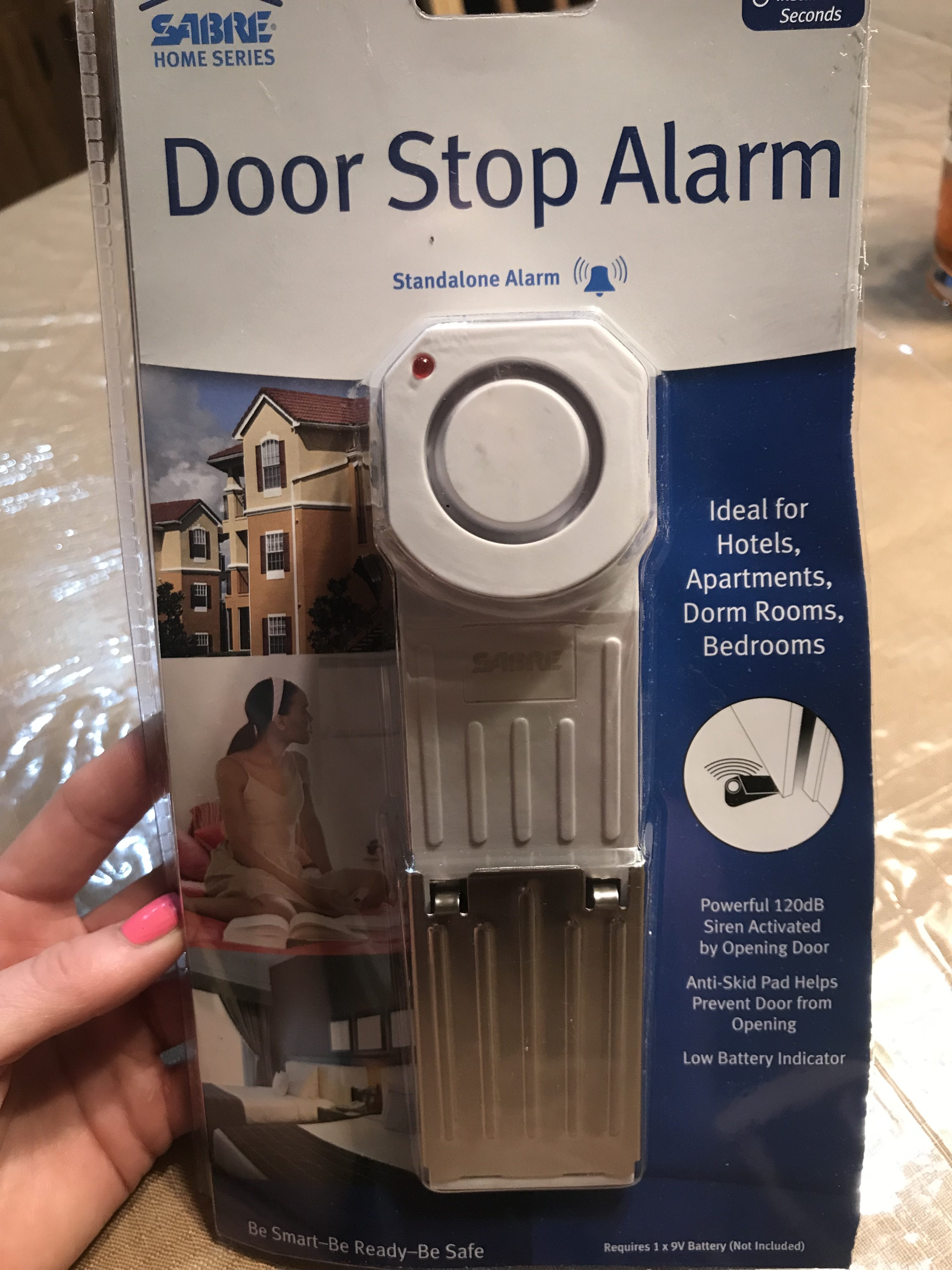 While I do not have an immediate use for this in my home, I think it's great if you live alone, in an apartment, a dorm room, or hey, even if you do live with your family and they aren't home, you can always slide this under your door to be alerted of anyone breaking into your home!
It also has 120 dB of sound, a pretty sturdy grip so it stays rooted to the floor and helps prevent the door. I turned the switch on in the back, placed it under my door, and let my Dad try to open it. It immediately stopped the door from opening, no sliding of the actual device, and alarm went off as well. Again…extremely loud!!!
Overall, some great products. I cannot believe how loud the devices were given how small they are, but this is great when it comes to safety. I will definitely use the handheld device for times I go jogging alone, walk my dog at night, or even just traveling in and out of the city. It's discrete and I can easily clip it to my backpack.
Check out SABRE and all their other products!