Dont forget this TOTALLY AWESOME Giveaway!!!  🙂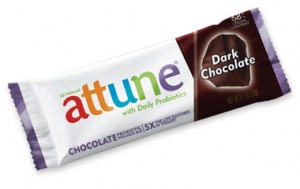 Mmmm..chocolate. Nothing quite satisfies like a good piece of melt-in-your mouth chocolate does, in my opinion. And what about when chocolate has some added benefits, such as probiotics and calcium? Hmm…
Well, Attune makes Probiotic Wellness Bars in a variety of flavors, including the Dark Chocolate variety. I read the package, which said it had "5x the live cultures in yogurt" and "was an excellent source of calcium". I also noticed that this bar (20 grams) had 3 grams of fiber and only 80 calories. How's that for a piece of chocolate?
I opened up the package and saw two decently sized squares of chocolate. Very dark in color, a very dark brown. When I broke a piece it had a nice snap to it, but that could have been because I put it in the refrigerator : )
I tasted a piece, and, whew! This bar is bitter! I normally like milk chocolate (and I love white chocolate as well!), but occasionally I'll have a piece of dark chocolate. This particular dark chocolate was rather bitter at first, and then as I let it melt in my mouth, the bitterness was toned down a little, and a more creamy, slightly sweeter chocolate emerged.
Overall, 3 stars. I love that it has probiotics in it, is only 80 calories, and has both calcium and fiber, but it was a bit too bitter for me. I would have preferred it to be a bit sweeter as well.
*I received this bar to try for free from Attune Foods*