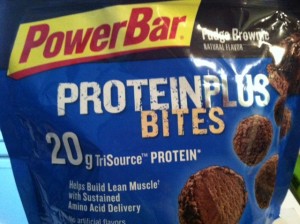 It's a known fact that I love carbs. However, I've been upping my protein take as of lately, and on the lookout for yummy protein-filled finds.
Browsing the grocery store the other day, I found these little gems- PowerBar Fudge Brownie Protein Plus Bites. The whole bag I would consider the equivalent of a typical protein bar- 20 grams of protein and 300 calories for all 8 bites/balls. I almost didn't buy it for one reason, the 25 grams of sugar per bag. However, I figured I could let it slide as I mostly buy/eat low sugar items and I would save these for a post-workout treat.
Each bite is in the shape of a small ball, with a crumb-like consistency covering the ball. The bites are dense and chewy, and really quite good. They are sweet and have a chocolate flavor, and the crumbs add a little bit of extra flavor. I can definitely taste the "protein" in it, as in it had a slight chocolate protein powder taste, but not too overwhelming.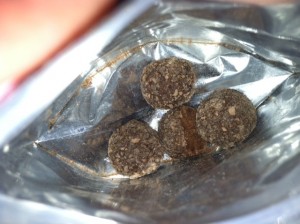 I actually really enjoyed these! I think even if I don't eat all of them in one sitting, I could pop one or two bites in my mouth after a workout before my drive home from the gym, and then eat a full meal once I arrive home. In fact, on the back of the bag it states "ever taken a few bites of a protein bar, and stowed the rest in your gym bag for later?" (SO ACCURATE for me! I usually eat bars in pieces =] )
I also like the fact that on the back of the bag it states that it is made with "TriSource" protein, which has a "sustained" "digestion rate" , which I definitely like!
Overall, I like these! I obviously wish they weren't as high in sugar as they are, but I think they are a good post-workout protein-filled treat and quite delicious. Overall, 4 stars.