What's better than a big bowl of piping hot chili and some warm, moist cornbread on a cold, wintry night?
Aside from winning the lottery, I couldn't think of anything! 😉
Tonight I decided to do a DOUBLE review, of Amy's Organic Chili and, since I needed some cornbread, Marie Callender's all natural cornbread mix. Normally I don't (and can't!) eat anything by Marie Callender- normally her products (although delicious…) are FULL of fat and bad ingredients. BUT!- Since my grocery store was out of buttermilk (I was going to make my own cornbread from scratch…) I picked this mix up because it was low in fat, and had all natural ingredients.
Now, how delicious does this look?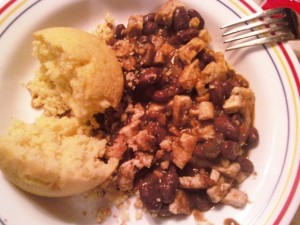 First I'll start with the Chili.
Amy's makes several versions of her chili, in Medium, Medium Chili with Vegetables, Spicy Chili, Black Bean Chili, and Southwestern Black Bean Chili. I decided to try the Medium Chili with Vegetables, because I'm not *totally* in love with spicy food, and it seemed the mildest of the choices provided. Now, the picture has white chunks in it- that was added by me, (it's tofu!) and does NOT come in the chili can.
The chili, first of all, has A TON of red beans. Literally- it would be impossible for you to take a spoonful of it and not get a red bean on your spoon. The beans were delicious- tender and soft, but not mushy. There also are some vegetables- mostly peppers and corn, and I saw a few tiny carrots. I wish there was more vegetables- there are supposed to be potatoes in the chili, but I didn't see any. I really wish they pumped up the potatoes & carrots though- I would have enjoyed that!
There definitely is some kick to it that leaves heat on your tongue. It's not too spicy, so it was good for me, and with the addition of my tofu, it toned down the spice factor even more. It's not too salty, but there isn't much flavor, otherwise, unless you count the slightly overpowering peppers. It was, however, excellent with my cornbread. Spicy & sweet at it's best. It would probably be very good topped off with some cheddar cheese as well. I'm giving it 3 1/2 stars by itself, 4 if you pair it with cornbread and tofu. I think I'll try another variety, or stick to her cornbread & chili whole meal.
Marie Callender's Cornbread–
1 word. yum. yum. yum.! This cornbread ROCKS! I was a little skeptical because when I made the mix (super easy- just add 1 1/2 cups of water and mix together until the lumps are gone), there was a funky aftertaste- (yes- I like to eat raw batter of everything… 😀 ). I was afraid- was I going to be stuck with all this cornbread and not have it taste good?
But then again- you can't judge something until it's finished. I decided to make cornbread muffins (portion control!- except…I ate 3 anyway… oops.. 😀 ) instead of cornbread, so the cooking time was reduced, which meant I could enjoy these muffins quicker! They smelled delicious, and were perfectly golden yellow when they were done. I took a bite and it melted in my mouth. So fluffy, and sweet! I was happy, because I like my cornbread sweet! (Amy's Kitchen always makes delicious cornbread sweetened with honey…yum!)The outer part of the muffin was slightly crispy, and the inside was fluffy and moist. No wonder I ate 3 😉 These muffins get 4 1/2 stars. They would get a 5, but unfortunately, they are made with enriched flour instead of whole wheat (so close- Marie!).
So that leaves me to ask you guys- what is your favorite type of chili? Do you have any yummy cornbread recipes?
Chili- 1 cup is 190 calories, 6 grams of fat, 29 carbohydrates, 8 grams of fiber, and 7 grams of protein.
Organic Red Beans, Filtered Water, Organic  Onions, Organic Bell Peppers, Organic Potatoes, Organic  Carrots, Organic  Corn, Organic  Rice Flour, Organic High Oleic Safflower and/or Sunflower Oil, Organic  Jalapeno Peppers, Spices, Organic  Garlic, Sea Salt. *chili is gluten free
Cornbread- 1 piece ( 60 grams prepared) is 140 calories, 3 grams of fat, 26 carbohydrates, 2 grams of fiber, and 3 grams of protein.
Enriched Degermed Yellow Corn Cones, Unbleached Enriched Flours (wheat flour, malted barley flour, niacin, iron, thiamin, mononitrate, riboflavin, folic acid), Sugar, Canola oil (ascorbic acid, rosemary), Milk, Enriched Degermed Corn Flour, Egg Yolks, Salt, Sodium Acid Pyrophosphate, Dextrose, Baking Soda, Monocalcium Phosphate.