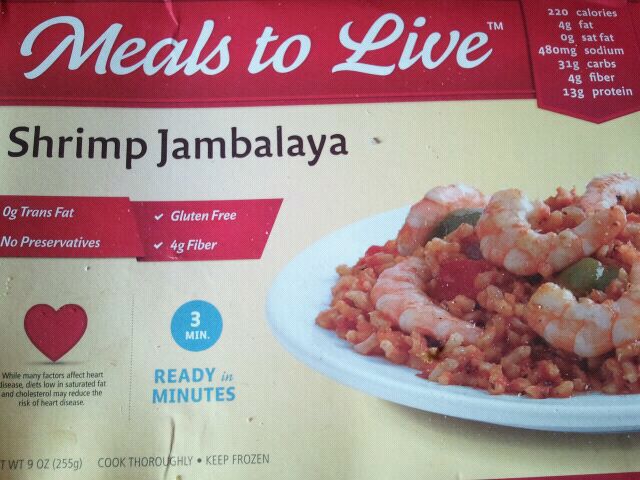 Growing up, I had two favorite types of fish. Shrimp, and tuna in a can, and that was pretty much it. I'm going to be honest and say I haven't eaten fish or meat in quite a while, and when I do it's very sporadic. Just not digging it as much as I used to.
However, hunger rolled around 5 pm today, and looking through my freezer, the Meals to Live Shrimp Jambalaya meal popped out. Mmm. This sounds good- I haven't had shrimp in forever! I thought. So after steaming up some veggies (since I had a feeling the meal would be small), I cooked this gluten free entree.
How yummy does this look??!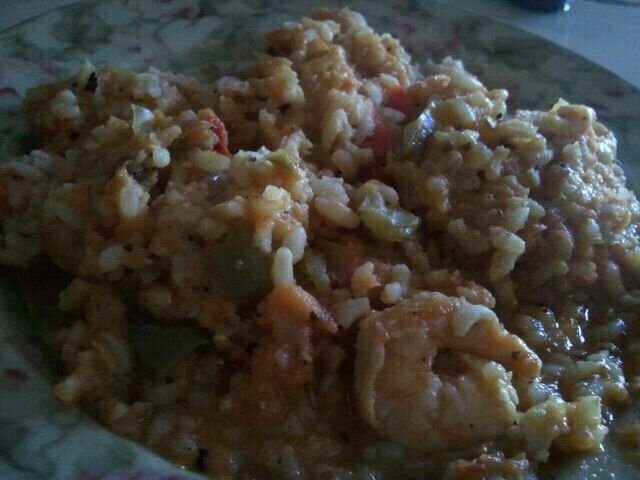 A little dark, I agree. I couldn't get a pic with good lighting since people were eating at my kitchen table and I didn't want to be rude.
I transferred to a plate and then added veggies on the side. There was actually more food  than I had expected, which was a positive for me. Also, I noticed there was some extra juice/liquid that I just discarded.
It smelled pretty spicy, so at first I was a bit worried. I tried a piece of shrimp first, expecting a juicy, plump shrimp. However, that is not what I got. It was very tough and chewy, and had a fishy taste to it. I know, I know, "it's seafood!", but I have had shrimp before that tasted very good, and not fishy. I moved onto the rice, which wasn't bad. It was fluffy in texture, but just very bland. It had no salty flavor to it whatsoever, and more tasted like bland rice with some spices. There was a bit of heat, but not as spicy as I thought it would be. There was also some peppers in the meal, that didn't really add or take away from the meal.
Overall, I was not a fan of this meal. I liked this meal from Meals to Live much better, and would prefer it over this one. The Shrimp Jambalaya gets 2 stars from me, because I happened to enjoy the rice even though it was rather bland.
What's your favorite seafood to eat? Or if you are a vegetarian/vegan, did you used to have a favorite?
I was provided this meal to try for free from the company.