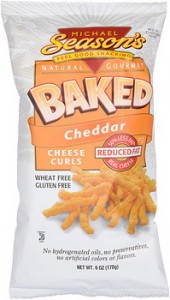 Who likes cheesy, salty, crunchy snacks? 🙂
Normally I'm a sweet rather than salty girl, but every now and then I crave something crunchy and salty to go with my lunch. So what did I opt for today?
Michael Season's Baked Cheddar Cheese Curls! These curls are gluten and wheat free, and are baked rather than fried. I agree with the logo on the package for "feel good snacking"- these curls were both delicious and a good snacking option!
I opened up the bag and saw a bunch of cheese curls. Some were skinny and long, others wide and short. An assortment of pieces all covered in an orange powdery coating. After eating a few, I really like these! Crunchy, airy, cheesy and salty! It was a very sharp cheddar flavor, with a salty after taste. Certainly needed a drink with these!
Overall, they went perfectly with my lunch, and I really enjoyed them. I really liked that there was "no hydrogenated oils, no preservatives, no artificial colors or flavors" as it stated on the package. These are now my go-to cheese curls! I liked the short and wide ones, as they were the cheesiest 🙂 5 stars
1 cup (28 grams) is 130 calories, 4.5 grams of fat, 20 grams of carbohydrates, 2 grams of fiber, 1 gram of sugar, and 2 grams of protein.