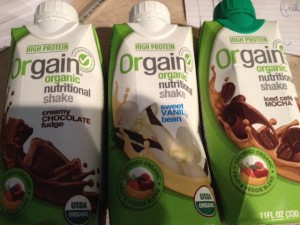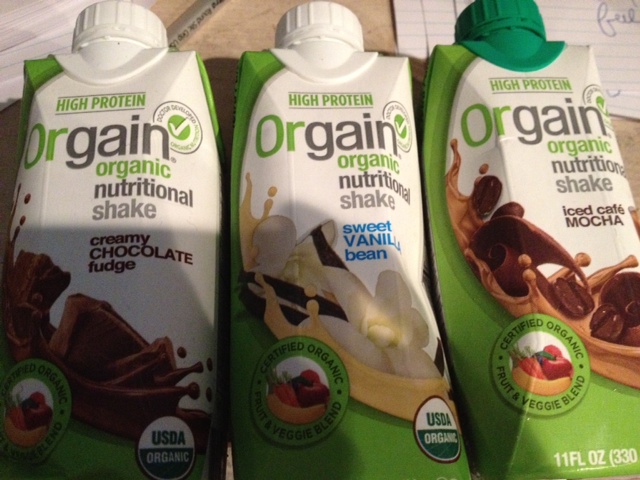 Hey guys! So the peeps over at Orgain sent me a bunch of their Organic Nutritional Shakes to try! I was excited to try these because they are made with wholesome and organic ingredients, and because I feel like everyone can use a little extra protein! =]
First, the protein nutritional shakes. I got them in 3 flavors, Iced Cafe Mocha, Sweet Vanilla Bean, and Creamy Chocolate Fudge.
Iced Cafe Mocha– This one was not super sweet, and really reminded me of just an iced coffee for the flavor that was heavy with milk. It definitely had a nice mocha flavor, and was really quite enjoyable, especially for coffee fans!! 3.5/5 stars
Sweet Vanilla Bean – this one reminded me almost of a vanilla soy milk for the flavor. A teeny bit of an aftertaste, but was still pretty good. It was sweeter than the Iced Cafe Mocha flavor, but not sugary sweet. It had a very fresh taste which I liked. Enjoyable! 3.5/5 stars
Creamy Chocolate Fudge- this one I wasn't really a fan of. It wasn't that sweet and had a bit of an off flavor when it came to the chocolate. It definitely was more fudgy than chocolatey flavor, and left a tad of an aftertaste. Not bad, but not my favorite. 3/5 stars
Here's the nutritional label for these shakes.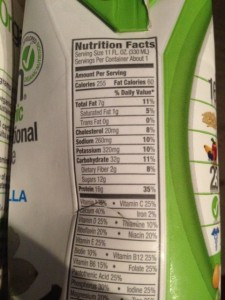 Now onto the "Healthy Kids" line!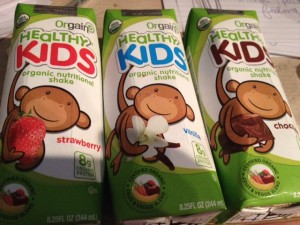 These are organic, enriched with vitamins and minerals, have 8 grams or protein, and are free from artificial colors/flavors, preservatives, and corn syrup.
"Healthy Kids" Strawberry- this one has a very mild strawberry flavor. I liked it! I find that strawberry flavored products are often overly sweet and sugary tasting. This one provided a fresh strawberry flavor without feeling like I just drank a mouthful of sugar. It had a teeny bit of a chalky flavor to it, but not too overpowering. 3.5/5 stars
"Healthy Kids" Vanilla -this one also tasted a little chalky, reminiscent of a vanilla protein shake, but was still pretty good. Not too sweet, and had a pretty strong vanilla flavor. There was a bit of an aftertaste I wasn't too fond of, but it was still pretty good. 3/5 stars
"Healthy Kids" Chocolate- this one was the sweetest of the 3. It reminded of a Yoo-hoo in flavor, for it's rich chocolatey taste. I think I liked this one the best, as it didn't taste chalky or have an aftertaste, and was quite yummy! 4/5 stars
Here's the nutritional label for these: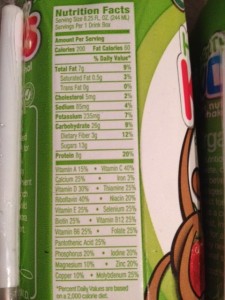 Overall: I think these are worth a try. I happened to like the kids line better than the other 3, but they are lower in protein than the others. I think there are pros and cons to each of the drinks. For example,  if you love coffee in the morning and aren't much of a breakfast person, the Iced Mocha Cafe drink would be perfect for you! A nice protein filled way to start the day, and still get the yumminess of coffee.
Let me know if anyone has/will try these! 🙂