The much anticipated P28 review! They sent me a cute little variety pack of products to try for free  including a slice of their protein bread, protein wrap, protein bagel, and their protein peanut butter spreads!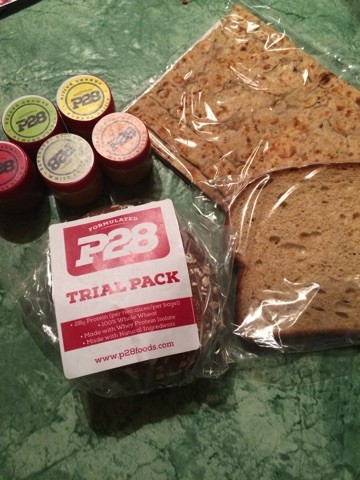 I was definitely excited to try these products, especially the spreads. I am a HUGE peanut butter fan, but seldom buy or eat it since I have NO self control around the stuff ( I am talking jars gone in less than a week…wonder who ate them on me right? hehe) So the fact that these at least had some protein in them made eating them much less guilt free, coupled with the fact they are what I assume was in 2 tbsp portions, since they came in these teeny jars!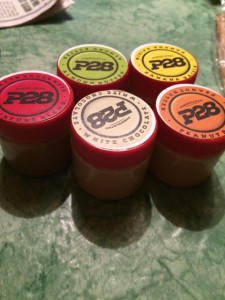 And I am talking teeny! I couldn't even fit my spoon in it, too wide! Which was a blessing and a curse, since it made me have even MORE portion control.
So…naturally I tried all these first. They come in a few flavors, and P28 was nice enough to send me all of them.
Almond– this one was creamy, not too salty, and pretty yummy. I have had almond butter in the past, and detected no taste difference than this almond butter versus a non-protein brand. The almond flavor was strong and it was slightly sweet. Pretty good! 4 stars
White Chocolate– Ohhhh was I waiting for this one. I LOVE those flavored peanut butters that involve chocolate (who doesn't?!). It certainly did not disappoint. It was creamy and smooth, with very subtle sweetness. I almost wish it was a tad bit sweeter, but it was also comforting that it wasn't too sweet since I don't want to be eating a lot of added sugar. The after taste of white chocolate was pleasant. 4 stars
Banana Raisin– This one was okay. It was detectably more oily than the other flavors, not that sweet, with a very slight banana flavor. It almost tasted like banana oil placed in unsalted peanut butter. There were a few raisins in the mix, and given my small sample, I would say if I had a larger jar there would be a fair amount of raisins in the mix. They were necessary since they added a slight sweetness. However, not a winner with me. 3 stars
Signature Blend- This one was interesting! There were nuts, raisins, and I think some cinnamon and nutmeg in the mix. It almost tasted like an almond and peanut butter mix. It was darker than the other spreads, a little more pasty, but also had a crunch. There were a few bits of dried fruit, which I assume was raisins, which added a nice sweetness. I do wish there was a pinch of salt in this one, as it would have helped bring out the flavor. 3 1/2 stars
Peanut Butter- An original peanut butter! I noticed the bottom of the jar of this one was on the dry side, kind of like when you pour out the oil of a natural peanut butter jar and the bottom of the jar is left semi hard from lack of oil. However…it was still yummy. A great peanut flavor, and couldn't detect any protein flavor. It was creamy, thick, and a little pasty, but I enjoy peanut butter flavor, so I liked it. 3 1/2 stars
Next up, the bread!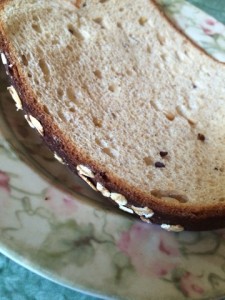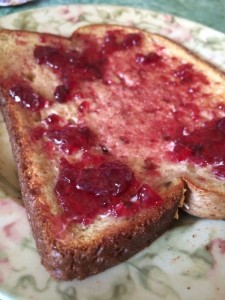 I toasted it, and put some butter and SF jelly on it.  It had 14 grams per slice, so this eased my mind about eating bread. I am heavily into bodybuilding/fitness as well as a diabetic, so bread is not something I consume on a regular basis. However, this was really good. It toasted very well, and quicker than I expected. The outside crust of the bread was a tad bit sweet which was good in this case. I ended up buying a loaf of this stuff too and had it with turkey and cheese for a sandwich. It is a bit spongy in consistency when you don't toast it, but still very good. 4 stars
Next up, the bagel!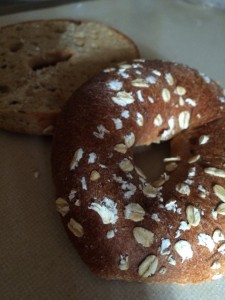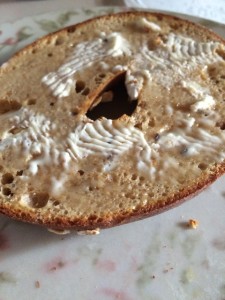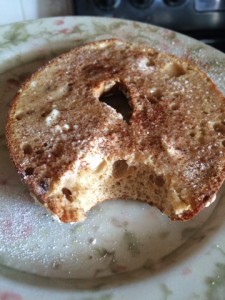 I haven't had a bagel in YEARS! Too many carbs, wreaks havoc on my blood sugars. I ended up having half at once. This one I also toasted, put some butter, with equal and cinnamon on it. Oh LAWD was it delicious! Chewy like a bagel should be, thick and strong texture. It had a whole wheat flavor to it, and was just really enjoyable. My favorite. 4 1/2 stars
Last up, the wrap/flat bread!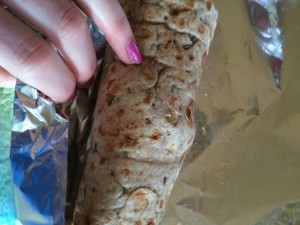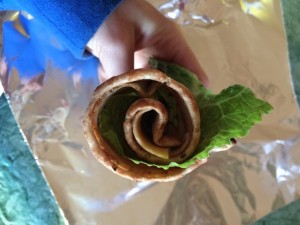 The flat bread itself was HUGE. I split it in two, and made two sandwiches out of it, filled with turkey and cheese and some lettuce. The first bite threw me off a little bit since it had a sweet taste to it, but slight, but as I kept chewing it was very food. It was chewy and reminded me of a typical whole wheat wrap at the store, but had some flax seeds and such in it which added nice flavor. I liked it! I would buy again. 4 stars
Overall, I am a fan! Check out their website for nutritional information and such. I wish they sold a variety pack of the bagel, wrap and bread all at once, because I would definitely buy that.
P.S. I am on INSTAGRAM now! Follow me @ lisa_liftsx for fitness and nutrition related posts!