Are you a fan of pizza? And a fan of crunchy snacks? Well, you just might like these! Medora Snacks makes Pucci Pizza Snacks, which according to the package, are "baked with real cheese" and "extra virgin olive oil". As well as having "no trans fat" and are "all  natural". Sounds like a yummy snack to me!
Here's a picture of the snacks. I even attempted to make a mini pizza with them! (Which I hadn't noticed until after I made mine that the back of my bag made a mini pizza too!)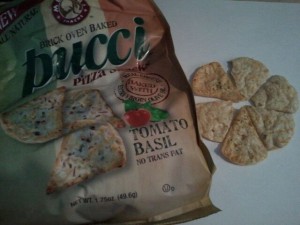 Then I tried a few. They were very crunchy and crispy, with a yummy cheesy flavor. They were a bit salty, and also had a slight tomato sauce flavor. I certainly detected the basil and  other spices as well.  They were kind of like a very crunchy rice cake, but with less of an airy texture, or like a soy crisp but slightly more dense. Unique, indeed!
Overall a good snack, but not overpowering or too salty/too flavorful. And, two servings per bag, with a good amount of pieces in the bag! They are low in fat (3.5 grams per 1 ounce serving), but 1.5 grams of that is saturated, and there is only .5 grams of fiber per serving. So, all in all, 3 stars.
1 ounce (28 grams) is 120 calores, 3.5 grams of fat, 17 grams of carbohydrates, .5 grams of fiber, 2 grams of sugar and 4 grams of protein.
GIVEAWAY ends TOMOROW!!
I was provided these snacks to try for free from Medora Snacks.