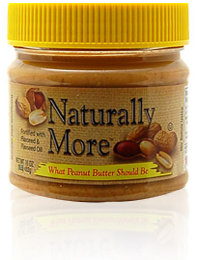 Peanut Butter. Not a day goes by that I don't consume either A. some type/variety of peanut butter or B. apples. (what a coincidence that they go perfectly together!) I'm always up for new varieties to try, like the Naturally More Peanut Butter. I had tried the Organic Naturally More Peanut Butter, and really enjoyed it. I was hoping I'd like the original as well!
Some interesting things about this peanut butter, it has 4 grams of fiber and 10 grams of protein for a 2 Tbsp serving, with only 11 grams of fat. According to the jar, this peanut butter is "fortified with flax seed, flax oil and other nutrients" as well as containing "omega-3 and omega-6 essential fatty acids. It's What Peanut Butter Should Be!" Sounds good to me!
So I opened up the jar and noticed a thick layer of oil and floating flax seeds on top. Not the prettiest, but nothing a little stirring couldn't fix. I stirred it up and placed it in the fridge to set for a little while. Then I opened it up later on and noticed a nice creamy peanut butter, with the oil seperation very minimal if any since refrigeration. I took some off a spoon and tasted it.
I would say this peanut butter has some pros and cons. I liked that it wasn't too salty or too sweet, and had a pretty good peanut butter flavor. I liked that it was higher in fiber and protein than traditional peanut butter, and had omega-3 and omega-6 fatty acids. I also kind of liked the little bit of crunch that the flaxseeds provided, almost like a crunchy peanut butter.
But…
I didn't really like the flaxseed flavor that was quite noticeable. I'm the type of person who likes to eat peanut butter straight from the jar, and while this peanut butter is good, I don't think I'll be eating it off of a spoon.  However, I did spread it on a chocolate muffin, and it was TASTY! I couldn't really detect the flax seed flavor at all.
Overall, 3 stars by itself, 4 stars spread on something, brings this to a 3 1/2 overall. I think I'll stick to the Organic Naturally More Peanut Butter for spoon and jar peanut butter consumption 😛
2 tbsp. is 169 calories, 11 grams of fat, 8 grams of carbohydrates, 4 grams of fiber, 2 grams of sugar and 10 grams of protein.
*I was provided this to try for free from Naturally More *