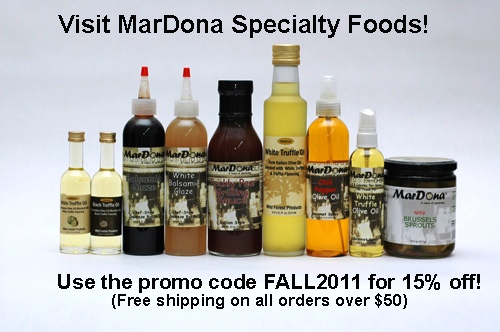 Hey guys- you know that healthy eating requires some essentials. Salad dressings for yummy salads, and cooking oils to make yummy meals! MarDona Specialty Foods is a website that has TONS of products to choose from! They have a bunch of gourmet products, and are GREAT for anyone who loves truffles!!
MarDona Specialty Foods just launched their brand new website!  In order to celebrate, their  entire online store is offering 15% off (until August 31).  Just go to www.mardonaspecialtyfoods.com and enter the PROMO CODE FALL2011 when you check out.
While you are there, make sure you enter the promotion and you can win up to $100 of natural gourmet products!   Here is the link !  Make sure to follow MarDona  on Facebook for more weekly specials  too, at their Facebook page here!
Let me know if you end up buying anything, or what you made with the products you bought. I'd love to hear about it!!!

This is a sponsored blog post. However, my opinions remain unaffected.