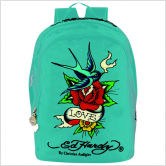 Why a backpack review on a healthy food and product review website? Well, walking is a great exercise for the body. However, while I LOVE a good tote/shoulder bag, lugging a whole bunch of books, snacks or whatever in one of those I find can really put a lot of stress on the body. I know whenever I load up too many things on my shoulder back, my neck, back and shoulder are not too comfy by the end of the day!! So, with the generous gift card I was provided by CSN, I purchased an Ed Hardy backpack.
Upon opening it, I was in LOVE. Not only is the color  one of my favorite colors (teal/aqua blue), it's also one of my favorite Ed Hardy designs/characters- the bird with the rose! I also really liked that the rose was studded with pretty reddish jewels- it added a nice visual appeal. I opened up all the pockets and was very pleased. There is 2 zipper compartments, one large one with mostly empty space, and a smaller one that has a little compartment for things like a cell phone, or hair brush/makeup (which is what I did).
I really liked the fact that there was a cushiony-gelpad thing going on on the back of backpack. Soft and comfy! The straps were really easy to adjust as well. There are two slots on the side of the bag where I put my water bottle, so I thought that was convenient as well.
I think it goes without saying, this is my new favorite backpack! Comfortable, stylish, and perfect for me. I haven't found a problem with it at all =) 5 stars!
Hey! Dont forget the Sahale Snacks GIVEAWAY!!  =)