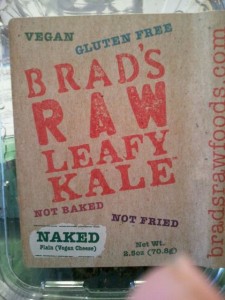 If ever there was a time to apply the saying "Don't Judge a Book By It's Cover", I think it would be appropriate now. Although this snack may not look appetizing, it really is tasty!
I bought this at Whole Foods a little while ago, after previously being given a free sample of it they were handing out before that. According to the package, it is "vegan", "gluten free", "not baked", "not fried", and the flavor I got is the Naked Plain (Vegan Cheese). Before eating this snack, I never ate kale before, so I really had no idea what to expect.
Here's what some looked like in a bowl.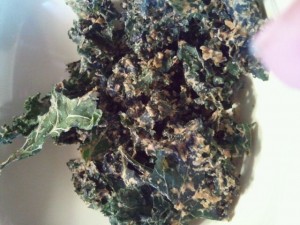 When I opened up the container, it smelled cheesy, but keep in mind it is vegan. It was crunchy, crispy, and certainly did have a "leafy" consistency as the name states. It was salty and tasted like parmesan cheese, with just a slight vegetable flavor. I REALLY liked it! No one else in my house wanted to try it, probably because it resembled leaves, but it really is so tasty! I almost ate the whole container in one sitting! 😉
Overall, 4 1/2 stars. I really enjoyed it, and I want to try the other flavors! I also LOVED that there was 6 grams of protein, 139% vitamin A and 129% Vitamin C values per serving!! Talk about a healthy snack 🙂
1 ounce is 141 calories, 9 grams of fat, 13 grams of carbohydrates, 3 grams of fiber, 2 grams of sugar and 6 grams of protein.
What's something you thought wasn't going to be good tasting because of it's appearance, but surprised you and turned out to be really yummy?